Audiobooks
5 Great Classics I Discovered Browsing LibriVox.org
LibriVox.org is one of my all time favorite bookish sites, and I'm not alone. It's featured in Nikki Vanri's list of places to find free audiobooks online, and Rioter Tasha Brandstatter wrote a great introduction to the site, with some tips for getting started as a listener.
Basically, LibriVox is Project Gutenberg for audio: a volunteer-run and volunteer-read collection of public domain audiobooks. Thousands of books in 36 different languages are available for the low price of free dollars. I've been using the site for years, and have even recorded a chapter or two myself.
Because it's all public domain books, LibriVox offers a different cross section of literature than you'll find browsing other sources. Some of the books aren't in print any more, and are hard to find even in a used book store. I've discovered some great books on LibriVox that I might never otherwise have encountered. Here are a few of my favorites.
Behind the Green Door by Mildred A. Wirt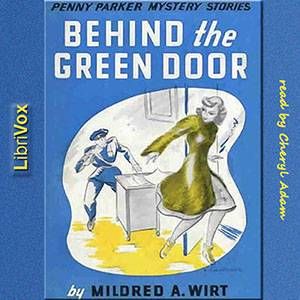 Mildred A. Wirt was the writer behind the first 23 Nancy Drew books (as Carolyn Keene). I loved Nancy Drew, but I didn't realize that the same author had written several other children's series. Behind the Green Door is part of the 17-book Penny Parker series, starring a feisty high school student turned sleuth. Penny stumbles on mysteries while working as a reporter for her father's newspaper. Nancy Drew will always have a special place in my heart, but I actually like Penny better. She's more human: stubborn, impetuous, and frequently overspending her allowance. Cheryl Adam does a fantastic reading that had me laughing out loud, and she's already completed six books from the series.
Wonderful Adventures of Mrs. Seacole in Many Lands by Mary Seacole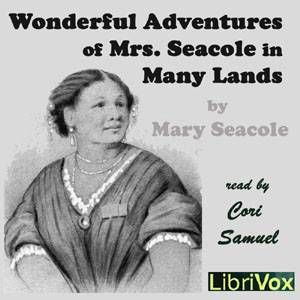 Mary Seacole was a half-Scottish, half-Jamaican adventuress who worked as a nurse during the Crimean war. Wonderful Adventures recounts her travels in Central America and her experiences as a nurse, among other adventures. Mrs. Seacole has a no-nonsense voice that illuminates the nineteenth century in a unique way. It's rare to hear the perspective of someone from that time period who would have been doubly marginalized, as both a woman and a person of color. Cori Samuel's reading brings Mrs. Seacole's tart observations to life perfectly.
The Rose Garden Husband by Margaret Widdemer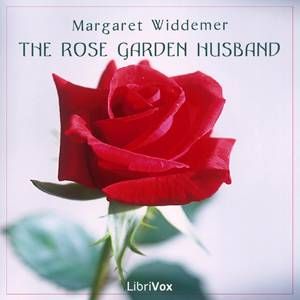 I'm not going to lie: I'm a sucker for books about librarians, especially romance novels. The Rose Garden Husband is the story of Phyllis, a children's librarian who secretly wishes for a family of her own. Having lost faith in love, she enters into an agreement to marry an invalid and care for him until his (supposedly imminent) death. Of course, things don't go as planned. Fair warning: this is an old-school romance (published in 1915). It's quite hetero-normative and reinforces a lot of class and gender stereotypes. However, it's beautifully written. Margaret Widdemer won a Pulitzer Prize for poetry in 1919, and she knows her way around the English language. Mary Herndon Bell's narration for LibriVox brings out the best in this sweet story.
Lost Man's Lane by Anna Katharine Green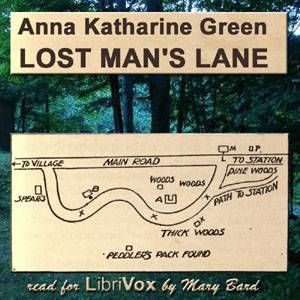 When people begin disappearing one after another from a certain country lane, Inspector Gryce calls in an old friend, Miss Amelia Butterworth, to investigate. Miss Butterworth is the prototype of the busybody spinster sleuth. As a big Miss Marple fan, I was fascinated to learn that Miss Butterworth came first. Anna Katharine Green was one of the first female American mystery authors. Her work influenced such greats as Agatha Christie and Sir Arthur Conan Doyle. Lost Man's Lane is a compelling mix of gothic suspense and classic cozy mystery, and I loved every minute of it. Mary Bard, the LibriVox reader, makes a convincing and entertaining Miss Butterworth.
Flatland: A Romance of Many Dimensions by Edwin Abbot Abbott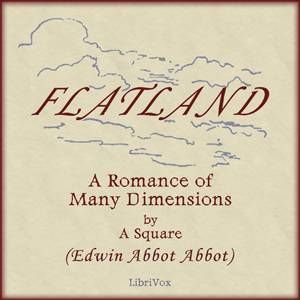 Flatland, published in 1884, is a classic of science fiction and a whimsical exploration of a mathematical concept. The story is set in a two-dimensional world inhabited by geometrical figures. The narrator, a square named A Square, describes his society's customs, and tells of his strange encounters first with a one-dimensional universe called Lineland, then with a three-dimensional universe called Spaceland, and finally Pointland (which consists entirely of one point, the only inhabitant of the tiny universe). Flatland is an interesting mathematical study, and also an oblique social satire of Victorian culture. I might never have found this book if it weren't for Ruth Golding's excellent recording on LibriVox, and it remains one of the most remarkable feats of world-building I have ever encountered.