How To
5 DIY Literary Halloween Costumes
[Editor's note: Get some inspiration, then pop over to our Nook GlowLight giveaway to tell us what literary characters would wear for Halloween.]
Halloween is just around the corner (ish), and for those of you who really DO this holiday, it's time to start planning your costume. I've compiled a list of bookish Halloween costumes that you could easily DIY. Some are super-simple and some require established crafty skills (like the ability to work with a sewing pattern).
Bonus Points: Affect your most pathetic, gutter-rat British accent.
Difficulty Rating: Easy-peasy
Jane Austen
This one requires the sewing skills. Get hold of this Simplicity pattern for a historical Regency gown. Sew it up in a light blue fabric to match this portrait. Put your hair up in a curly updo (or wear a bonnet), put on some white slippers, and carry a copy of Pride and Prejudice.
Bonus points: Accept marriage proposals at your Halloween party and then change your mind the next day.
Difficulty Rating: You need skillz. WITH A Z.(Hard)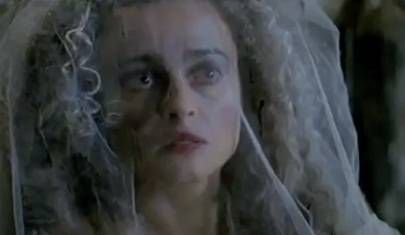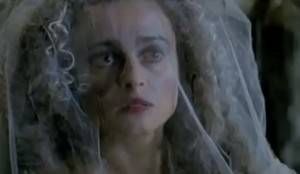 Miss Havisham from Great Expectations
This is an oldie but goodie- and it's so easy to find on old white wedding dress or prom dress or whatever-sort-of-fancy-dress from a thrift store for not many dollars. Just rip it up a bit and spray your hair with some of that temporary gray hair color you can get at any costume shop. Wear an old veil.
Bonus points: If you have a little girl in your house that you can take around as your Estella. You know, like your kid or your niece or something. Not just some random little girl. FOR THE RECORD.
Difficulty Rating: Easy-peasy
Ernest Hemingway (Cuban Era)
You could do Hemingway several ways: Paris Hemingway, Spanish Civil War/ Bullfighting Enthusiast Hemingway, Hemingway on Safari. But Cuban Hemingway is the most casual and probably the easiest to cobble together from stuff around your house. Boat shoes, khaki shorts, a short-sleeved button-up shirt, a costume beard, gray hair. Carry a copy of your favorite Hemingway and/or a bottle of liquor.
Bonus points: Speak in terse, poignant sentences the whole time.
Difficulty Rating: Medium, if you're not normally preppy (and also if you have no experience attaching fake beards).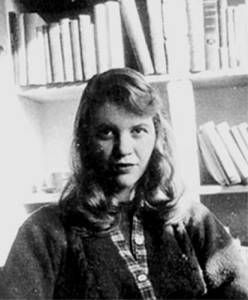 Sylvia Plath
Start with a cozy sweater with a just-below-the-knee skirt and chin-length to shoulder-length brown hair with side-swept bangs done in an early '50s set curl. Add a book of poems. Find a bell jar charm at a craft store and hook it onto a chain for a necklace. Some people make ovens out of cardboard and wear them on their heads all night, and I suppose you COULD go that way if you were going for a certain brand of black humor.
Bonus Points: Have your date dress up as a smug college professor.
Difficulty Rating: Medium for the jewelry making