This content contains affiliate links. When you buy through these links, we may earn an affiliate commission.
So, you want your comics with a heavy dose of sarcasm you say? I mean, sure, sometimes sincerity and emotional catharsis is exactly what you want, but every now and then a girl just wants a little side-eye in her graphic novel reading. Look no further! Here are a few picks from my current shelf.
As soon as I started thinking about this list, I knew Nextwave: Agents of HATE by Warren Ellis and Stuart Immonen had to be on it.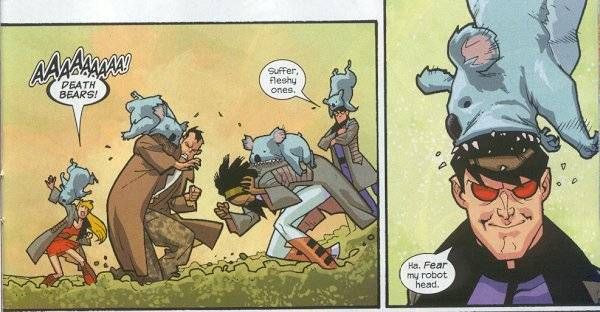 This book is one of the most in-your-face ridiculous comics I have ever read, and it is GREAT. There is actually a character whose name used to be Captain ****. Steve Rogers had to beat him up for that and wash his mouth out with soap.
There's Monica Rambeau, who will NEVER ever let you forget she was in the Avengers that one time (hey, when she was in the Avengers, they would never have stood for this), and characters like Machine Man, whose robot head often comes in handy. They were working for H.A.T.E, as in "Highest Anti-Terrorism Effort" led by Dirk Anger , but then they discover the *gasp* dark truth behind the organization and they have to go into battle against their old leader. Be prepared for koalas of doom and really irreverent humor and lots of explosions.
I Hate Fairyland by Skottie Young and Nate Piekos
Ever since I was little, I have loved books about fairyland. I love fairy tale retellings, and there's just something so special about being swept away to a magical land. So this is like a dark super sarcastic version of all of that. What if a little girl got swept away to the fairyland she always wanted to visit, realized she hated it, and got stuck there for almost 30 years in a body that never ages?
She would not deal with it very well. She might become a little…murder-y on some stars. She would probably become a rage-monster and terrorize the land as she enacts her revenge.
This is bright, colorful, super dark, and hilarious. I just picked this up a couple of months ago, and man am I glad that I did.
Power Man and Iron Fist Vol 1 by David F Walker and Sanford Greene (coming out October 11, 2016)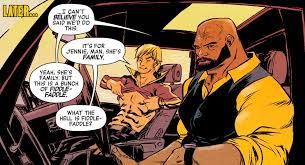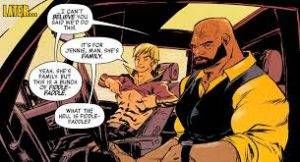 Listen, you can go ahead and pre-order and save yourself some time, because this comic is probably one of my favorites on my pull list currently and you'll want to have it in your hands as soon as possible. Also, hey, the new Luke Cage series came out September 30th, so who doesn't want more? This is the definition of a win-win right here. All you need to know is that Power Man and Iron Fist used to be be crime-fighting buddies, and Iron Fist REALLLLLY wants to get the gang back together, but Luke Cage isn't too sure. He's got a family. He's married. He doesn't have time for this fiddle-faddle. Its full of punching, Jessica Jones rolling her eyes every now and then in the background, and ridiculous replacements for cursewords. Bonus points for dealing with big Civil War II event in the best way possible so far, as both heroes roll their eyes and say HEY HAVEN'T WE DONE THIS BEFORE?
Mockingbird Volume 1 by Chelsea Cain and Kate Nimczyk (coming out at the end of October)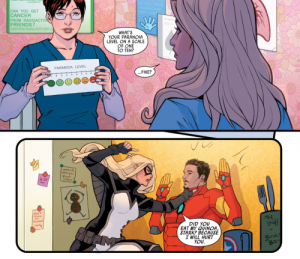 This volume is a puzzle box, which means it will make way more sense when you can read it all at once, instead of over a couple of months, but figuring out what is going on as you read is half the fun. Bobbi Morse may be an ex-Avenger who happens to be a current Shield operative, and she may have to go have special treatments at some super-secret facility for something, but there is plenty of time for undersea hijinx and poking fun at her ex, Hawkeye. There's also some truly hilarious waiting room scenes with superheroes in the background sporting alarming and hilarious injuries. This is a really fun book full of easter eggs you'll catch on the re-read, and man, bonus points for adorable dog appearances. Who doesn't want more corgis in their comic books?
5) Giant Days by John Allison, Whitney Cogar and Lissa Treiman
I've mentioned Giant Days, and its because I just love this comic. Its so funny and bright and like a snarkier more grown up Lumberjanes where a character might accidentally happen to be high in front of her grandmother. I read the first volume and IMMEDIATELY bought the second one, because it was that fantastic. Bonus: The first two volumes are already out, and the third one comes out THIS MONTH (October 11th). You will probably want to buy all three..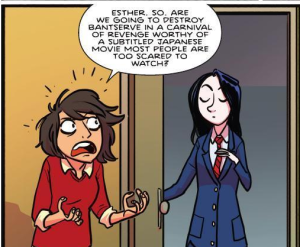 So if you want a comic about female friends in the middle of awkward college years as they explore crushes and deal with cold weather, flus, and finals, then my friends, look no further!
So that's what's on my shelf. I know I missed lots of your favorites, so tell me. What should I add?