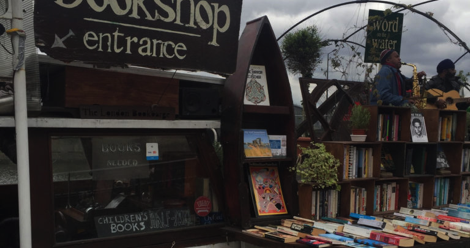 I moved to London in 2015 and took up residence in Camden Town immediately. Camden has its moments of being a rampant cliché, but I absolutely adore it. It's bookish and quirky, great for people-watching and generally fills me with positivity. It can be super busy and cloying- but nestled around the craziness are some of my favourite bookshops.
Since its inception, Camden Town has been built on the shoulders of independent people- but in the past few years, a lot of market land has been purchased by a wealthy private investor, which is causing concern for local businesses and workers. Below is a series of bookshops that support local people and community efforts- and every single one is absolutely worth the visit if you're in the area and fancy a bit of community activism.
The Black Gull
This was one of the first bookshops I ever visited in London. Long before I lived here, I visited Camden Town and stumbled across this little haven. Books tumble happily about the place and the shelves are chock full of second hand wonders. There's a particularly good selection of plays and poetry. Make sure to check out the shelves outside the shop, where popular novels are easy to pick up for a fraction of the retail price. On top of that, the staff in the store are helpful when you need them, but otherwise they will leave you to happily meander without interruption. Stop off at YumChaa (upstairs) afterwards for a super cup of tea- Yumchaa started life as a market stall and has built to an amazing London success story.
Wellcome Collection
This is a five minute Tube ride from Camden Town to Euston. The Wellcome collection is a museum focusing on medicine, art and life- all in one. It's an intriguing museum, but hosts a stellar bookshop on its ground floor. The entire building is accessible and staff are incredibly helpful. If you're interested in gender studies, pop science, medical and biological history, literature, philosophy… you get the idea. it's a great place for a wander and the shop has some really beautiful gifts too. The Collection is run by the Wellcome Trust, which supports biomedical research and is committed to open access, ensuring that research can be built, filed, and re-used- all in the name of progression. The Trust is also independent of the pharmaceutical industry.
Word on the Water
And now for something completely different! A short stroll from Camden Town and King's Cross on the Regent's Canal Towpath, there is a bookshop on a barge. The owners of Word on the Water lost their mooring in Regent's Canal a few years ago and spent 6 months setting up shop at temporary sites until being granted this permanent spot on Granary Square. There are often bands playing on the roof, books are sold outside the barge, as well as packing the space inside. Wandering through here is a total joy- it's like a mix of a little art space and an independent bookshop with a big spirit.
Skoob Books
Not technically in Camden Town, but stepping into Bloomsbury, this is a good spot to visit if you're already going to the Wellcome Collection. Skoob is a behemoth store with thousands of used books, including textbooks. Hosted in a basement at the Brunswick Centre, getting lost in here is a possibility because the stacks are so high and the space is eminently bookish- organised chaos at its best. Skoob is independently owned and its workers receive the London Living Wage. If you buy nothing else, pick up a tote to remember your trip.
Primrose Hill Books
Back in Camden, Primrose Hill Books is on the Regent's Park Road. The shop is small but packed and often holds literary events and sells second hand books online. It's a family owned store and everyone in here is a total joy. If you want a bookshop that's really involved in its local community and expresses a genuine adoration of books, this is the place to go to. Take a few minutes afterwards to hang out on Primrose Hill. The climb is worth the view.