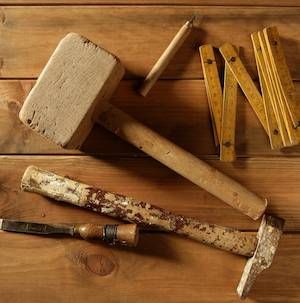 This content contains affiliate links. When you buy through these links, we may earn an affiliate commission.
Book Riot is pleased to sponsor Nina MacLaughlin's Brooklyn launch for Hammer Head at WORD on Wednesday, March 25, at 7 p.m. Join us for two kinds of screwdrivers, plus a reading and signing!
I love my job (because I have one of the best jobs in the world), but that doesn't mean a girl can't daydream, and there are some books that make you want to head out the door and take up a whole new life. Whether or not you actually share the skills of the writer in question (or even the general inclinations) some authors detail other professions so well that you can't help but envy them their calling. And Nina MacLaughlin is one of those writers. Her memoir Hammer Head, published earlier this month, is at the top of my list of books that make me want to quit my job, learn a whole new set of skills, and find out if the grass really is greener on the other side of the fence.
Hammer Head: The Making of a Carpenter, Nina MacLaughlin
MacLaughlin's transformation from a desk jockey to a carpenter's apprentice is a fascinating one for many reasons. She started off with zero experience and a strong will to learn, and documents the triumphs and setbacks with engaging prose, a wry sense of humor, and thorough honesty. While she doesn't romanticize manual labor, she does contemplate the benefits of a life that focuses on physical exertion rather than mental exertion. She's so good at it that she makes everything from measuring wood for a deck to laying tile sound like a worthwhile, even necessary, experience. And for those of us who spend our days in front of a screen, it's a welcome reminder to get up from the desk and maybe take up a hobby. We can't all be carpenter's assistants, but we could probably all learn to build a birdhouse. (Or at least that's what I like to tell myself.)
Fire Season: Field Notes from a Wilderness Lookout, Philip Connors
I grew up camping and hiking — the tamer of the outdoor sports my family favors — and while I wouldn't call myself an outdoorswoman, Fire Season makes me wish I was one. Connors spends half the year as a fire lookout in New Mexico, facing extreme isolation, minimalist living, and routine bordering on monotony with not just equanimity, but joy. He details his experiences as well as those of other famous lookouts (including Jack Kerouac and Edward Abbey), exploring the limits of solitude and its relationship with creativity. Few of us have the fortitude to spend six months alone in a tower — but don't you want to know if you could?
Beating Back the Devil: On the Front Lines with the Disease Detectives of the Epidemic Intelligence Services, Maryn McKenna
Almost every hospital TV show (looking at you in particular, ER) and/or medically-related narrative makes me wish I had gone into some field of medicine. Nursing, pharmacy, public health, you name it, I have at some point thought "I should have studied that!", and Beating Back the Devil is no exception. Delving into the world of epidemiology, she chronicles the work of the Epidemic Intelligence Service. That's right, "disease detective" is a real job. The men and women she follows work all over the world to identify, confront, and eradicate the diseases that send us scurrying for hand sanitizer and face-masks. They come from different backgrounds and fields as well; the paths that these professionals traveled to arrive at the CDC are almost as interesting as the projects they work on. Be prepared to be in awe of these medical warriors, not to mention grateful for their existence.
Yes, Chef, Marcus Samuelsson
I am not a foodie, not even a little bit. My favorite foods are mac'n'cheese and sushi, whether they come from a grocery store or an upscale bistro. I dislike food shopping, and while I will prep with a will, my precision is basically non-existent. (I have never "cubed" anything in my entire life.) But Samuelsson makes me want to take a knife class and learn the mysteries of mise en place. Whether he's reminiscing about his grandmother's roast chicken, sharing dolma on a train, picking herbs in a Swiss resort's kitchen garden, or wandering the markets of Ethiopia, Samuelsson makes you feel the importance of food. Through his eyes, you can see it give flavor, texture, and savor to life's many moments, be they mundane or pivotal. I may not ever learn to properly cube anything, but after reading Yes, Chef I will spend more time thinking about the food I eat.
Born With Teeth: A Memoir, Kate Mulgrew (out April 14)
I like to think I am generally realistic about my talents, but one of my abiding delusions is that I could have been a star — or at least, on the prop crew. I blame my mother, who regularly called me Sarah Bernhardt in my turbulent pre-adolescence. I may have been good at melodrama as an angsty pre-teen, but stage skillz: I don't have 'em. However! Kate Mulgrew does, in spades. Her mother played a pivotal role in her career, telling her as a young girl that she could be a mediocre poet or a great actress, and how true that turned out to be. But Mulgrew (who you probably know from Star Trek: Voyager and Orange is the New Black, if not Ryan's Hope and Mrs. Columbo) is not just a great actress — she's also a great writer. I don't know about her poetry, but her memoir reads like a dream. Her voice is engaging and funny, and she unflinchingly exams both the highs and lows in her life. Reading about her life, which contains real trauma as well as success, is like being told stories by a good friend over drinks. She takes you behind the scenes on-stage and off, and it's a fascinating journey.
____________________
Follow us on Twitter for more bookish goodness!