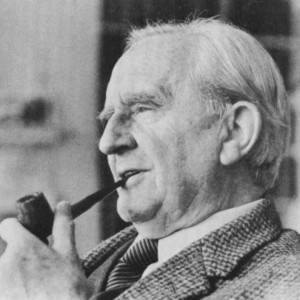 Lists
5 Books to Celebrate J.R.R. Tolkien's Birthday
This content contains affiliate links. When you buy through these links, we may earn an affiliate commission.
J.R.R. Tolkien's 124th birthday is coming up on January 3rd! Celebrate by reading one of these books about his life and work.
Widely considered to be the best popular Tolkien biography in print today, this relatively short (304 pages) work gives remarkable insight into the life and mind of the creator of Middle-earth. Humphrey Carpenter was given unrestricted access to Tolkien's papers and was allowed to interview his surviving friends and family, resulting in as comprehensive a picture of the man as one could possibly obtain from secondary sources. While criticisms have been made that this biography only skims the surface of Tolkien's contributions to the study of philology, it's an excellent starting point, and well suited to fans of the Middle-earth legendarium.
The Fellowship places Tolkien's work in the context of the Inklings, the group of Oxford literary scholars that met every week for many years and hugely influenced each other's work. It specifically focuses on J.R.R. Tolkien, C.S. Lewis, Owen Barfield, and Charles Williams, offering insight into their relationships and how the dynamics of the group aided the conception some of the greatest literary ideas of the twentieth century.
One of the things that is often glossed over in text-heavy Tolkien biographies is that Middle-earth was birthed not only in print, but also on canvas in paintings that have long influenced reader's visualization of this fantastical world and its adaptation for the big screen. This beautiful volume contains two hundred reproductions of Tolkien's art with commentary that lends insight into Tolkien's journey as a visual artist. It also reveals a lesser-known element of Tolkien's art–his calligraphy and how he contributed to the typographical design of The Hobbit.
This little book contains Middle-earth themed word puzzles including Crosswords, Word Search, Codewords, Wordwheel, and Add a Letter, all with solutions related to J.R.R. Tolkien and his work. It's a great gift for the Tolkien/puzzle fanatic in your life! (There are also Pocket Posh puzzle books for Jane Austen, Charles Dickens, William Shakespeare, and other classic authors.)
While The Hobbit and The Lord of the Rings are definitely not allegories, like some have claimed, the stories of Middle-earth were heavily influenced by Tolkien's devout Catholic faith. The Christian World of The Hobbit explores the spiritual themes in this beloved stories. Other books that explore this theme include Hobbit Lessons: A Map for Life's Unexpected Journeys by the same author, Finding God in The Hobbit by Jim Ware, Finding God in The Lord of the Rings by Kurt Bruner & Jim Ware, Walking with Bilbo: A Devotional Adventure Through The Hobbit by Sarah Arthur, Walking with Frodo: A Devotional Journey Through The Lord of the Rings by Sarah Arthur, and A Hobbit Devotional by Ed Strauss.