How To
5 Book Apps for People Who Love Reading
This post on book apps is sponsored by Playster.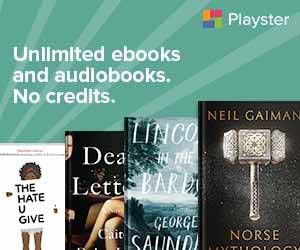 Playster is the world's first all-in-one entertainment service. It takes care of everything — ebooks, audiobooks, music, movies, TV shows and games — and gives you unlimited access to millions of titles for one flat monthly fee. That's right! Playster lets you enjoy unlimited audiobooks and ebooks — no restrictions, no credit systems.

The service is accessible through all web browsers, as well as Playster's Android and iOS apps, on virtually any device. What's more, the offline mode lets you save all of your favorites for on-the-go reading when there's no Internet access around. Sign up today to get your free 30 day trial!
---
If you finished a book and didn't log it into a book tracking app, did you really read it? Of course, the answer depends on the reader, but the truth is that nowadays, reading can be a pretty interactive and digital experience. I rounded up five of my favorite book apps for reading lovers so your reading experience can be more rounded and less private! (Who doesn't love gushing about books to other book lovers?!)
As an Android user, I had to pine for this app for months before it was finally available for my device! Litsy has a clean, Instagram-like design for book lovers to share photos of the books they're currently reading.
My favorite feature is that you can share a quote from the book you're reading and tag the book. There's something nice about having an app to archive your favorite quotes in an interactive way that I definitely recommend. (Available on Android and iOS)
This is definitely one of the best book apps I have found to track my reading, books I want to read and see what my friends are currently reading. It's not as cool as Litsy, but it's definitely more functional.
You can also join book clubs that discuss monthly or quarterly reads, but this is optional so interaction can be limited to your Goodreads timeline. The app also does giveaways now and then, and you can set yourself a reading challenge for the year if you're to competitive type. (Available on Android and iOS)
While this reading app isn't free, the subscription might be well worth it if you're the forgetful kind of reader who doesn't remember to bring a book anywhere you go.
A Scribd subscription gives you access to thousands of books, audiobooks, and magazines–conveniently on your phone when you don't have a book to distract yourself with.
Do you ever look at your bookshelf and wish you had a more organized way to deal with the books you own? Well, Libib is the solution to your problems: an easily searchable database (including a bar code scanner feature!) allows you to catalogue your books, with space for private book blurbs, tags and notes.
You can manage your library from your mobile device and export your catalogue to create an easy back-up!
Scrolling down Twitter and Facebook gets old sometimes; when you get bored, why not try some classic literature? This book app gives you daily bite-sized passages from classic books that can be read in 20 minutes to fit a busy schedule.
This is perfect because I often feel that classic books are a little intimidating and this reading app reframes them to be more manageable.
What are your favorite books apps? Love audiobooks? We've got audiobook app suggestions here.