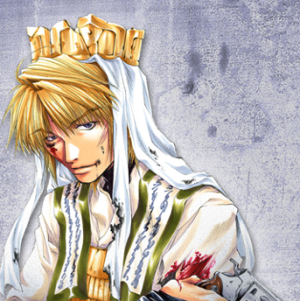 We cover movies, Western TV series, comics, and more based on lit all the time, but let's look Eastward, towards Japan, and check out some anime (Japanese, animated) series you can watch that are based on (or inspired by) classic literature.
1. Romeo x Juliet
[youtube]https://www.youtube.com/watch?v=BcE0nAzKjD4[/youtube]
This one's pretty obvious: Shakespeare's Romeo and Juliet adapted to anime. There's a lot to love about this series, not least of which is depending on where you are in the world, you can stream it on FUNimation's website legally and for free. This series aired in 2007 and was dubbed and released by FUNi in 2009. The video above is the English version of the opening, Inori (You Raise Me Up), a gorgeous song by Lena Park. Not gonna lie, I've cried to this song.
2. Gensomaden Saiyuki
This series can be classified as shonen anime, which generally means lots of action and fighting. There are several seasons and even some films, so it's a little long, but it follows the general story of Journey to the West. It was one of my favorite series back when it was airing, and I have nothing but great memories of all the fun I had watching it. Saiyuki has also been released in the West, and a complete set containing the original series (50 episodes) was re-released last year. You also have the option of reading the comics.
3. Nadia: Secret of the Blue Water

This series, only 39 episodes long, is kind of an older one compared with the other titles in this list (it aired in 1990-1991). It's loosely based on 20,000 Leagues Under the Sea by Jules Verne and follows 14-year old Nadia, Jean Ratlique, and Captain Nemo in a fight to save the world and uncover the secret of Nadia's past. This series has aired in the US previously, and been licensed more than once. Its most recent licensor, Sentai Filmworks, just re-released this on Blu-ray and DVD earlier this year. This series was conceptualized by Hayao Miyazaki and eventually directed by Hideaki Anno, who is most known for Neon Genesis Evangelion (though I only love him for Gunbuster).
4. Gankutsuou: The Count of Monte Cristo
[youtube]https://www.youtube.com/watch?v=Im6-iZGmgsA[/youtube]
My favorite item on this list is definitely Gankutsuou. This adaptation of the classic novel takes a few liberties (for one thing, the Count is a demon of sorts), but it's gorgeous and charming all the same. It gives the story a bit of a sci-fi twist, and tackles the narrative in a different chronological order as the book, so it'll feel fresh for new viewers. Also, how perfect is the opening theme? How. Perfect. Is. That. Song.
I do have one sort-of warning, though: some folks have complained the visual style of this series is a strain on the eyes, so maybe look out for that.
5. Pandora Hearts
This series is more of an inspiration than a direct adaptation of Alice's Adventures in Wonderland. Various characters resemble bits and pieces of the classic, but it's a totally original story. There are actually various inspirations of Alice in the anime world, and it frequently comes up in random filler episodes that occur in some kind of dream land or alternate universe. In Pandora Hearts, we follow the story of Oz, who is imprisoned in a realm called The Abyss when he comes of age, and saved by Alice. He then decides he wants to help Alice find out who she really is, and why he was taken away in the first place. There's a lot of fighting.
____________________
Did you know that Book Riot has a YouTube channel? We do. It's new and we are having fun with it. Check it out here.