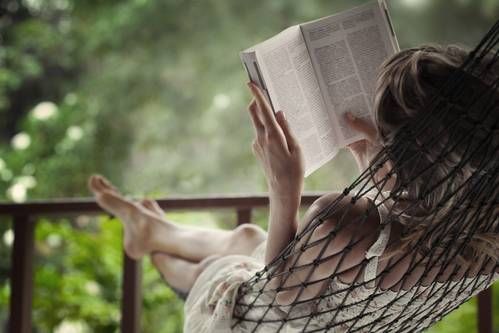 Lists
45+ Book Cures for Your Post-Election Hangover
This content contains affiliate links. When you buy through these links, we may earn an affiliate commission.
No matter which candidates you supported — either grudgingly or enthusiastically — in the past few months, we can all admit that this election season has been brutal. While some of you were rooting for a giant meteor strike to take us out of our misery, or wishing the option to move to Mars would come a bit sooner, we're all still here and most of us are in need of some serious escapism.
If you're looking to abandon the real world for a couple of hours, here are my recommendations (meteors and trips to Mars, optional).

Since everyone escapes a bit differently, I also asked for recommendations on social media. I learned how much people really love sharing their favorite escapist books. As you'll see, I was overwhelmed by recommendations — from friends and strangers, published authors and casual readers, Republicans and Democrats.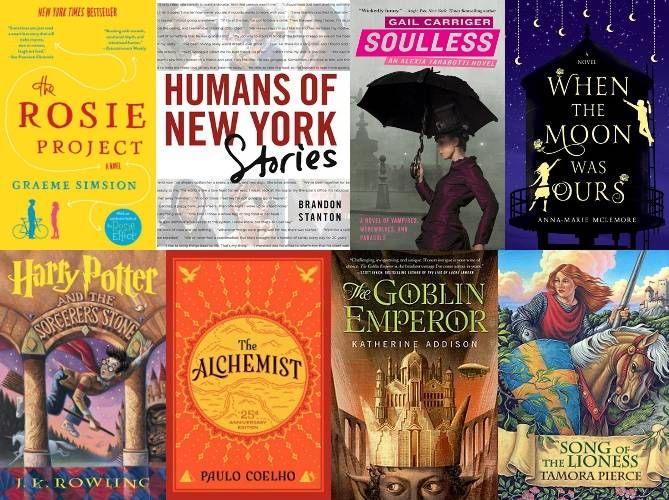 Humans of New York: Stories "Real-life stories that will restore your faith in humanity, which we all need after this grueling campaign season." Recommended by: author Destiny Cole
Soulless by Gail Carriger, followed by every other novel in the Parasol Protectorate series. "They're fun and funny and romantic with just enough angst to satisfy every craving I have when I'm digging into a paranormal series." Recommended by: Kit Brisby, author of Rogue Magic (January 2017, Riptide Books)
The Goblin Emperor by Katherine Addison for when "you're not looking to replace all the bad things with someone else's bad things, which is what I usually do." Recommended by: Leah Petersen, author of Fighting Gravity
The Alchemist by Paulo Coelho. "It always reminds you that any bumps in the road we may run into through this journey called life can really be opportunities to remind us of what "treasures" we truly value." Recommended by: Jennie Jarvis, author of Crafting the Character Arc
The Rosie Project by Graeme Simsion is "delightful. And if you want something not so contemporary, I'm insta-recommending When The Moon Was Ours." Recommended by: Lauren Gibaldi, author of Autofocus
Harry Potter by J.K. Rowling. "When the world just doesn't make sense, there's nothing like disappearing into a book. The idea of a boy from this world being invited into a world of magic—it's what many of us would love!" Recommended by: Vivi Barnes, author of Olivia Twisted
Three quartets by Tamora Pierce: Song of the Lioness, The Immortals, and Protector of the Small. "When I'm in a funk, I reach for one of those." Recommended by: Kerri, reader
The Black Jewels series by Anne Bishop has "amazing world building, immersive story telling, romance, and characters who jump off the page create stories that will put these books on the Keeper shelf." Recommended by: Katee Robert, author of Wrong Bed, Right Guy. Seconded by: Trisha Leigh, author of the Lowcountry Mysteries
My Lady Jane by Cynthia Hand, Brodi Ashton, and Jodi Meadows is "hilarious and irreverent." Recommended by: Seleste Delaney, author of Gaming for Keeps
The Wee Free Men by Terry Pratchett "The world building is excellent and the characters are unforgettable. It's the first book in the Tiffany Aching series, and a great read from start to finish." Recommended by: M.L. Bilinski, Author of Lady of Sherwood
The Fionavar Tapestry series, by Guy Gavriel Kay. "My English teacher gave me the books for me high school graduation. She told me they were better than Lord of the Rings. I didn't believe her until I read all three books in one weekend. The story is just stunning, and the characters have been with me ever since." Recommended by: J Rose Alexander, author of Zenko
Alan Lightman's Einstein's Dreams. "The book fills you with both hope and heartbreak for all the "what if's" for if things were different." Recommended by: Leslie Salas, educator, writer, cartoonist, & editor. https://leslielearns.wixsite.com/
Phoebe and her Unicorn by Dana Simpson. "A wonderfully unique girl smart enough to make a snarky in-love-with-their-own-reflection unicorn her best friend is bound to solve all the world's problems." Recommended by: Book Riot contributor Jamie Canaves
Michael Ventrella's Bloodsuckers. "Something to put the elections in perspective? So many similarities to the current campaigns and hysterically funny." Recommended by: Vickie, reader and aspiring writer
"Bridge of Birds by Barry Hughart, along with the other two books in the trilogy. I recommend these to everyone. They are amazing." Recommended by: Erica, dedicated reader
The Enchanted Forest Chronicles series by Patricia Wrede. "Great characters, great premise, a fun read with a feminist flair." Recommended by: Linda Bernfeld, Co-Regional Advisor of SCBWI-FL
Ella Enchanted by Gail Carson Levine. "Charming, funny, and romantic. It's one of those books that just feels cozy and happy." Recommended by: Amanda Rawson Hill, author https://amandarawsonhill.com/
Laura Ingalls Wilder's The Little House books. "Because building your own house, fighting scarlet fever, and pulling leeches off your legs makes my life look really easy by comparison." Recommended by: Gail Nall, author of Out of Tune
The Martian by Andy Weir. "Pure human determination, science, and hope with no villains but circumstance. Highly recommend the audiobook. Incredible voice performance." Recommended by: Ian Hiatt, author of Death of an Assassin
The Long Way to a Small, Angry Planet by Becky Chambers. "Space is my brain's go-to happy place. This book's easy-going pace lets me get lost in the wonder of soaring among the stars… Beautiful, nuanced exploration of gender, sexuality, and body politics!" Recommended by: M.K. England, author of The Disasters (HarperCollins, 2018)
Sofia Khan is Not Obliged by Ayisha Malik. "When I want to relax, give me something light and fluffy where I don't have to think. The book is fun and entertaining, and it gives me a peek into an unfamiliar culture." Recommended by: Laura Heffernan, author of America's Next Reality Star
Touching Fate by Brenda Drake. "Her writing always takes me away. And Touching Fate is about changing our fate and defeating curses, both of which feel pertinent to our election woes." Recommended by: Heather Cashman, editor at Cornerstones Literary US & Literary Agent Intern
Esperanza Rising by Pam Muñoz. "Ryan has always been a favorite of mine, and I've read it so many times with my girls.They were always thrilled to read a story about a girl who looked like them." Recommended by: Brenda Drake, author of Touching Fate
"When I need to get away, I jump into myth and history. In Promise of Shadows by Justina Ireland, a snarky harpy heroine with zingy one liners gives Greek myth a fresh twist." Recommended by: Heidi Heilig, author of The Girl from Everywhere
"Pasadena by Sherri L Smith is bitchy Veronica Mars style noir exploring the nature of friendship and truth." Recommended by: Megan Eccles, writer
Enter Title Here by Rahul Kanakia. "Super smart, meta story with an "unlikeable" female MC. Couldn't put it down." Recommended by: Sarah Ahiers, author of Assassin's Heart
"The Girl From Everywhere by Heidi Heilig will take you on an adventure with time traveling pirates, pearl eating dragons, and feels for days." Recommended by: Megan Eccles, writer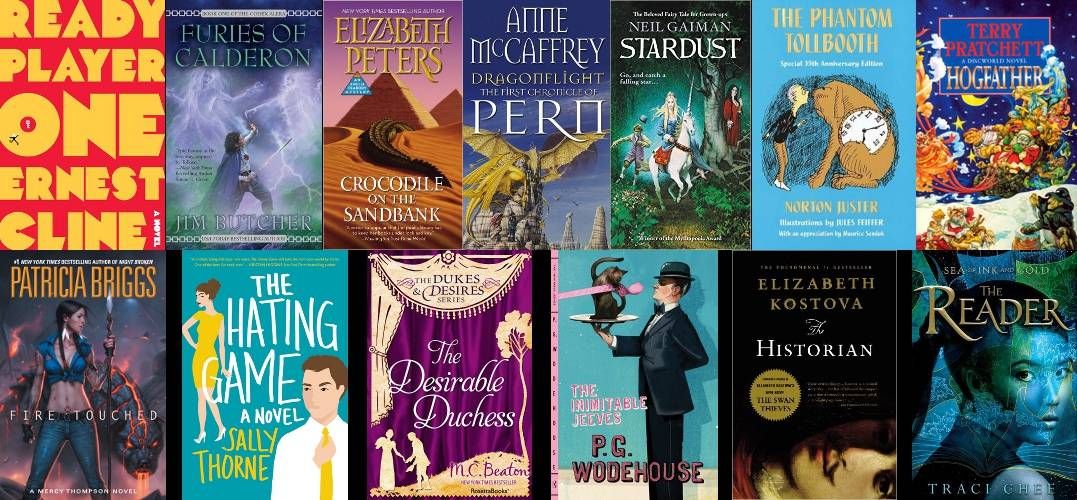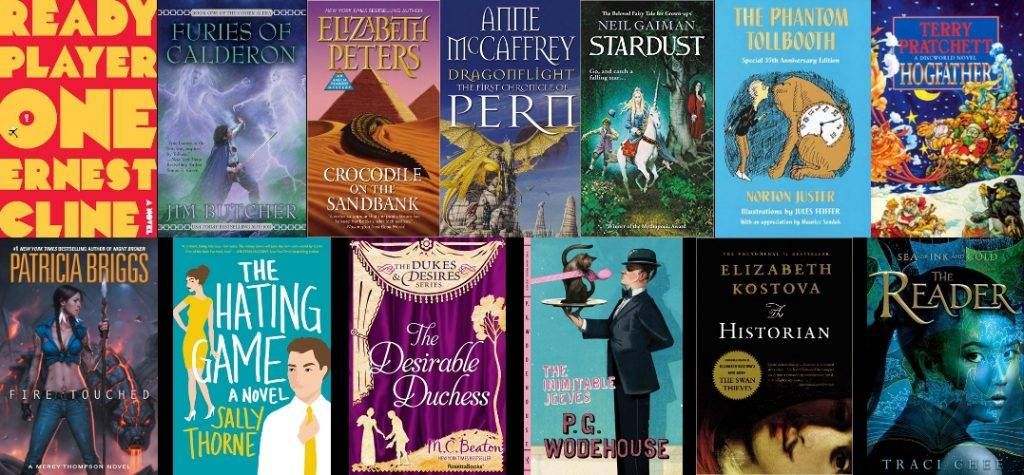 Any book by P. G. Wodehouse. "Pure funny." Recommended by: Richard Lee Byers, author of The Reaver
"I discovered Marion Chesney's (aka MC Beaton) Regency Romances when I was a kid at the library. I loved the beautiful ladies, the dashing lords, and the glittering parties. Now as an adult, I turn to them whenever I want to remember the comfort of my childhood. Plus, Marion Chesney writes a gorgeous lord in tight breeches like a boss." Recommended by: Leandra Wallace, author
The Hating Game by Sally Thorne. "Its combination of humor, charm, and delicious tension made me forget everything else that was going on around me. Plus, it's super hot." Recommended by: Rachel Lynn Solomon, author of Fingers Crossed (Simon Pulse, 2018)
The Historian by Elizabeth Kostova. "Amazing plot. Fast, though it's over 700 pages. Chilling. Believable. With totally feel-like-you're-right-there descriptions." Recommended by: Kerry O'Malley Cerra, author of Just a Drop of Water
The Phantom Tollbooth by Norton Juster. "I still get thrilled when Milo, Tock and the Humbug are trying to escape the Mountains of Ignorance with the Princesses Rhyme and Reason." Recommended by: Peter Gordon, author of Let's Play Two: Poems about Baseball
The Reader by Traci Chee. "A fantasy adventure in a world where books are forbidden, with a bonus story-within-a-story about a pirate! AND there are hidden messages in the pages." Recommended by: Stephanie Scott, author of Alterations
"One of my favorites is the Codex Alera series by Jim Butcher, although if you are going more for humor I would say anything by Terry Pratchett for fantasy (The Hogfather is my personal favorite). Other favorites I return to again and again: The Mercy Thompson series by Patricia Briggs; Anne McCaffrey's Dragonriders series; The Amelia Peabody mystery series by Elizabeth Peters; anything by Neil Gaiman. Ready Player One is also great and is basically the definition of an escapist book as the characters literally escape reality." Recommended by: Heidi, Librarian who, predictably, can't choose one favorite.