This giveaway is sponsored by The Wicked Deep by Shea Ernshaw.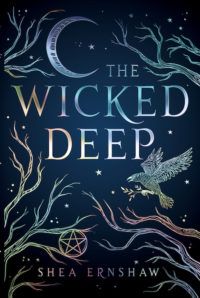 The Salem witchcraft trials meet Practical Magic and "Hocus Pocus" in this seductive tale about three sisters who return every summer in order to exact their revenge on the town that killed them for witchcraft two centuries ago.
---
Did you see Nicole Kidman and Sandra Bullock on the red carpet reminiscing about playing sister witches in "Practical Magic"? Did it put you in the mood for some page-turners about witches? Us too! So we asked, and as always, the Riot readers came through. Below are just some of your picks.
Witch Week by Diana Wynne Jones
Practical Magic by Alice Hoffman
The Worst Witch by Jill Murphy
White is for Witching by Helen Oyeyemi
The Near Witch by Victoria Schwab
The Hangman's Daughter by Oliver Pötzsch, translated by Lee Chadeayne
Bless Me, Ultima by Rudolfo Anaya
A Discovery of Witches by Deborah Harkness
Labyrinth Lost by Zoraida Cordova
The Conjure Woman and Other Conjure Tales by Charles W. Chesnutt
The Good House by Tananarive Due
The Wonderful Wizard of Oz by L. Frank Baum
The Witches of Eastwick by John Updike
The Witches by Roald Dahl
Uprooted by Naomi Novik
The Witchfinder's Sister by Beth Underdown
Akata Witch by Nnedi Okorafor
The Graces by Laure Eve
I, Tituba, Black Witch of Salem by Maryse Condé
A Hat Full of Sky by Terry Pratchett
Wicked: The Life and Times of the Wicked Witch of the West by Gregory Maguire
Voodoo Dreams: A Novel of Marie Laveau by Jewell Parker Rhodes
The Witch's Trinity by Erika Mailman
Daughters of the Witching Hill by Mary Sharratt
The Witch of Blackbird Pond by Elizabeth George Speare
The Crucible by Arthur Miller
The Witch of Portobello by Paulo Coelho
The House of the Seven Gables by Nathaniel Hawthorne
Outside the Bones by Lyn Di Iorio
Witch Child by Celia Rees
Harry Potter and the Sorcerer's Stone by J.K. Rowling
The Witching Hour by Anne Rice
The Witch's Market by Mingmei Yip
The Witch's Daughter by Paula Brackston
The Red of His Shadow by Mayra Montero
Speaks the Nightbird by Robert McCammon
The Bone Witch by Rin Chupeco
Captivated by Nora Roberts
The Physick Book of Deliverance Dane by Katherine Howe
The Heretic's Daughter by Kathleen Kent
The Last Witchfinder by James Morrow
The Lion, the Witch, and the Wardrobe by C.S. Lewis