This Riot Recommendation is sponsored by All the Women in My Family Sing: Women Write the World: Essays on Equality, Justice, and Freedom edited by Deborah Santana.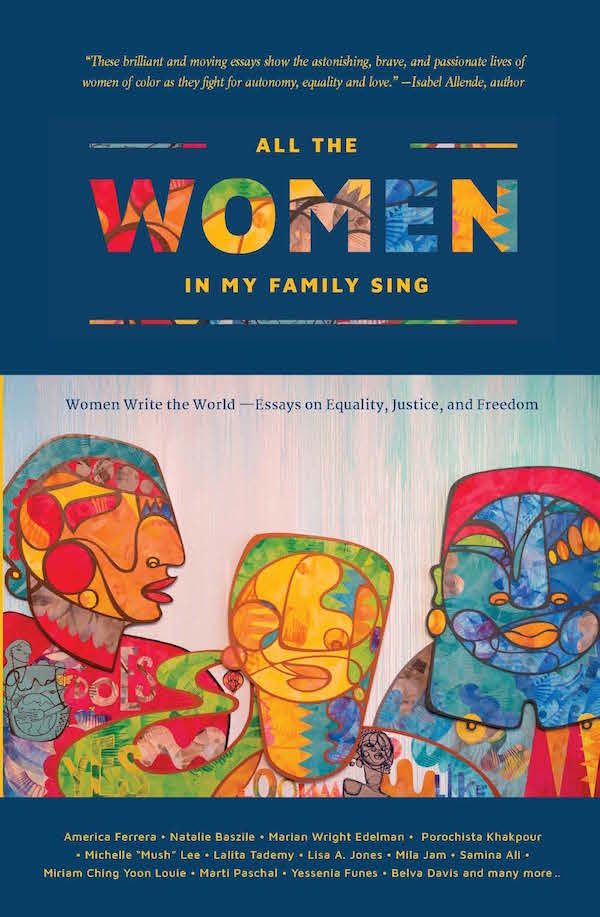 All the Women in My Family Sing is a vital collection of prose and poetry by women of color, with topics that range from the pressures of being the vice-president of a Fortune 500 Company, to escaping the killing fields of Cambodia, to the struggles inside immigration, identity, romance and self-worth. The brief, trenchant essays capture the aspirations and wisdom of these powerful women as they exercise autonomy, creativity, and dignity and build bridges to heal the brokenness in today's turbulent world.
---
Women have produced some edifying and entertaining nonfiction—from philosophy to history to essays and everything in between. We wanted to know: what are your favorite works of nonfiction by women? And wow, did you tell us! Below you'll find more than forty recommendations from your fellow Riot readers.
Minor Characters by Joyce Johnson
My Lesbian Experience with Loneliness by Nagata Kabi
All the Single Ladies by Rebecca Traister
A Girl Named Zippy by Haven Kimmel
Holding the Line by Barbara Kingsolver
The Year of Magical Thinking by Joan Didion
Drift by Rachel Maddow
The Woman Who Would Be King: Hatshepsut's Rise to Power in Ancient Egypt by Kara Cooney
A Room of One's Own by Virginia Woolf
Invincible by Amy Lawrence
Just Kids by Patti Smith
Payback: Debt and the Shadow Side of Wealth by Margaret Atwood
Men Explain Things to Me by Rebecca Solnit
Shirley Jackson: A Very Haunted Life by Ruth Franklin
Sister Outsider by Audre Lorde
Unmentionable: The Victorian Lady's Guide to Sex, Marriage, and Manners by Therese Oneill
The Spirit Catches You and You Fall Down by Anne Fadiman
Blood Will Tell by Kyra Cornelius Kramer
Unsportsmanlike Conduct by Jessica Luther
Illness as Metaphor by Susan Sontag
Thinking in Pictures by Temple Grandin
Clever Maids by Valerie Paradiz
The House on Beartown Road by Elizabeth Cohen
The Secret History of Wonder Woman by Jill Lepore
Ex Libris by Anne Fadiman
In Order to Live by Yeonmi Park
Thru Hiking Will Break Your Heart by Carrot Quinn
Wishful Drinking by Carrie Fisher
Wave by Sonali Deraniyagala
Against Our Will by Susan Brownmiller
My Beloved World by Sonia Sotomayor
Get Well Soon: History's Worst Plagues and the Heroes Who Fought Them by Jennifer Wright
Brain on Fire by Susanna Cahalan
Don't Look Back, We're Not Going That Way by Marcia Wallace
I Am Malala by Malala Yousafzai
Letting Go of God by Julia Sweeney
The Warmth of Other Suns by Isabel Wilkerson
Concussion by Jeanne Marie Laskas
Cleopatra: A Life by Stacy Schiff
The Female Eunuch by Germaine Greer
The Immortal Life of Henrietta Lacks by Rebecca Skloot
Seabiscuit by Laura Hillenbrand
And y'all are fans of anything by Roxanne Gay, Mary Roach, Barbara Ehrenreich, Annie Dillard, Doris Kearns Goodwin, and Sarah Vowell!