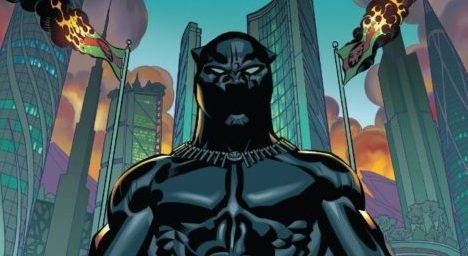 This post was originally published at Panels, our sister site about all things comics! Check out more from them here.
_______________
Black Panther #1 has dropped and, tl;dr version remains that it's fantastic. The much-anticipated debut of writer Ta-Nahisi Coates and Brian Stelfreeze is every but as exciting and colorful as readers expected.
In case you need more convincing, here's the top four reasons you need to run to the nearest comic book shop and get yourself a copy:
The Storytelling
T'Challa is an iconic character, and Coates' portrayal leaves little room for disappointment. In this version, we meet T'Challa as a layered character – he's dealing with Wakanda being on the highest security alert it's had in a long time, along with the threat that plagues Wakandan citizens being turned against the King. There's also conflict with the King's guard, the Dora Milaje, and constant reference for the "Orphan King" to pass the throne along to new leadership.
Those familiar with Coates' writing knew that we would be in for a treat, with his already extraordinary writing that highlights Black identity and cultural experience. But with Black Panther, it's done on a whole new level.
The Art
Though I'm not the biggest art critic, it doesn't take a classically trained eye to see that the art in this issue is stunning. The colors and shadows really offet the more serious tones of the story, and adds an especially nice contrast to the more supernatural forces in the story.
The Seamless, Effortless Diversity
Yes, yes, the "D" word is making its appearance yet again. Of course, Black Panther has strong connections to Black identity in comics, being the second most-popular Black superhero in mainstream media (the first, of course, goes to one Ororo Munroe). But despite that, reading Black Panther #1 doesn't give you a stereotypical Black superhero story. It's the little details that truly made reading this an experience – namely, seeing Black characters in ranging skin tones that went from a rich sienna to a deep ebony. Black women were also front and center in the story, remaining as powerful to the storyline as T'Challa himself.
In short? It's The Perfect Transitional Series
Although T'Challa has been a staple within the comic book world since the 1970s, there are still quite a few fans that have still not gotten around to familiarizing themselves with his story. No worries. Black Panther #1 does a great job of bringing in old fans as well as helping new fans find their way into the franchise. That line can sometimes be difficult to navigate but this issue really helps to ignite that. So if you're new to comics, this is a great series to start at.