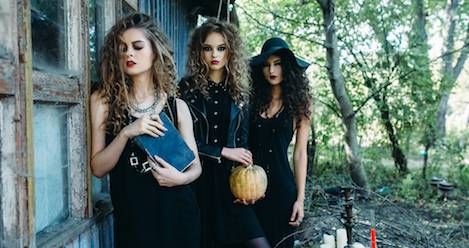 Lists
4 Books for New Witches
This content contains affiliate links. When you buy through these links, we may earn an affiliate commission.
This is a guest post from Isabel Galupo. Isabel lives in Los Angeles where she works as a coordinator in the Current Series Animation Department at the Nickelodeon Animation Studio. As a kid, Isabel used to get in trouble for trying to read library books under the table during family dinners. As an adult, she reads wherever she pleases thankyouverymuch. When she's not reading, Isabel does hot yoga, FaceTimes with her four younger sisters, and daydreams about the fat, squishy pug that she will one day adopt. She's currently working on her first novel.
---
Maybe it's because I live in Los Angeles — the land of guided full moon hikes, mindfulness meditation in preschools, and aura photographs over brunch — but it seems to me that we're in the middle of a witchy revolution. Things that were once considered too "out there" such as astrology, energy healing, numerology, and tarot cards are now commonplace. Arianna Huffington is a vocal advocate of establishing a daily meditation practice and Miranda Kerr sleeps with rose quartz under her pillow. It seems like everyone is hopping on the "woo-woo" wagon!
With all things mystical being more accessible than ever, it can be daunting to dive into the coven. If you're magic-curious but not sure where to start, pick up one (or all!) of these books: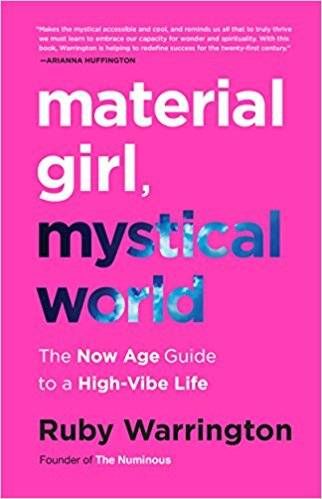 Material Girl, Mystical World by Ruby Warrington
Ruby Warrington is the founder of The Numinous, a website that provides "fashion, culture, and modern thinking for the now age." Her book Material Girl, Mystical World chronicles her journey from fashion editor to enlightened entrepreneur. She writes about everything from calculating your astrological chart, to tuning into your own psychic abilities, to understanding your chakras. While I don't necessarily share her affinity for haute couture, Warrington taps into an anxiety that many aspiring witches have: how to achieve balance between the spiritual and material worlds. Her book proves that you don't need to up and quit your desk job just because you establish a daily tarot routine (unless, of course, your soul is calling you to!). She provides practical nuggets of wisdom to help you integrate your witchy ways into your everyday life.
The Creative Tarot: A Modern Guide to an Inspired Life by Jessica Crispin
If you are an artist looking for some guidance from the universe, pick up a copy of Jessica Crispin's The Creative Tarot: A Modern Guide to an Inspired Life. The Tarot consists of 78 cards that all tell epic stories of suffering, hardship, dedication, triumph, and fulfillment. Not only does Crispin go through each individual card in the deck and explain the story behind it, she links each card to several iconic artists and/or works of art spanning all different periods of history in order to explain the fundamental lesson behind the card. She also includes five different custom spreads that artists can use when faced with things such as a creative block or a lack of inspiration.
The Desire Map: A Guide to Creating Goals with Soul by Danielle LaPorte
Before I read Danielle LaPorte's The Desire Map: A Guide to Creating Goals with Soul, my New Year's Resolutions were largely one-note and trite: "go to the gym;" "eat healthier;" "volunteer more." I largely failed at keeping these resolutions and felt bad about myself. Enter The Desire Map. It's a system to uncover your Core Desired Feelings, which, once pinpointed, will help you make decisions that attract success in all areas of your life. LaPorte's hypothesis is a relatively simple one: the key to soul-deep fulfillment is focusing on how you want to feel instead of focusing on accumulating tangible accolades, titles, or things. The book itself is one part manifesto, one part testimonial from LaPorte's own life, and one part workbook. In between quotes from spiritual gurus such as Abraham Hicks and Rumi, LaPorte provides questions to help you identify your Core Desired Feelings and begin to achieve your soul's deepest desires. Check out her newest book, too: White Hot Truth.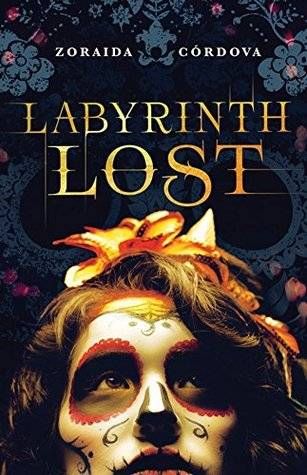 Labyrinth Lost (Brooklyn Brujas Book One) by Zoraida Córdova
Now that you've learned to cultivate magic in your own life, dive into the YA novel Labyrinth Lost by Zoraida Córdova, book one of her Brooklyn Brujas series. The book follows Alejandra "Alex" Mortiz, who is one of the most powerful brujas, or witches, of her time. The only catch? She absolutely abhors her powers. She casts a spell on her Deathday celebration to rid herself of her magic. The spell backfires, with tragic consequences; her entire family vanishes! Alex must journey into Los Lagos — a mysterious, in-between land — to recover her loved ones. Novice witches will love following Alex as she struggles to come to terms with her identity as a bruja.
Are you feeling the magic yet?