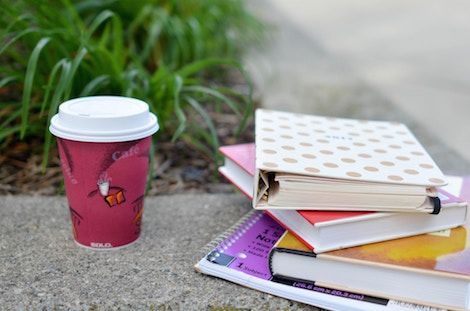 This content contains affiliate links. When you buy through these links, we may earn an affiliate commission.
"3 On A YA Theme" is sponsored by This Is Not A Love Letter by Kim Purcell from Disney Publishing Worldwide.
This contemporary YA tearjerker about an interracial relationship paints a poignant portrait of first love and loss and opens up important conversations about prejudice and mental health.
---
Every quarter, I do a round-up of the YA books hitting shelves. But that list can be huge and overwhelming. Where do you start?
To make navigating that list a little bit easier, as well as to help make more helpful entry points into YA for new readers, once a month "3 On A YA Theme" will highlight three big YA fiction titles hitting shelves. These will range from big, buzzy titles to titles which, while maybe not as big, sound like ones Riot readers would love to know about. Since I can't read everything in time to post these pieces (though I do read an unbelievable amount of reviews of them), descriptions will come from Goodreads, with additional commentary where appropriate. Each month's list will also include one YA nonfiction title, to round out your reading.
So let's dive right into what you should hurry to put your holds on—or spend your cash on—for February 2018.
At thirteen, bright-eyed, straight-A student Sara Saedi uncovered a terrible family secret: she was breaking the law simply by living in the United States. Only two years old when her parents fled Iran, she didn't learn of her undocumented status until her older sister wanted to apply for an after-school job, but couldn't because she didn't have a Social Security number.
Fear of deportation kept Sara up at night, but it didn't keep her from being a teenager. She desperately wanted a green card, along with clear skin, her own car, and a boyfriend.

Americanized follows Sara's progress toward getting her green card, but that's only a portion of her experiences as an Iranian "American" teenager. From discovering that her parents secretly divorced to facilitate her mother's green card application to learning how to tame her unibrow, Sara pivots gracefully from the terrifying prospect that she might be kicked out of the country at any time to the almost-as-terrifying possibility that she might be the only one of her friends without a date to the prom. This moving, often hilarious story is for anyone who has ever shared either fear.
If you've read Funny in Farsi or love the humor of Mindy Kaling, this is a book you will want to read ASAP.
Sixteen-year-old Elena Mendoza is the product of a virgin birth.
This can be scientifically explained (it's called parthenogenesis), but what can't be explained is how Elena is able to heal Freddie, the girl she's had a crush on for years, from a gunshot wound in a Starbucks parking lot. Or why the boy who shot Freddie, David Combs, disappeared from the same parking lot minutes later after getting sucked up into the clouds. What also can't be explained are the talking girl on the front of a tampon box, or the reasons that David Combs shot Freddie in the first place.
As more unbelievable things occur, and Elena continues to perform miracles, the only remaining explanation is the least logical of all—that the world is actually coming to an end, and Elena is possibly the only one who can do something about it.
This book is as bizarre as it sounds, and that's a good thing.
The Belles by Dhonielle Clayton
Camellia Beauregard is a Belle. In the opulent world of Orleans, Belles are revered, for they control Beauty, and Beauty is a commodity coveted above all else. In Orleans, the people are born gray, they are born damned, and only with the help of a Belle and her talents can they transform and be made beautiful.
But it's not enough for Camellia to be just a Belle. She wants to be the favorite, the Belle chosen by the Queen of Orleans to live in the royal palace, to tend to the royal family and their court, to be recognized as the most talented Belle in the land.
But once Camellia and her Belle sisters arrive at court, it becomes clear that being the favorite is not everything she always dreamed it would be. Behind the gilded palace walls live dark secrets, and Camellia soon learns that the very essence of her existence is a lie, that her powers are far greater, and could be more dangerous, than she ever imagined. And when the queen asks Camellia to risk her own life and help the ailing princess by using Belle powers in unintended ways, Camellia now faces an impossible decision.
With the future of Orleans and its people at stake, Camellia must decide: save herself and her sisters and the way of the Belles, or resuscitate the princess, risk her own life, and change the ways of her world forever.
The beginning of a new series!
In the medieval kingdom of Goredd, women are expected to be ladies, men are their protectors, and dragons can be whomever they choose. Tess is none of these things. Tess is…different. She speaks out of turn, has wild ideas, and can't seem to keep out of trouble. Then Tess goes too far. What she's done is so disgraceful, she can't even allow herself to think of it. Unfortunately, the past cannot be ignored. So Tess's family decide the only path for her is a nunnery.
But on the day she is to join the nuns, Tess chooses a different path for herself. She cuts her hair, pulls on her boots, and sets out on a journey. She's not running away, she's running towards something. What that something is, she doesn't know. Tess just knows that the open road is a map to somewhere else—a life where she might belong.
Readers who loved Seraphina will be thrilled to learn this book is set in the same world.
Want more "3 On A YA Theme" posts? Gotcha covered.