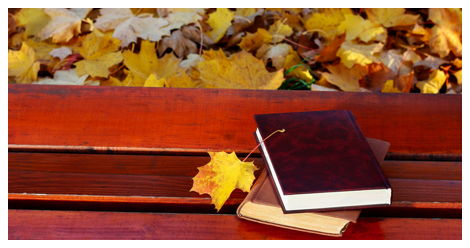 How many fun bookish things did you take on this summer? After rounding up 33 ways to make your summer a little more literary, I couldn't help but think about how fall — the beautiful time of year when everything feels so crisp, so ripe, smells delicious, and holds the promise of the Best Spooky Holiday Ever — is another opportunity to take one's reading life through more fun adventures.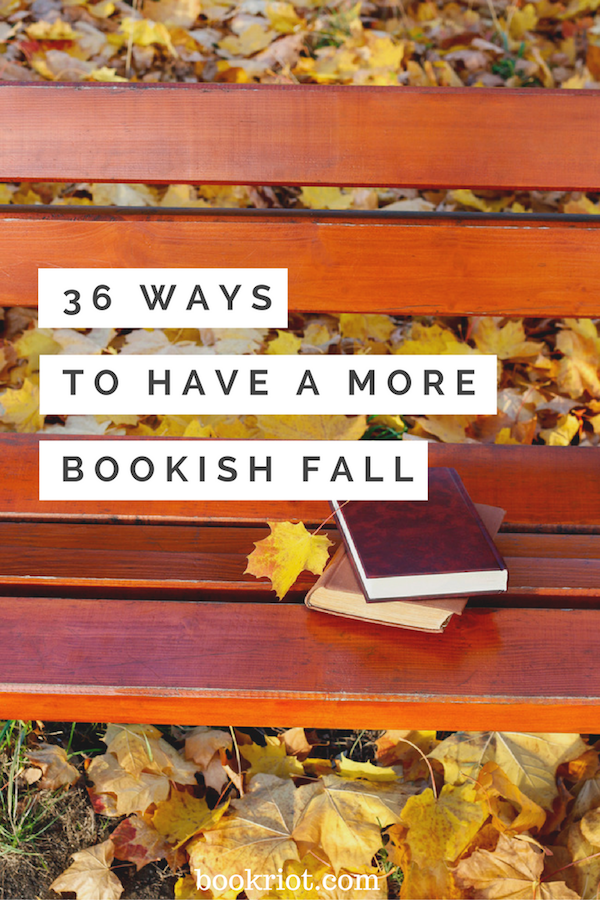 In honor of the seasonal change, the beautiful Harvest Moon, and what always feels like a clean slate, here are 36 ways to have a more bookish fall this year. Some of these are easy ones while others might require a little more work and planning ahead. All of these are meant to encourage a sense of fun and wonder in one's reading life. Where it makes sense, I've linked to some of the things we've written about on Book Riot that would make doing any of these tasks easier.
Of course, I'd love your ideas for a more bookish fall, too, so lay 'em on me in the comments.
1. Sit beneath the moon light with candles and/or flashlights and share scary stories.
2. Build your ultimate reading nook in your home.
3. Take a poetry walk: go for a walk through the park while reading poetry to yourself — or aloud.
4. Carve or paint a literary-themed pumpkin.
5. Host a literary-themed party. Tis the season to throw a Mary Shelley party or an Edgar Allen Poe party. Or, perhaps, you'll want to throw a Dracula party. Want to go further back down nostalgia lane? Throw a Bunnicula party. Or a good old murder mystery party might do the trick.
6. Create a wreath for your house (or for a friend) from the pages of a book you're recycling or upcycling.
7. Grab a piece of poster board and create poetry using candy wrappers. Example: Mary Jane Snickers at Nerds.
8. Go for a long drive through leaf-covered areas. While admiring the beauty, listen to a good spooky audiobook.
9. Check out a pile of picture books from the library featuring the words "Apple," "Leaf," or "Fall" in the titles. Read them while outside on a weekend afternoon.
10. Buy a new notebook and fill it with favorite literary quotes about autumn.
11. Purchase or borrow a new-to-you cookbook with soups and try your hand at making something new with the fall harvest vegetables.
12. Pick up another new-to-you cookbook and bake a pie or cookies.
13. Choose an evening every week to watch one of those book adaptations on film you've been meaning to catch.
14. See Shakespeare performed live.
15. Go to your local high school or community college's fall play. You might not know anyone there, you might not know the play, but you'll get to enjoy something that young actors and actresses poured their heart into.
16. Knit some literary mittens or hats or amigurimi.
17. Hit up your local antiques shop and peruse their book selection. You might find a treasured gem or something you'd otherwise never see in a bookstore or used bookshop.
18. Brainstorm what your favorite literary characters would dress up as for Halloween. What would they want most in their trick-or-treat bag? Grab your drawing utensils and make some fan art to go along with your fun brainstorming.
19. Same idea as above, but this time, what would your favorite literary characters do for Thanksgiving? What would their favorite part of the meal be? What would they be thankful for (if anything)? Who would be their dream companions at said Thanksgiving feast?
20. Buy and read a book or two or ten by and about Native Americans and/or First Nations People.
21. Instead of leaving your house for Black Friday, use the day after Thanksgiving to do nothing but read in bed. Light some candles and enjoy the zen.
22. Try your hand at a fall-themed Bookstagram challenge.
23. Hit up your favorite coffee spots once a week for an hour. Try out a new flavor drink and spend that time to dive into one of those classic tomes you've been meaning to read but haven't yet.
24. Don't want to lug a big book with you on your personal coffee date? It would be an excellent time to use the shop's wifi and try out one or more of the awesome bookish apps that are out there, like Serial or Litsy or others.
25. Spend a night or two laying outside beneath a nice blanket with some cider and watch the stars. Then read a book or two about space, the universe, and everything out there.
26. Donate your time to a local literacy organization. Can you spare a couple hours a month helping adults with their literacy skills? Can't volunteer time or don't have a local organization you can volunteer with? Buy a couple of gift cards or a handful of new books and drop them off at shelters or other local organizations where they might be put to use in good and unexpected ways.
27. Color.
28. Visit an apple orchard, a corn maze, or farmer's market and follow the trip up with reading a book or two about fall harvest, about farming, or about sustainability.
29. Grab a guide to leaves or trees or birds or insects or flowers and go on a walk through a local nature preserve. Use the guide to identify as many of the local flora and fauna as possible.
30. It's football season. Pick up a book about football, be it about your favorite team, about underdogs who've gone the distance, a romance, or even something that talks about the culture — good and bad — of the sport.
31. Choose a series of books you've read before or that you've been meaning to read, then read them.
32. Invite your friends to join you in reading/rereading that series and host a themed party to discuss your experiences.
33. Memorize a poem.
34. Find a book about the different ways you can use a pumpkin. Pick out a nice, big pumpkin and try all of the different uses in the book. Pumpkin face masks! Pumpkin bread!
35. Create a literary costume for you, your kids, or your pets. If you're part of a couple, see if you can become a literary couple of some kind. Make people guess who you are.
36. Challenge yourself to watch every adaptation (and spin off) of Frankenstein.