Lists
The 35 Most Powerful Books You've Read
In our latest reader poll, we asked about the most powerful books you've read. Not necessarily your favorites, or the ones that gave you the most enjoyable reading experiences, but the books that left a lasting impression on you and maybe even changed your life.
1037 Riot readers answered the call, each sharing up to three selections. After removing unusable entries (did you know that bookternet trolls like to write naughty words into surveys?) and a few authors' obvious attempts to game the system (don't do that, we'll catch you), we wound up with 1158 unique titles. That is A LOT of unique titles, and even the top title was only mentioned by 11% of readers. This tells me that what makes a book powerful has a whole lot do with who we are as readers. But there were some far-and-away favorites. Check out the top 35 below, and click to see the full response set.
Did the most powerful books you've read make the list? Any surprised? What do you think?
To Kill a Mockingbird by Harper Lee (123 votes)
The Harry Potter Series by J.K. Rowling (59)
The Book Thief by Markus Zusak (54)
1984 by George Orwell (38)
The Handmaid's Tale by Margaret Atwood (36)
The Bible (33)
The Fault in Our Stars by John Green (30)
The Road by Cormac McCarthy (30)
The Grapes of Wrath by John Steinbeck (28)
Beloved by Toni Morrison (27)
The Lord of the Rings by J.R.R. Tolkien (25)
A Prayer for Owen Meany by John Irving (20)
Crime and Punishment by Fyodor Dostoevsky (19)
Jane Eyre by Charlotte Bronte (19)
Catcher in the Rye by J.D. Salinger (18)
East of Eden by John Steinbeck (18)
Fahrenheit 451 by Ray Bradbury (18)
The Great Gatsby by F. Scott Fitzgerald (18)
The Kite Runner by Khaled Hosseini (18)
The Giver by Lois Lowry (17)
The Perks of Being a Wallflower by Stephen Chbosky (17)
Les Miserables by Victor Hugo (16)
One Hundred Years of Solitude by Gabriel Garcia Marquez (16)
The Poisonwood Bible by Barbara Kingsolver (16)
The Bell Jar by Sylvia Plath (15)
Never Let Me Go by Kazuo Ishiguro (15)
Atlas Shrugged by Ayn Rand (14)
Catch-22 by Joseph Heller (14)
The Color Purple by Alice Walker (14)
The Diary of a Young Girl by Anne Frank (14)
Infinite Jest by David Foster Wallace (14)
Lolita by Vladimir Nabokov (14)
Night by Elie Wiesel (14)
The Fountainhead by Ayn Rand (13)
Gilead by Marilynne Robinson (13)
And here's a look at how some of the most powerful books overlap with some of Book Riot readers' 50 favorite novels. Thanks to fellow Rioter Minh Le for the graphic.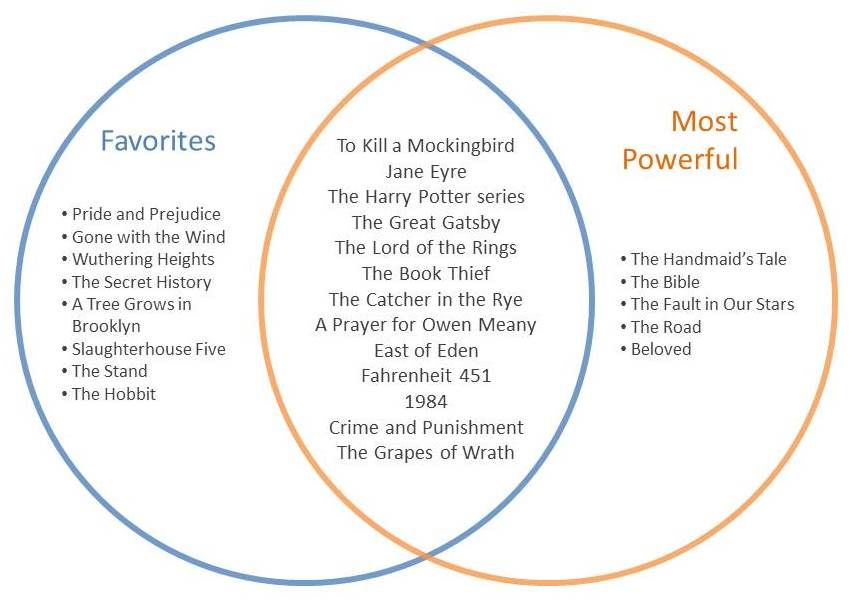 Check out other Riot polls:
Book Riot Readers' 50 Favorite Novels
The 25 Most-Hated Books (by Book Riot Readers)
19 Books You've Been Meaning to Read FOREVER
20 Books You Pretend to Have Read
Top 10 Books You're Embarrassed to Admit You've Read
20 Most-Loved Literary Characters
Are These the 13 Most Underrated Books?
20 Books You Love to Give as Gifts
Your 25 Favorite Authors of Color
The Book Riot 2013 Reading Habits Survey
The Top 17 Books That Make You Feel Dumb