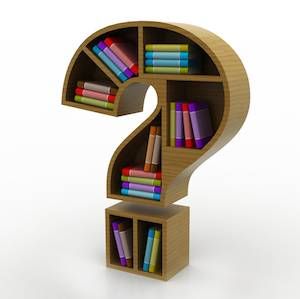 Do you get things done? Are you productive? Can you easily avoid the internet's tempting and constant invitation to goof off? Do repetitive questions annoy you?
Then consider this your ultimate test.
Here are 33 bookish trivia games from Sporcle. Tread carefully. One minute you're settling down to a fun Dickens quiz, and next thing you know, your house looks like Ms. Havisham's. You've been warned.
100 Books to Read in Your Lifetime (Amazon) – A good mix of classic and contemporary, fiction and non-fiction (and corporate hegemony!).
Adaptations: Name the Title – You get the author and the director. Can you name the adaptation?
Adaptations II: Books That Became Movies – 30 more adaptations!
Adaptations III: More Books That Became Movies – and 30 more on top of that!
A Song of Ice and Fire POV Characters – Can you name all the characters to get chapters from their point of view in George R.R. Martin's epic series?
A Song of Ice and Fire Top 300 Characters – Even more daunting: can you name the 300 most mentioned characters in ASoIaF?
AP Literature Exam Most Cited – Can you name the books most cited on the AP English Lit Exam since 1971?
Charles Dickens' Novels – Can you name them all?
Complete the Shakespeare Quote – Fill in the blanks to complete some of The Bard's best lines.
Dr. Seuss Books – Can you name them? All 62 of them?
Facebook Literature – Connect the Facebook status update to the correct novel or play.
Goosebumps Series – You get the tagline, but can you remember all the titles in R.L. Stine's frightening kids' series?
Harry Potter Chapter Titles – This one's for the die-hards. Can you name EVERY chapter title in the Harry Potter series?
Harry Potter Top 200 Characters – All right, I can't resist a good bit of Harry Potter trivia. Can you name the 200 most mentioned characters?
Hugo Award Winners – How big a Sci-Fi nut are you? Name the Hugo Winning novels, going back to 1946.
Invented Words: Carroll, Seuss, or Dahl? – Can you guess who coined each of these made-up words or phrases?
James Bond Books – Can you name every James Bond novel?
Judy Blume Fiction – Judy Blume's books for kids and adults: can you name them all?
Famous Last Words – How many of these sixteen classic novels can you guess by their last lines?
Less Exciting Literature – These books have been given new titles far more boring than their originals. Guess the real titles to win!
Lord of the Rings Top 50 – Can you name the 50 most mentioned characters in Lord of the Rings?
Modern Library Top 100 – Another top 100 list! Can you guess the Modern Library's 100 Best Novels (1900-1998)?
New York Times Bestselling Authors – Which authors have had the most books atop the Times Bestseller List? Every author on this quiz has had at least five!
Nobel Prize in Literature – This one is gonna be tough. Can you name every Nobel Prize winner from 1944 to 2013?
Novels by Opening Lines – You have five minutes. Your mission, should you choose to accept it, is to identify the following sixteen novels by only their first lines.
Novels by Opening Lines II – Fancy sixteen more?
Novels by Opening Lines III – Come on, go for broke. Sixteen more?
Pride and Prejudice Characters by Quote – It is a truth universally acknowledged, that a quiz in possession of good questions must be in want of a taker.
Pulitzer Prize Winners (Fiction) – How many of the 87 Pulitzer Prize winners for Fiction can you name?
Pulitzer Prize Winners (Drama) – Or the 83 Pulitzer winners for Drama? (Note to self: read/watch more plays.)
Sci-Fi Novels from Rhyming Clues – Exactly what it sounds like, combining your love of Lovecraft and Seuss.
Guess the Banned Book – Name the 46 books (from this list of 100 great novels) that have been banned.
Where the Wild Things Are – Can you name every word in Maurice Sendak's classic children's book?
Holy Cow that's a lot of bookish trivia. I hope you fared well. I also hope that your life is not a shambles because you've spent too much time in front of your computer, trying to remember the name of that Ravenclaw that you're pretty sure shows up at least a couple of times in Prisoner of Azkaban. But then, that's the risk you take when books and trivia are combined.