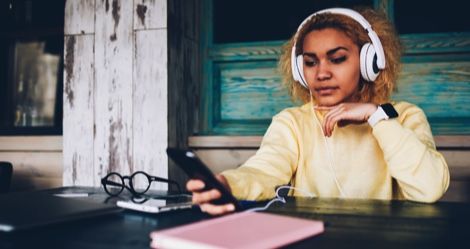 31 Podcasts For Every Type Of Book Lover: List List #319
The List List is sponsored by The Spaceship Next Door by Gene Doucette.
Three years ago, a spaceship landed in an open field in the quiet mill town of Sorrow Falls, Massachusetts. It never opened its doors, and for all that time, the townspeople have wondered why the ship landed there, and what—or who—could be inside. Then one day a government operative arrives in town, asking questions. He discovers sixteen-year-old Annie Collins, one of the ship's closest neighbors and a local fixture known throughout the town, who has some of the answers. As a matter of fact, Annie Collins might be the most important person on the planet. She just doesn't know it.
---
at the Boston Globe, 23 Hot Picks For Cool Fall Books
at Huffington Post, 25 Children's Books That Celebrate Differences
at Vogue, 17 New Books You Won't Want to Miss This Fall
at the Los Angeles Times, 7 Terrific Books About America's Labor Movement
at Parade, The Top 20 Most Anticipated Books of Fall 2018
at Bustle, 13 Witchy Books To Get You In the Halloween Spirit
at Harper's Bazaar, The Best New Books to Read This September
at Vox, 7 Authors On 20 Years of Harry Potter
at Vulture, 60 New Books to Read This Fall
at Entertainment Weekly, 5 Comics To Read This September
at InStyle, 11 Books to Read This September
at Buzzfeed, 31 Podcasts For Every Type Of Book Lover and oh hey are those two Book Riot podcasts on the list?