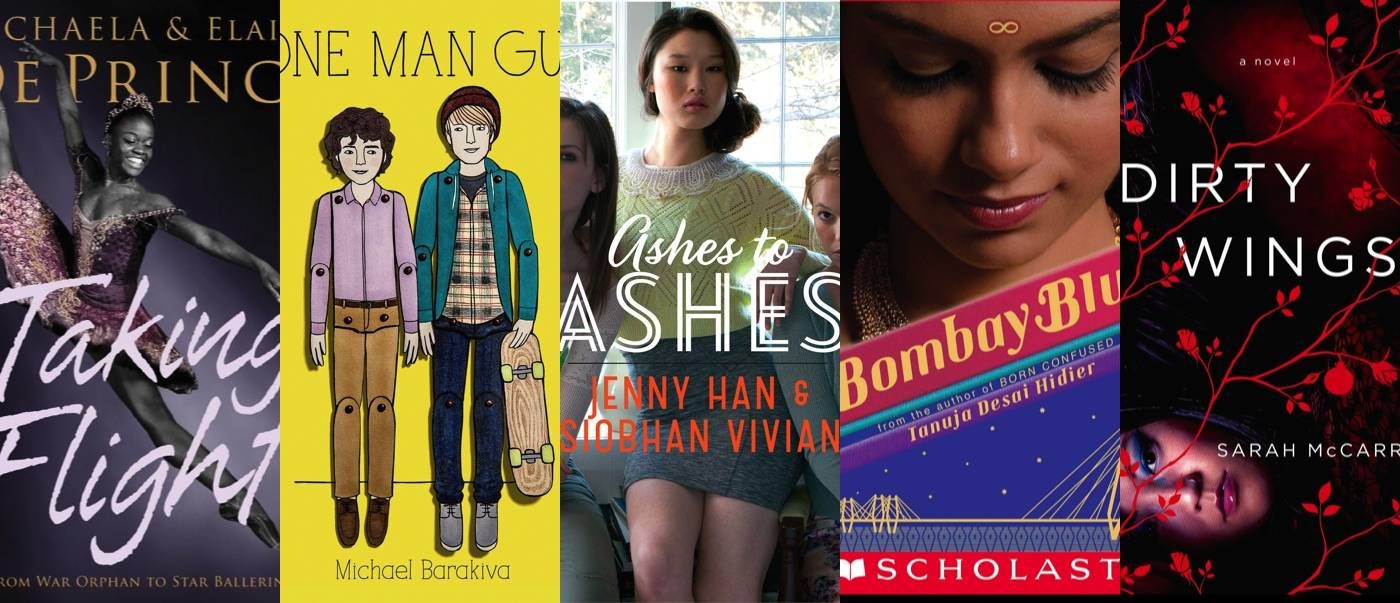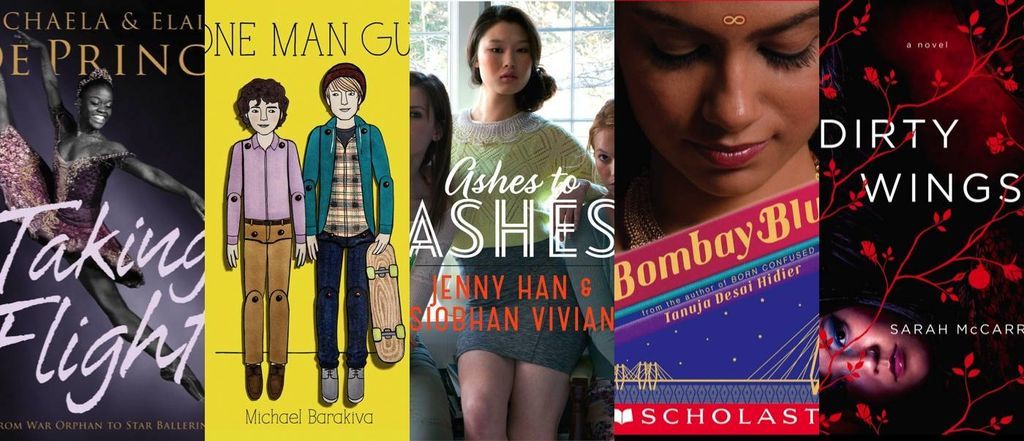 30 Diverse YA Titles To Get On Your Radar
This content contains affiliate links. When you buy through these links, we may earn an affiliate commission.
This post is sponsored by I Read YA.
Throughout the month of May, Scholastic's This is Teen community is sharing a simple statement: I read YA. If you read young adult books, too, they'd love to hear from you! Tweet your YA book recommendations to @this_is_teen using #IreadYA to join the conversation with authors and readers, AND be entered to win some great YA prizes!
_________________________
Since we've been talking about getting more diversity into your reading, I thought it would be worthwhile to highlight a number of books that are coming out through the end of the year that feature diversity. Each of these books contains a main character who is either non-white, non-straight, of a non-Christian background, or is disabled. As importantly, these are books where those elements aren't the entire plot of the book.
I pulled together 30 books to get you started in your own quest to read more diversely. I've included not only fiction, but also a number of nonfiction titles to get on your radar as well. A small number of these books are available now.
As a bonus, I've pooled some great further resources for diversifying your YA reading. It should be noted this list is not exhaustive.
Fiction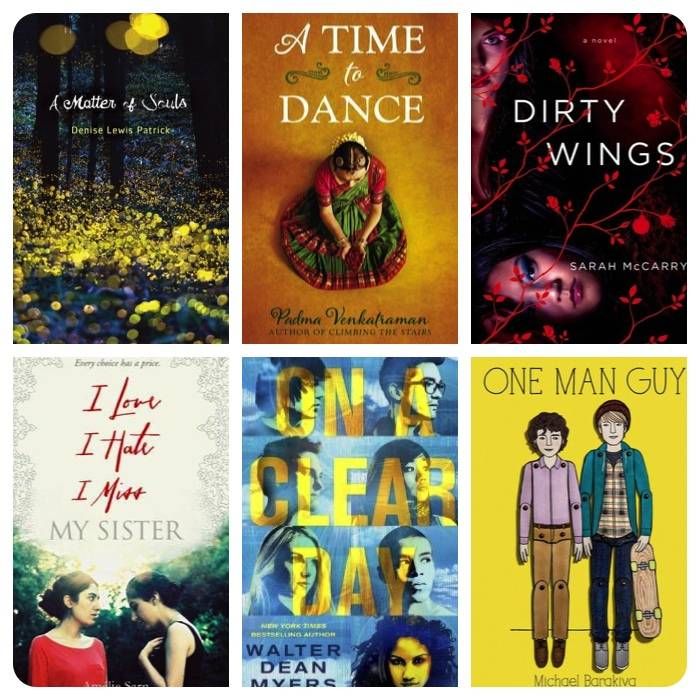 A Matter of Souls by Denise Lewis Patrick (available now): A collection of short stories about the souls of black men and women from historical to contemporary time frames.
A Time to Dance by Padma Venkatraman (available now): Veda is a dance prodigy in India, but an accident turns her into an amputee. She won't let that loss take away her dreams, though.
Dirty Wings by Sarah McCarry (St. Martins Griffin, July 15): Maia is trapped in the good girl role in her strict, adoptive household. Cass is a street girl. But when their paths cross, their lives are forever changed. This is a loose retelling of the Persephone myth.
I Love I Hate I Miss My Sister by Amelie Sarn (Delacorte, August 15): A story of two Muslim sisters, one who is becoming more devout and one who is becoming more secular.
On a Clear Day by Walter Dean Myers (Crown Books for Young Readers, September 23): A futuristic novel, set in 2035, where a diverse cast of teens comes together to fight the powerful corporate elite.
One Man Guy by Michael Barakiva (Farrar, Straus, and Giroux, May 27): A gay love story featuring an Armenian main character, some Rufus Wainwright, and a load of humor.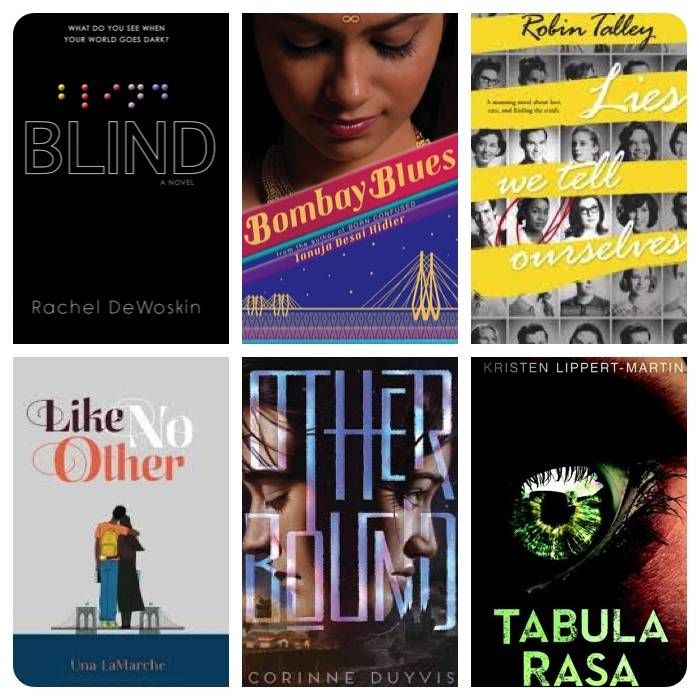 Blind by Rachel DeWoskin (Viking, August 7): Emma lost her sight after a wayward 4th of July rocket landed in her eye. Now that she's back at school, she's learning how to adjust to her new way of life and hoping she doesn't become the Poor Blind Kid to her peers.
Bombay Blues by Tanuja Desai Hidier (Push, August 26): In this sequel to Born Confused, Dimple does a little globe trotting and discovers that going home — and defining "home" — might not be as easy as she thinks.
Lies We Tell Ourselves by Robin Talley (Harlequin Teen, September 30): Set in 1959, Sarah is one of the first black students to attend the previously all-white high school in her Virginia town. Linda, who grew up in a house where "separate but equal" was instilled in her as the right way of life, is now paired up with Sarah for a school project. Can they overcome their differences and maybe find there's much more to their relationship than just project partners?
Like No Other by Una LaMarche (Razorbill, July 24): Devorah grew up in a strict Hassidic household and has always been a "good girl." Jaxon is nerdy, fun boy who has never been that great with girls. When they become stranded together in an elevator, their paths cross in a way that challenges both their perceptions of each other — and themselves.
Otherbound by Corinne Duyvis (Amulet, June 17): A fantasy novel about body possession, featuring two points of view and characters that are queer, disabled, and of more than one color.
Tabula Rasa by Kristen Lippert-Martin (EgmontUSA, September 23): Pitched as The Bourne Identity meets Divergent, with a main character who is half Latina.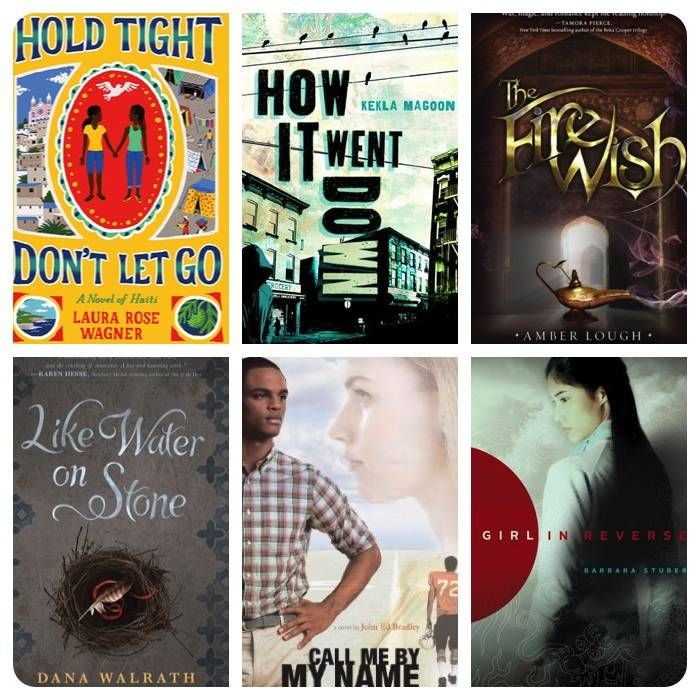 Hold Tight, Don't Let Go by Laura Rose Wagner (Amulet, January 6, 2015): This story follows two cousins who were raised as sisters in the wake of the devastating Haitian earthquake in 2010.
How It Went Down by Kekla Magoon (Henry Holt, October 21): Tariq was killed by two gunshot wounds, and his community is in an uproar as details about the event keep changing. Tariq was black and his shooter, white. How do you make sense of a tragedy?
The Fire Wish by Amber Lough (Random House, July 22): A high fantasy novel about royalty, magic, jinni, and set in the Middle East.
Like Water on Stone by Dana Walrath (Delacorte, November 11): Set during the Armenian genocide of 1915, this verse novel is a story about sisters and survival.
Call Me By My Name by John Ed Bradley (available now): It's not easy being a black quarterback in 1960s Louisiana, as prejudice continues to run high and you're starting to fall for a girl who people don't want you to pursue.
Girl in Reverse by Barbara Stuber (available now): Lily was adopted when she was young, and her Asian heritage makes her life challenging during the height of the Korean War. But a discovery her brother makes of artifacts in the family attic sends Lily down a road to not only discovering — but embracing — the skin she's in.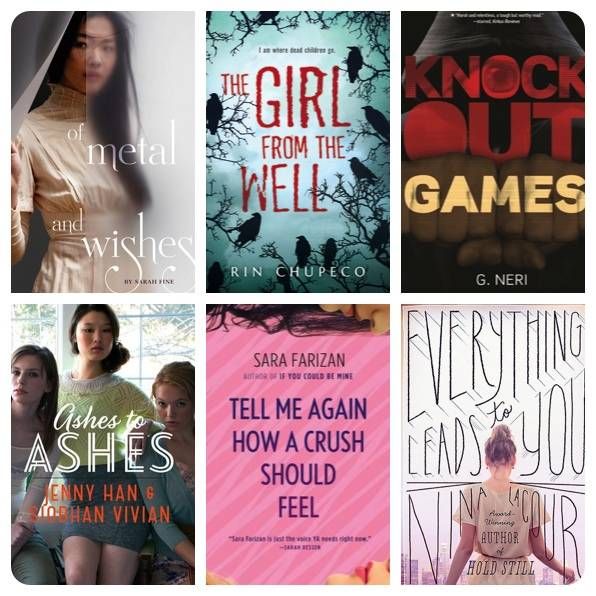 Of Metal and Wishes by Sarah Fine (Margaret K. McElderry, August 5): How about a retelling of The Phantom of the Opera set in a slaughterhouse in a reimagined Asia? Here you go.
The Girl From the Well by Rin Chupeco (Sourcebooks Fire, August 5): Because the pitch for this is too great not share, this is your average Dexter meets The Grudge horror novel, based on a Japanese ghost story.
Knockout Games by G. Neri (Carolrhoda Lab, August 1): A 15-year-old white girl is convinced to join a violent club by a convincing 18-year-old black boy. What could possibly happen?
Ashes to Ashes by Jenny Han and Siobhan Vivian (Simon & Schuster Books for Young Readers, September 16): This is the third and final installment in the series about three girls set out for revenge upon those who have wronged them.
Tell Me Again How a Crush Should Feel by Sara Farizan (Algonquin Books, October 7): It's hard enough for Leila at school being Persian, but if people knew she was also a lesbian, it'd become even harder. But then a new girl shows up and perhaps Leila's ready to be open and confident about who she is.
Everything Leads to You by Nina LaCour (available now): An unabashed and sweet lesbian love story.
Non-Fiction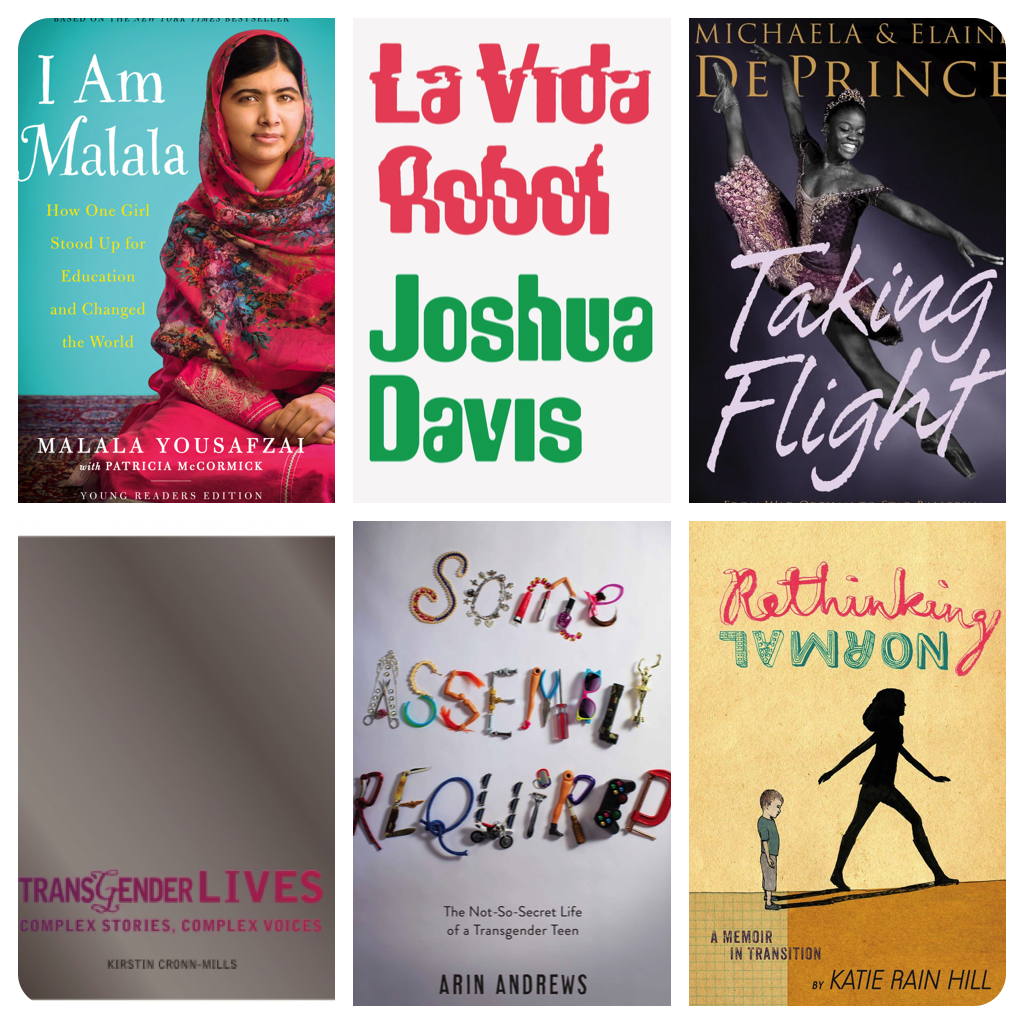 I Am Malala: Young Reader's Edition by Malala Yousafzai and Patricia McCormick (Little, Brown Books for Young Readers, August 19): This edition of Malala's story is told for teen readers, and Patricia McCormick — known for her books like Sold — helps shape the narrative.
La Vida Robot by Joshua Davis (FSG, September 2): A book about four undocumented Mexican American teenagers, a pair of teachers, and a robot-building contest.
Taking Flight by Michaela DePrince and Elaine DePrince (Knopf, October 14): Michaela's memoir of having escaped Sierra Leone and becoming a well-known star in the American ballet world.
Transgender Lives by Kirstin Cronn-Mills (Twenty-first Century Books, September 1): Cronn-Mills, who wrote the award-winning novel Beautiful Music for Ugly Children, explores what it means to be trans* in America through seven narratives. The book also delves into trans* history and the spectrum of identity.
Some Assembly Required by Arin Andrews (Simon & Schuster Books for Young Readers, September 30): A memoir by a teenager about undergoing gender reassignment while in high school.
Rethinking Normal by Katie Rain Hill (Simon & Schuster Books for Young Readers, September 30): Nineteen-year-old Katie Hill writes about what it was like to undergo gender reassignment.
Further Resources
Want more places to find great diverse stories? Here's a small handful of places to stop for solid recommendations: