This giveaway is sponsored by Chronicle Books.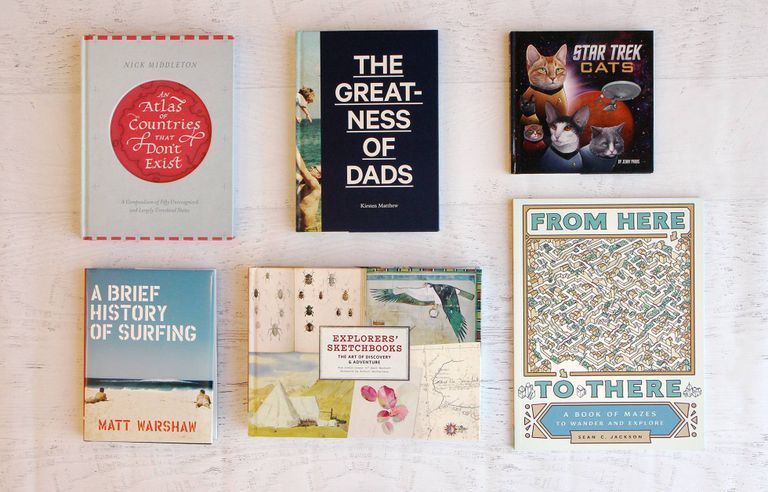 Dads are diverse. Celebrate all their quirks with just the right book this Father's Day. With books about explorers, history, and geography (Explorers' Sketchbooks and Atlas of Countries That Don't Exist), an encyclopedic tome on surfing (A Brief History of Surfing), an intricately illustrated activity book (From Here to There: A Book of Mazes to Wander and Explore), a hilarious homage to the original Star Trek series with an unexpected twist (Star Trek Cats), and a handsome volume that celebrates all they do (The Greatness of Dads), Chronicle Books has you (and your dad) covered.
---
No two dads are the same but, chances are, there's a book out there for every one. Maybe it's fact, maybe fiction–we asked you to tell us what book you would recommend to your dad, and you responded.
Here are 35 of your picks!
The Walk by Richard Paul Evans
Theodore Rex by Edmund Morris
A Gentleman in Moscow by Amor Towles
Leaves of Grass by Walt Whitman
The Immortal Life of Henrietta Lacks by Rebecca Skloot
Zero K by Don DeLillo
I Must Say by Martin Short
Ready Player One by Ernest Cline
Salt by Mark Kurlansky
1493 by Charles Mann
The Martian Chronicles by Ray Bradbury
Polska by Laura Edwards
The Eight by Katherine Neville
Throne of Glass series by Sarah J. Maas
The World's Strongest Librarian by Josh Hanagarne
The Dark Tower Series by Stephen King
Snow Like Ashes by Sara Raasch
Bear Town by Frederick Backman
Cimmaron Rose by James Lee Burke
The Likeness by Tana French
The Princess Bride by William Goldman
We Should All Be Feminists by Chimamanda Ngozi Adichie
The Subtle Art of Not Giving a F*ck by Mark Manson
The Lottery Rose by Irene Hunt
March by John Lewis
Anything by Candice Millard
Teammate by David Ross
The Hobbit by J.R.R. Tolkien
Hillbilly Elegy by J.D. Vance
Big Russ and Me by Tim Russert
A Deepness in the Sky by Vernor Vinge
Make Me by Lee Child
Grunt by Mary Roach
The Invisible Man by Ralph Ellison
The Fall by Guillermo Del Toro and Chuck Hogan
Save
Save
Save