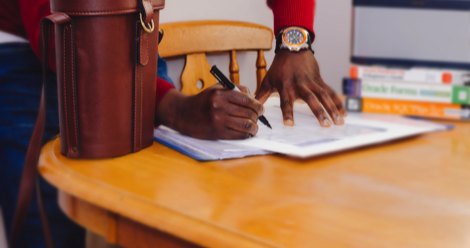 For my first post around the "black comic creators you should know" theme, I focused exclusively on artists. This is because my first real connection to comics was with the art. But as I matured as a reader, I began to appreciate the effort it takes to successfully write an engaging comic book. And with the exciting news of writers like Ta-Nehisi Coates, Roxane Gay, and Yona Harvey trying their hands at comic books, it becomes very important for us to showcase the works of other black comics creators–because who knows how many readers may be introduced to comics through their work? So, for the second post centered on showcasing the works of black comic creators, I'll be introducing writers that you should get familiar with. For those already in the know, help a brotha out by dropping more suggestions in the comments. And if I forget your fave, charge it to my head, not my heart.

Dwayne McDuffie
Arguably one of the most well known writers in comics and comics media, Dwayne McDuffie got his start at Marvel in the 1980s. He went on to create or co-create many of Milestone Media's title characters, like Icon, Rocket, Static, and Hardware. He wrote the Icon and Hardware titles as well.
McDuffie's work didn't stop with comics. He adapted the story of Milestone hero Static into the acclaimed cartoon series Static Shock. McDuffie wrote for many flagship comic book based tv shows and movies, like Justice League Unlimited, Teen Titans, and the All-Star Superman animated film adaptation. Following stints on TV and film, he returned to comics, writing Milestone Forever, a title that officially combined the Milestone and DC Comics universes.
Felicia Henderson
Felicia Henderson is an award-winning screenwriter, producer, and director. Henderson has written and produced several television shows, including The Fresh Prince of Bel-Air, Family Matters, Sister, Sister, Fringe, and is the creator of the Soul Food TV series. Henderson wrote Teen Titans and Static Shock for DC comics, and is one of only two black women to write comics for the publisher.
Angela Robinson
Angela Robinson is a writer and filmmaker who has written for the HBO series Hung and True Blood. She directed D.E.B.S., an award winning film that centered the stories of lesbian and bisexual spy school prodigies. Robinson wrote the first four issues of DC Comics The Web, and is one of only two black women to write comics for the publisher.
Taneka Stotts
Taneka Stotts is a writer and editor of multiple comics titles. She is the writer of the Webcomic Full Circle and has also written titles like "Love and Sprockets" and "Deja Brew." Stotts is also the editor of Beyond: The Queer Sci-Fi and Fantasy Comic Anthology and is currently working on Elements, a comics anthology spotlighting comics by creators of color.
Erika Alexander
Erika Alexander, is an actress and writer famous for roles such as Pam Tucker from The Cosby Show and Maxine Shaw from the 90's sitcom Living Single. However, Alexander is also the scribe behind the spectacular sci-fi comic Concrete Park. You may remember this title from the previous post in this series; her husband Tony Puryear provides the art.
Kevin Grievoux
Kevin Grievoux is an actor and writer for both TV and film. He is the creator of the Underworld series of movies, as well as I, Frankenstein. Grievoux's most well known comic title is probably Adam: The Legend of the Blue Marvel, a mini-series that explores the story of a forgotten Civil-Rights era superhero who can be seen in the pages of current titles like The Ultimates and Mighty Avengers.
Juliana "Jewels" Smith
Juliana Smith is a community activist and educator who created (H)afrocentric as a way to challenge her students and others who encounter the title on their perceptions of race, class, gender, and sexuality. (H)afrocentric netted Smith a Glyph Comics Award in 2016.
Marc Bernardin
Marc Bernardin is a writer and editor who's written for film, served as an editor for several and has written several titles for many different publishers. Bernardin's most recent work is Genius, a five issue miniseries published by Top Cow with art from Afua Richardson. Genius is the story of Destiny Ajaye, a military genius who unifies the gangs in her South Central Los Angeles neighborhood to take down the police and the racist structures that empower them.
Myisha Haynes
Myisha Haynes is the creator of The Substitutes, a webcomic about 3 substitute superheroes who stumble onto magical weapons not meant for them. Myisha is also a video game artist. You can read The Substitutes for free here.
Eric Dean Seaton
Eric Dean Seaton is an award winning writer of television and graphic novels. His graphic novel trilogy Legend of the Mantamaji blends magic and superheroics. Legend of the Mantamaji was nominated for a Glyph Comics Award in 2015.
Micheline Hess
Micheline Hess is the writer and artist on the all-ages fantasy adventure Malice in Ovenland and the iPad comic The Anansi Kids. Hess was at one time a colorist for Milestone Comics, and she is the senior designer at an ad agency called Publicis North America by day.
David Walker
David Walker is a filmmaker, film scholar (his expertise is Blaxploitation films) and a writer of novels and comics. He is the co-writer of the amazing graphic novel Number 13 and has worked on titles for Marvel, DC, and IDW. His work on Shaft won him a Glyph Comics Award in 2015. You can read the first 25 chapters of his YA novel The Adventures of Darius Logan Book One: Super Justice Force for free here.
Christopher Priest
Christopher Priest began his comics career at Marvel Comics under a different name: Jim Owsley. He worked there as an editor and later a writer, writing Power Man and Iron Fist, Deadpool, and had a critically acclaimed run in the third volume of Black Panther. He also wrote Green Lantern, The Ray, and Steel for DC. Priest created the much-loved series Quantum and Woody alongside artist Mark Bright, which has enjoyed multiple runs.
Jamal Campbell
Jamal Campbell is an illustrator and cover artist, and the creator of The Immortal Nadia Greene, a webcomic about a woman armed with a baseball bat who refuses to die. Campbell has also drawn covers for Boom! Studios and Marvel Comics. You can read The Immortal Nadia Greene for free here.
Regine Sawyer
Regine Sawyer is a veteran of the comics industry and the founder of Lockett Down Publications, which publishes The Rippers, Ice Witch, and Eating Vampires. She is also the driving force behind the Women in Comics NYC Collective International, an organization that serves to recognize and highlight the efforts and work of women comics creators.
Brandon Easton
Brandon Easton is a screenwriter who has worked on Thundercats and Transformers. Easton wrote on comics titles such as Watson and Holmes (which saw him shortlisted for an Eisner Award), Roboy, and his original graphic novel Shadowlaw.
Roye Okupe
Roye Okupe is a writer and animator. He founded YouNeek Studios in 2012, and began writing, producing, and directing animated short films. This led to his creation of the original graphic novel E.X.O: The Legend of Wale Williams. Okupe also produced an animated short film as an accompaniment for E.X.O., which you can watch here.
Marguerite Abouet
Marguerite Abouet is the creator of Aya, an immensely successful coming-of-age style graphic novel set in Côte d'Ivoire. Aya that has sold over 200,000 copies in France and over 10,000 copies in the United States. Aya won the Angoulême International Comics Festival Prize for First Comic Book in 2006.
Amandla Stenberg
Amandla Stenberg is an actress, writer, and activist known for playing the character Rue in The Hunger Games film adaptation. Stenberg is also the creator and co-writer of Niobe, a fantasy adventure comic.
Robert Garrett
Robert Garrett is the founder of Xmoor Studios. Garrett is also the creator of Galtow, a post-apocalyptic samurai tale, and Ajala: A Series of Adventures, which tells the story of a teenaged crimefighter based in Harlem. Ajala won the 2014 Glyph Comics Award for Best Female Character.
David Pinckney
David Pinckney is the writer of many titles, most notably Action Lab's Fight Like a Girl. Fight Like A Girl is the story of Amarosa's quest to save her ill brother's life by any means necessary.
Stephane Metayer
Stephane Metayer is a writer, artists, and the creator of Tephlon Funk!, an anime styled title inspired by Nas' Illmatic. Metayer came up with the idea for Tephlon Funk! In 2004.
Jackie Ormes
Jackie Ormes was a comic strip creator who worked in the early 20th century, during a time when there were few black people or women writing comics. Her first strip was titled Torchy Brown in Dixie to Harlem. This strip, which chronicled the life of a Mississippi singer who finds work in Harlem's famous Cotton Club, ran in the Pittsburgh Courier in 1937 and ran again in the Courier in 1945 with a different title (Torchy in Heartbeats) and a different Torchy.
Her strip Patty-Jo 'n' Ginger, a strip that chronicled the adventures of two sisters with two wildly different personalities, is her most famous comics work. It ran for 11 years in the Courier. Her work also ran in the Chicago Defender. Ormes produced dolls based on her Patty-Jo character, and was very involved in the Chicago community.
Reginald Hudlin
Reginald Hudlin is a critically acclaimed film director, writer, and producer. Hudlin directed House Party and Boomerang, produced Quentin Tarantino's Django Unchained, and also directed several television shows, including The Office, Modern Family, and The Bernie Mac Show.
Hudlin wrote Black Panther for Marvel Comics from 2005-2008, and is most notable for the "Bride of The Panther" storyline that sees T'challa and Ororo Munroe married during the height of Marvel's Civil War.
Ronald Wimberly
Ronald Wimberly is an artist, character designer, and writer who has contributed art to several comic books and comics media projects, including Black Dynamite and Sunset Park. His most famous comics work is Prince of Cats, a futuristic title that blends hip-hop drenched New York City with samurai sword duels, and Shakespeare. Prince of Cats ignores the story Romeo and Juliet in favor of following the tale of Tybalt, the eponymous Prince of Cats and Juliet's first cousin. If you missed Prince of Cats on its first run, it is being reprinted at Image.
Paul Louise Julie
Paul Louise-Julie is a writer and artist who is responsible for the fantasy miniseries The Pack, a story that blends Egyptian mythology and werewolves to great effect. Louise-Julie is heavily inspired by African culture and art and he is currently at work on Yohancé, an space opera with a heavy African aesthetic inspired by his love of science fiction and Star Wars.
Loyiso Mkize
Loyiso Mkize is a South African artist and the founder of Loyiso Mkize Art. Mkize is the writer and artist of Kwezi, a comic book that tells the story of a boy named Kwezi (it means "star" in Xhosa and Zulu) and his quest to balance his superpowers, cultural responsibility, and the demands of our fame-obsessed world. Mkize got his start illustrating SupaStrikas, a soccer comic series.
Geoffrey Thorne
Geoffrey Thorne is a writer and actor who portrayed officer Wilson Sweet on In the Heat of the Night. He has produced, written, and acted in other television and film properties such as ER, The Women of Brewster Place, Ben 10: Omniverse, and Ultimate Spider-Man. Thorne has written comics for many publishers, including Dark Horse and Lion Forge. Thorne will be writing Mosaic for Marvel Comics in 2016. Mosaic will tell the story of Morris Sackett, a professional athlete and Inhuman.
Spike Trotman
Spike Trotman is a cartoonist and publisher, and the founder of Iron Circus Comics. Trotman's Templar, Arizona won a Glyph Comics Award in 2007. She is also responsible for the Smut Peddler anthologies, Poorcraft, and Black Pearl: The Graphic Life of Josephine Baker.
Felipe Smith
Felipe Smith is an artist and designer known for his manga MBQ, which tells the story of a black man trying to make comics in LA. He is also known for Peepo Choo, a manga that studies the collision of American and Japanese cultures. Smith has worked on Teenage Mutant Ninja Turtles and is also the writer of Marvel's All-New Ghost Rider series, which is the first appearance of Robbie Reyes as Ghost Rider.