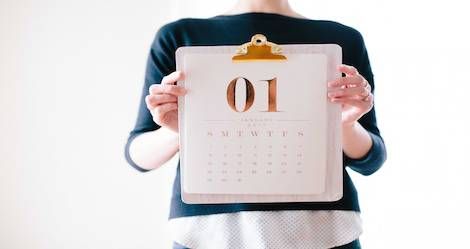 Sponsored
3 On A YA Theme: YA Titles With the Days of the Week
This content contains affiliate links. When you buy through these links, we may earn an affiliate commission.
This week's edition of "What's Up in YA?" is sponsored by Just a Normal Tuesday by Kim Turrisi from KCP Loft.
What begins as just a normal Tuesday becomes a day that will shatter sixteen-year-old Kai's life forever. All it takes is a letter, tucked into a pile of their family's mail. It's from Kai's older sister, Jen, who lives nearby. And it begins, "If you are reading this, I am already gone." Jen has committed suicide. How could Jen do this, and why? Just a Normal Tuesday offers a roadmap for anyone who has been touched by loss and anyone who is looking for hope in a broken world.
____________________
Inspired by the sponsored title this week, I started to think a bit about book titles in YA. Do we have enough days of the week in the titles to have an entire week of YA? Or do we have some days more frequently than others? Are there holes in the week that need some supporting YA?
This is far from exhaustive. Likewise, it's pretty heavy on white authors, in part because this isn't about content, but about title. I've included both familiar YA and those which might date back a few decades. I've also limited by selections to only one book with a day name in the title if it came from a series with multiple entries.
Know of other YA books with week days in the title? Drop 'em in the comments and let's see how many we can round up. As you'll see, I might need some help with Hump Day.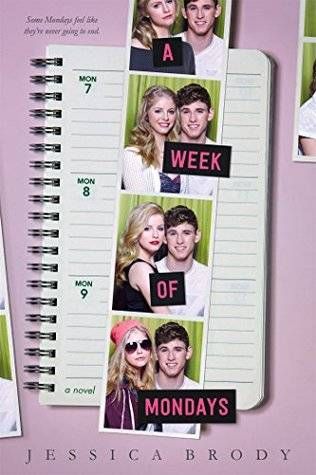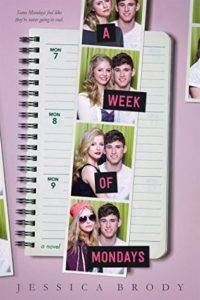 A Week of Mondays by Jessica Brody
When I made the wish, I just wanted a do-over. Another chance to make things right. I never, in a million years, thought it might actually come true…
Sixteen-year-old Ellison Sparks is having a serious case of the Mondays. She gets a ticket for running a red light, she manages to take the world's worst school picture, she bombs softball try-outs and her class election speech (note to self: never trust a cheerleader when she swears there are no nuts in her bake-sale banana bread), and to top it all off, Tristan, her gorgeous rocker boyfriend suddenly dumps her. For no good reason!
As far as Mondays go, it doesn't get much worse than this. And Ellie is positive that if she could just do it all over again, she would get it right. So when she wakes up the next morning to find she's reliving the exact same day, she knows what she has to do: stop her boyfriend from breaking up with her. But it seems no matter how many do-overs she gets or how hard Ellie tries to repair her relationship, Tristan always seems bent set on ending it. Will Ellie ever figure out how to fix this broken day? Or will she be stuck in this nightmare of a Monday forever?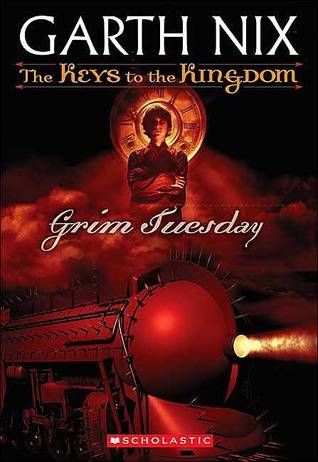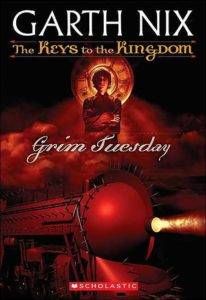 Grim Tuesday by Garth Nix (second book in a series)
Arthur doesn't think he will ever have to return to the strange house that nearly killed him on Monday — the house that contains an entire world. But Tuesday brings new challenges — in the form of an enemy named Grim Tuesday, who threatens the well-being of both Arthur's family and his world. Arthur must retrieve the Second Key from Grim Tuesday in order to save everything — an adventure that will include stealing a Sunship, surviving a very weird work camp, befriending a bearlike spirit, fighting the voidlike Nithlings, and traveling to the scary Far Reaches for the ultimate showdown.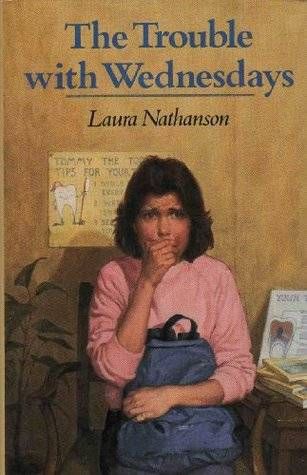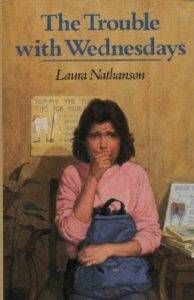 The Trouble With Wednesdays by Laura Nathanson
When her dentist starts sexually molesting her, sixth-grader Becky has trouble talking to her parents about the problem.
(Weirdly, it was challenging to find a Wednesday title. This one is definitely on that middle grade/YA cusp, and I wonder if going straight middle grade with The Wednesday Wars would be closer. But this cover was too good to resist.)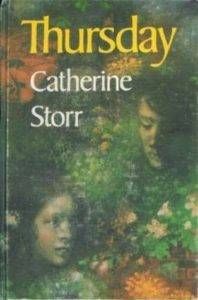 Thursday by Catherine Storr
A fifteen-year-old girl tries to find a way of helping an emotionally troubled boy.
(Can we talk about the vaguest of vague descriptions and how this book, originally published in 1972, could have easily been published any time in the last decade?)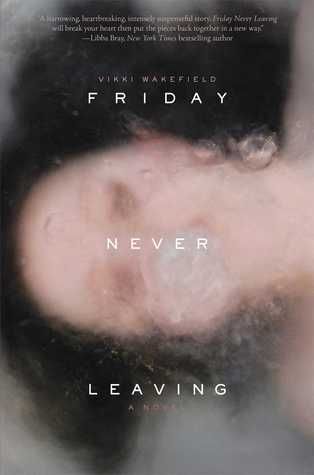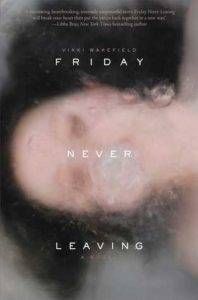 Friday Never Leaving by Vikki Wakefield
Friday Brown has never had a home. She and her mother live on the road, running away from the past instead of putting down roots. So when her mom succumbs to cancer, the only thing Friday can do is keep moving. Her journey takes her to an abandoned house where a bunch of street kids are squatting, and an intimidating girl named Arden holds court.
Friday gets initiated into the group, but her relationship with Arden is precarious, which puts Friday-and anyone who befriends her-at risk. With the threat of a dangerous confrontation looming, Friday has to decide between returning to her isolated, transient life, or trying to help the people she's come to care about-if she can still make it out alive.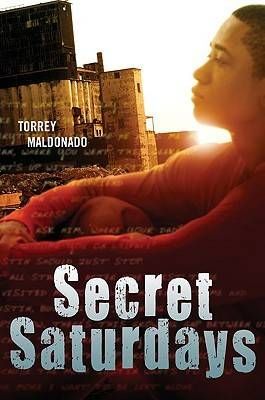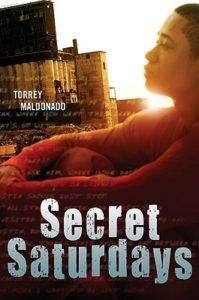 Secret Saturdays by Torrey Maldonado
A poignant look into one fatherless twelve-year-old's struggles with friendship and trust. Sean is Justin's best friend, at least Justin thought he was. But lately Sean has been acting differently. Sean's been telling lies, getting into trouble at school, and hanging out with a tougher crowd, even getting into fights. This isn't like Sean at all.
When Justin finally discovers that Sean's been secretly going to visit his father in prison and is dealing with the shame of that, Justin wants to do something to help before his friend spirals further out of control. But what if confronting Sean means Justin loses his very best friend? In the end, he decides it doesn't matter; he's got to man up.
Set in one of New York's most dangerous neighborhoods, Secret Saturdays is an affecting read highlighted by strong characters and an authentic, heartening voice.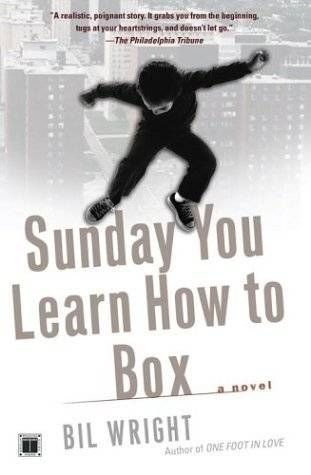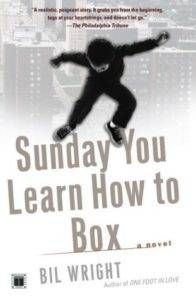 Sunday You Learn How To Box by Bil Wright
Fourteen-year-old Louis Bowman is in a boxing ring — a housing project circa 1968 — fighting "just to get to the end of the round." Sharing the ring is his mother, Jeanette Stamps, a ferociously stubborn woman battling for her own dreams to be realized; his stepfather, Ben Stamps, the would-be savior, who becomes the sparring partner to them both; and the enigmatic Ray Anthony Robinson, the neighborhood "hoodlum," in purple polyester pants, who sets young Louis's heart spinning with the first stirrings of sexual longing. Bil Wright deftly evokes an unrelenting world with quirky humor and clear-eyed unsentimentality.
Want more "3 On A YA Theme" posts? Gotcha covered.
Save