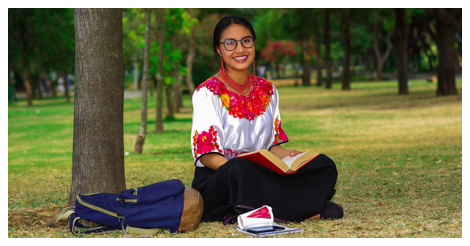 This content contains affiliate links. When you buy through these links, we may earn an affiliate commission.
I'm not very knowledgable about middle grade books. I've read a few this year and in years past, but it's not my general area of expertise. Just in my general perusing, I've found middle grade to be a category that continues to grow and grow. There might be more middle grade books being published today than there are YA. I know there are a lot of YA readers who are also well read in middle grade, and I also know there are a lot of YA readers who, like me, dabble in MG periodically.
If you're part of the second group, perhaps you've wondering where to begin with such a huge swath of books. One method that I've found to be useful is seeking out middle grade books written by authors who have also written YA. While the voices and stories that are told differ in middle grade from those in YA, an author who can successfully write across both categories offers such a nice bridge between the two categories. Not to mention the talent it showcases.
Here's a look at 3 YA authors — well-known and emerging talents — who have also written middle grade novels. Some of them have written more than one YA and more than one MG, but I've limited to talking about one of each, just to make things easier. Some of these middle grade titles are brand new, while others are further into the backlist catalogs of these writers.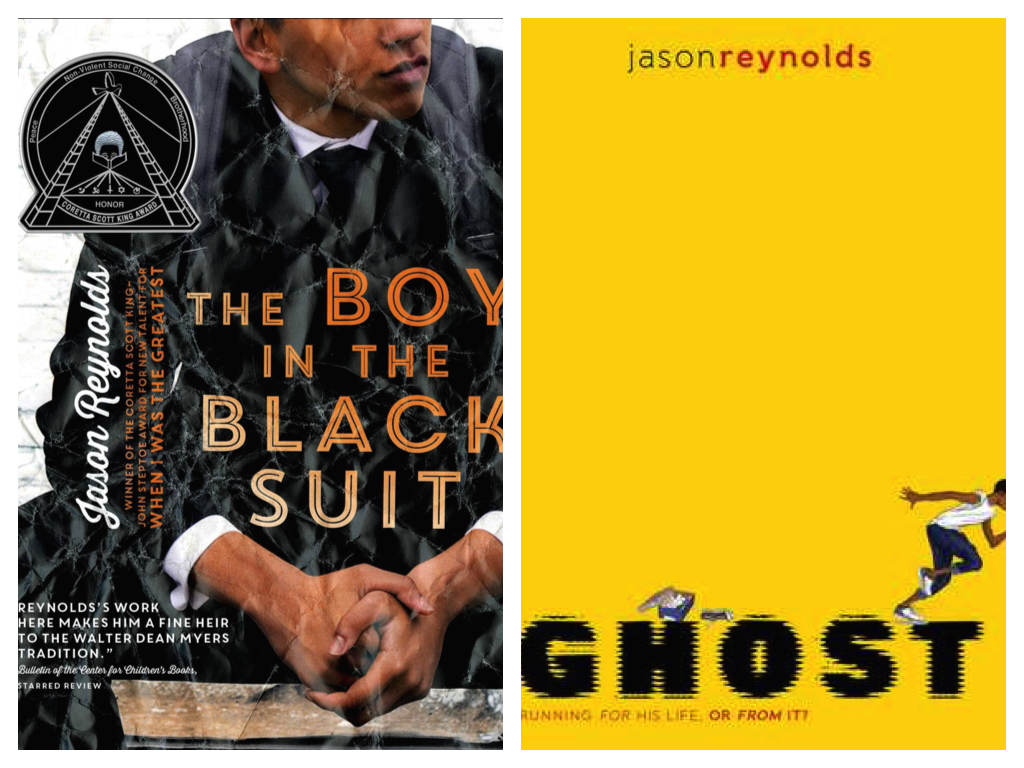 Jason Reynolds
The Boy in the Black Suit (Young Adult)
Matt wears a black suit every day. No, not because his mom died—although she did, and it sucks. But he wears the suit for his gig at the local funeral home, which pays way better than the Cluck Bucket, and he needs the income since his dad can't handle the bills (or anything, really) on his own. So while Dad's snagging bottles of whiskey, Matt's snagging fifteen bucks an hour. Not bad. But everything else? Not good. Then Matt meets Lovey. She's got a crazy name, and she's been through more crazy than he can imagine. Yet Lovey never cries. She's tough. Really tough. Tough in the way Matt wishes he could be. Which is maybe why he's drawn to her, and definitely why he can't seem to shake her. Because there's nothing more hopeful than finding a person who understands your loneliness—and who can maybe even help take it away.
Ghost (Middle Grade)
Ghost wants to be the fastest sprinter on his elite middle school track team, but his past is slowing him down in this first electrifying novel of a brand-new series from Coretta Scott King/John Steptoe Award–winning author Jason Reynolds.
Ghost. Lu. Patina. Sunny. Four kids from wildly different backgrounds with personalities that are explosive when they clash. But they are also four kids chosen for an elite middle school track team—a team that could qualify them for the Junior Olympics if they can get their acts together. They all have a lot to lose, but they also have a lot to prove, not only to each other, but to themselves.
Ghost has a crazy natural talent, but no formal training. If he can stay on track, literally and figuratively, he could be the best sprinter in the city. But Ghost has been running for the wrong reasons—it all starting with running away from his father, who, when Ghost was a very little boy, chased him and his mother through their apartment, then down the street, with a loaded gun, aiming to kill. Since then, Ghost has been the one causing problems—and running away from them—until he meets Coach, an ex-Olympic Medalist who blew his own shot at success by using drugs, and who is determined to keep other kids from blowing their shots at life.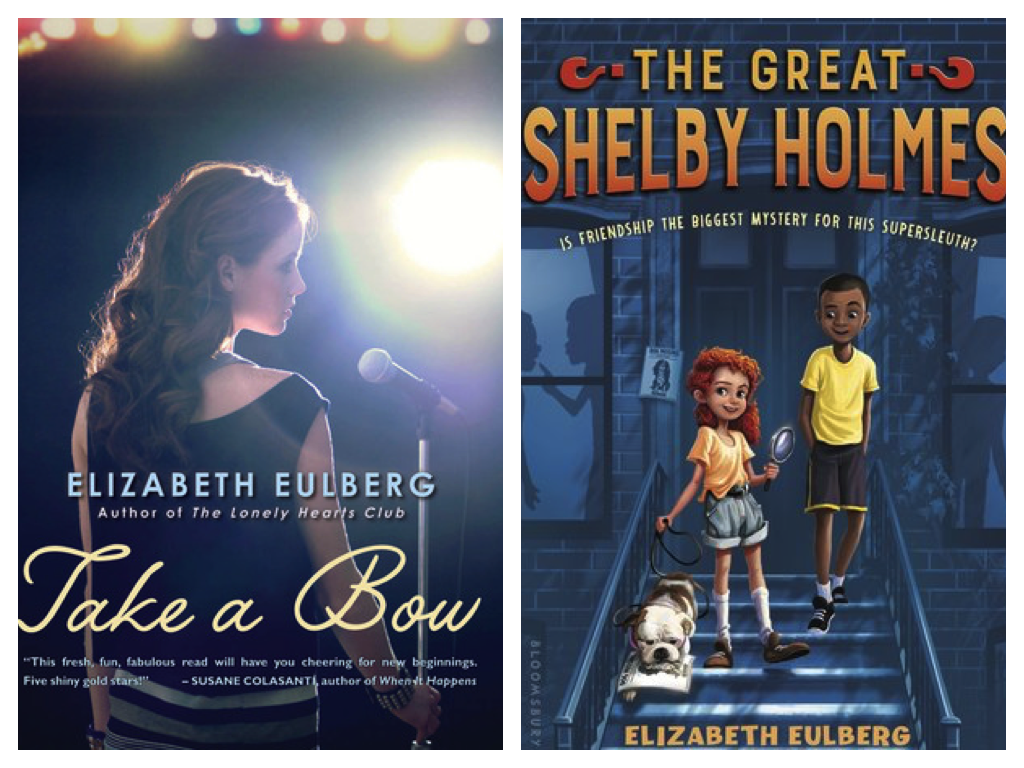 Elizabeth Eulberg
Take A Bow (Young Adult)
Emme has long lived in her best friend Sophie's shadow. She writes songs, and Sophie sings them. It's always been like this, and feels like it always will be.
Sophie will stop at nothing to be a star. Even if it means using her best friend and picking up a trophy boyfriend, Carter.
Carter is a victim of a particular Hollywood curse: He's a former child star. Now all he wants is a normal life. But being normal is about as hard for him as being famous.
Ethan has his own issues – a darkness in his head that he just can't shake. He's managed to sabotage every relationship he's ever been in. Emme's the only girl he's ever really respected… but he's not sure what to do about that.
Emme, Sophie, Carter, and Ethan are all students at a performing arts school, where talent is the norm and fame is the goal. But sometimes, being in the spotlight isn't as important as the people you're sharing it with – as the four of them are going to find out in Elizabeth Eulberg's excellent new novel, which is about the auditions life puts us through every day, both big and small.
The Great Shelby Holmes (Middle Grade)
Shelby Holmes is not your average sixth grader. She's nine years old, barely four feet tall, and the best detective her Harlem neighborhood has ever seen—always using logic and a bit of pluck (which yes, some might call "bossiness") to solve the toughest crimes.
When eleven-year-old John Watson moves downstairs, Shelby finds something that's eluded her up till now: a friend. Easy-going John isn't sure of what to make of Shelby, but he soon finds himself her most-trusted (read: only) partner in a dog-napping case that'll take both their talents to crack.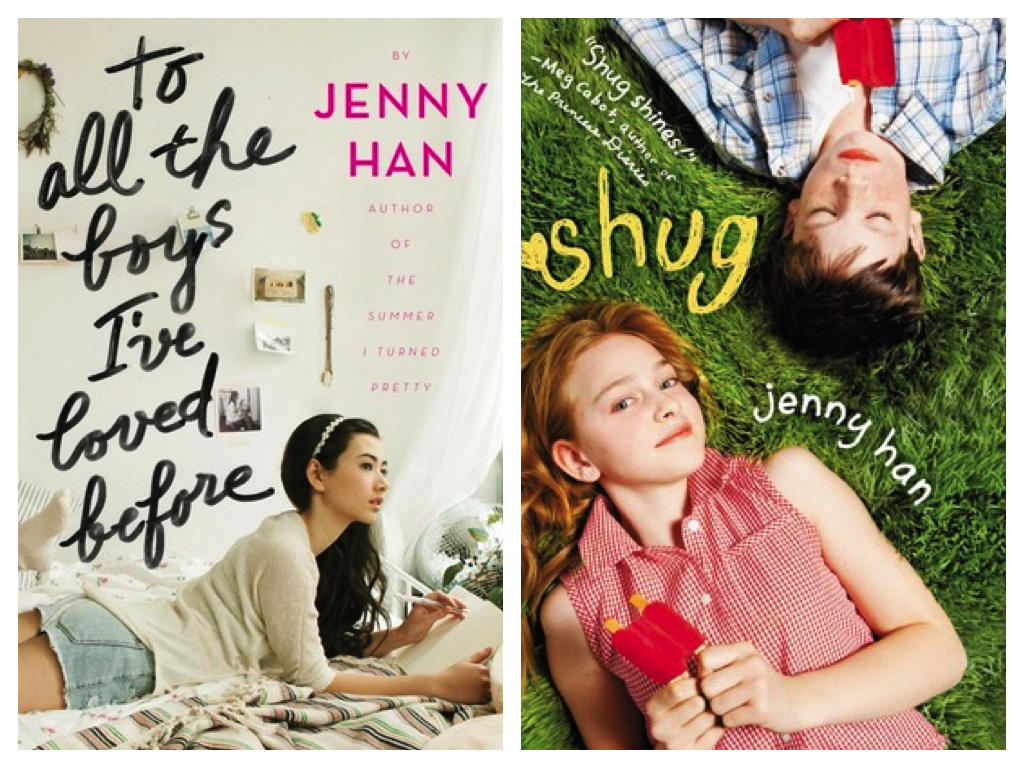 Jenny Han
To All The Boys I've Loved Before (Young Adult, series)
To All the Boys I've Loved Before is the story of Lara Jean, who has never openly admitted her crushes, but instead wrote each boy a letter about how she felt, sealed it, and hid it in a box under her bed. But one day Lara Jean discovers that somehow her secret box of letters has been mailed, causing all her crushes from her past to confront her about the letters: her first kiss, the boy from summer camp, even her sister's ex-boyfriend, Josh. As she learns to deal with her past loves face to face, Lara Jean discovers that something good may come out of these letters after all.
Shug (Middle Grade and excellent on audio!)
Annemarie Wilcox, or Shug as her family calls her, is beginning to think there's nothing worse than being twelve. She's too tall, too freckled, and way too flat-chested. Shug is sure that there's not one good or amazing thing about her. And now she has to start junior high, where the friends she counts most dear aren't acting so dear anymore — especially Mark, the boy she's known her whole life through. Life is growing up all around her, and all Shug wants is for things to be like they used to be. How is a person supposed to prepare for what happens tomorrow when there's just no figuring out today?
Want more "3 On A YA Theme" posts? Gotcha covered.