This content contains affiliate links. When you buy through these links, we may earn an affiliate commission.
There was an excellent piece last month in Teen Vogue about why we need more YA books featuring girls who play sports. For those who subscribe to the "What's Up in YA?" newsletter, you likely saw a nice compilation of titles in addition to the ones discussed in the piece.
After pulling the list of fictional titles together, I realized that there was more to be shared. The nonfiction YA world is arguably one of the richest and most under appreciated categories; it's here we are seeing not only some of the most daring, creative, and engaging stories that are true, but we're also seeing honest representation of the diversity and range of experiences in our world.
In honor of Women's History Month, as well as in honor of talking more and more about girls who kick ass on and off the field or floor or mat, here's a round-up of some nonfiction YA titles that tell true stories of badass female athletes. Some of these are young reader editions, some of them are about the history of women in sports, and some are memoirs of athletic experiences.
You already know there will be more than three titles, especially because this is such a big and interesting area of YA nonfiction. These books, in the right hands, could inspire so much.
Forward by Abby Wamback (Young Readers Edition)
Abby Wambach has always pushed the limits of what is possible. Named by Time magazine as one of the most influential people of 2015, the iconic soccer player captured the nation's heart when she led her team to its recent World Cup Championship. Admired for her fearlessness and passion, Abby is a vocal advocate for women's rights and equal opportunity, pushing to translate the success of her team to the real world. She has become a heavily requested speaker to a wide a range of audiences, from college students to executives at Fortune 500 companies.
In this edition of Forward that's been adapted for young readers, Abby recounts her own decisions, wins, losses, and the pivotal moments that helped her become the world class athlete and leader she is today. Wambach's book goes beyond the soccer field to reveal a soulful person grappling with universal questions about how we can live our best lives and become our truest selves.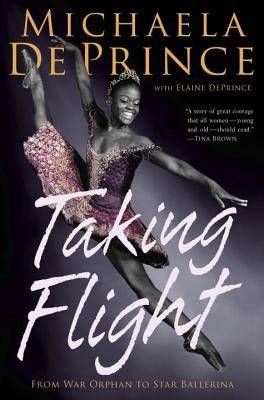 Taking Flight: From War Orphan to Star Ballerina by Michaela DePrince with Elaine DePrince
Michaela DePrince was known as girl Number 27 at the orphanage, where she was abandoned at a young age and tormented as a "devil child" for a skin condition that makes her skin appear spotted. But it was at the orphanage that Michaela would find a picture of a beautiful ballerina en pointe that would help change the course of her life.
At the age of four, Michaela was adopted by an American family, who encouraged her love of dancing and enrolled her in classes. She went on to study at the Jacqueline Kennedy Onassis School at the American Ballet Theatre and is now the youngest principal dancer with the Dance Theatre of Harlem. She has appeared in the ballet documentary First Position, as well as on Dancing with the Stars, Good Morning America, and Nightline.
In this engaging, moving, and unforgettable memoir, Michaela shares her dramatic journey from an orphan in West Africa to becoming one of ballet's most exciting rising stars.
Courage to Soar by Simone Biles
Simone Biles' entrance into the world of gymnastics may have started on a daycare field trip in her hometown of Spring, Texas, but her God-given talent, passion, and perseverance have made her one of the top gymnasts in the world, as well as a four-time winner of Olympic gold in Rio de Janeiro.
But there is more to Simone than the nineteen medals—fourteen of them gold—and the Olympic successes. Through years of hard work and determination, she has relied on her faith and family to stay focused and positive, while having fun competing at the highest level and doing what she loves. Here, in her own words, Simone takes you through the events, challenges, and trials that carried her from an early childhood in foster care to a coveted spot on the 2016 Olympic team.
Along the way, Simone shares the details of her inspiring personal story—one filled with the kinds of daily acts of courage that led her, and can lead you, to even the most unlikely of dreams.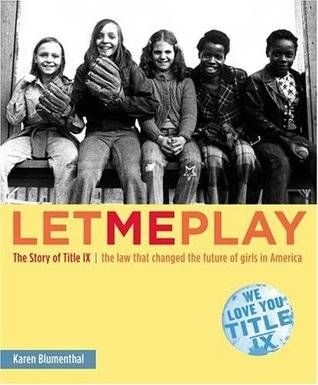 Let Me Play: The Story of Title IX by Karen Blumenthal
Can girls play softball? Can girls be school crossing guards? Can girls play basketball or ice hockey or soccer? Can girls become lawyers or doctors or engineers?

Of course they can… today. But just a few decades ago, opportunities for girls were far more limited, not because they weren't capable of playing or didn't want to become doctors or lawyers, but because they weren't allowed to. Then quietly, in 1972, something momentous happened: Congress passed a law called "Title IX," forever changing the lives of American girls.
Hundreds of determined lawmakers, teachers, parents, and athletes carefully plotted to ensure that the law was passed, protected, and enforced. Time and time again, they were pushed back by Þerce opposition. But as a result of their perseverance, millions of American girls can now play sports. Young women make up half of the nation's medical and law students, and star on the best basketball, soccer, and softball teams in the world. This small law made a huge difference.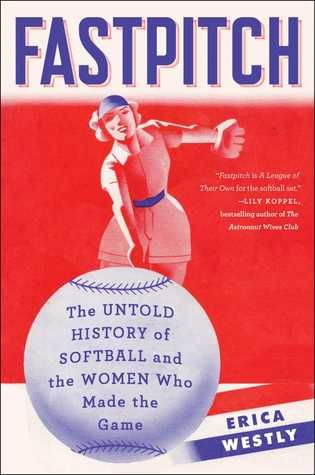 I'm ending the round-up with a book that, while not technically a YA nonfiction title, is one with tremendous appeal to YA readers and was featured on this year's Amelia Bloomer Project list.
Fastpitch: The Untold History of Softball and The Women Who Made The Game by Erica Westly
Softball is the largest team participation sport in the US—with millions of people in all age groups actively playing the game, and increasing TV coverage of the sport on ESPN. Many people think softball was developed as a women's version of baseball, but that isn't so. In fact, softball's early history is full of male stars, such as the vaudeville-esque Eddie Feigner, whose signature move was striking out batters while blindfolded. Because softball was one of the earliest team sports that also allowed women to play, it evolved from a coed, indoor pastime to an elite sport played primarily by young women. It wasn't like other women's sports that tended to be watered-down versions of the men's sports—it became its own game for women. As a result, softball created some of America's first celebrated female athletes: Bertha Ragan Tickey, who set the strikeout and no-hitter records and taught Lana Turner to swing a bat, and her teammate Joan Joyce, who struck out baseball stars Hank Aaron and Ted Williams with her signature rise ball.
Fastpitch brings to vivid life the eclectic mix of characters that make up softball's vibrant 127-year history. From its humble beginnings in 1887 when it was invented in a Chicago boat club and played with a broomstick, to its prominently sponsored women's leagues in the 1940s and 50s, Fastpitch chronicles softball's popularity in the 1960s as a mainstream sport through its controversial elimination from the 2005 Olympics, exploring its present-day status as solely a women's sport.
Want more "3 On A YA Theme" posts? Gotcha covered.