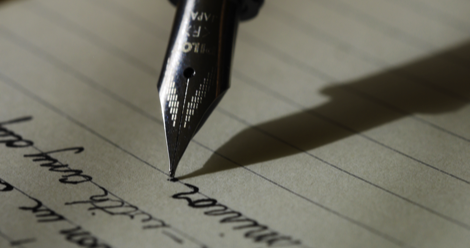 Sponsored
3 On A YA Theme: A Story In Letters
This content contains affiliate links. When you buy through these links, we may earn an affiliate commission.
"3 on a YA Theme" is sponsored by Renegades by Marissa Meyer .
Extraordinary Powers.
She wants vengeance. He wants justice.
The Renegades are a syndicate of prodigies—humans with extraordinary abilities—who emerged from the ruins of a crumbled society and established peace and order where chaos reigned. As champions of justice, they remain a symbol of hope and courage to everyone…except the villains they once overthrew.
Nova has a reason to hate the Renegades, and she is on a mission for vengeance. As she gets closer to her target, she meets Adrian, a Renegade boy who believes in justice—and in Nova. But Nova's allegiance is to the villains who have the power to end them both.
---
When poking around what sorts of celebrations are happening in the month of December, it was no surprise to see that "National Write A Letter To A Friend" Month popped up. It seems like the end of the year, as well as the dawn of the holiday season, are prime opportunities to sit down and put pen to paper (or fingers to keyboards).
In honor of letter writing, let's take a look at a few YA books written in letter format. I'm a huge fan of alternate format novels, so long as the format makes sense for the story, so the books on this list that I haven't already read are hitting the top of my TBR. I've also included a memoir on this list, as it's a memoir about the power of writing letters.
I've also been liberal in my definition of "letter format."
If you're itching for more YA books in letter format, you'll want to check out the post on this topic I did last year with a completely different array of titles.
Justyce McAllister is top of his class and set for the Ivy League—but none of that matters to the police officer who just put him in handcuffs. And despite leaving his rough neighborhood behind, he can't escape the scorn of his former peers or the ridicule of his new classmates. Justyce looks to the teachings of Dr. Martin Luther King Jr. for answers. But do they hold up anymore? He starts a journal to Dr. King to find out.
Then comes the day Justyce goes driving with his best friend, Manny, windows rolled down, music turned up—way up, sparking the fury of a white off-duty cop beside them. Words fly. Shots are fired. Justyce and Manny are caught in the crosshairs. In the media fallout, it's Justyce who is under attack.
Dear Best Friend,
I can already tell that I will hate everyone but you.
Sincerely,
Ava Helmer
(that brunette who won't leave you alone)
We're still in the same room, you weirdo.
Stop crying.
G
So begins a series of texts and emails sent between two best friends, Ava and Gen, as they head off to their first semesters of college on opposite sides of the country. From first loves to weird roommates, heartbreak, self-discovery, coming out, and mental health, the two best friends will document every moment to each other. But as each changes and grows into her new life, will their friendship be able to survive the distance?
It started as an assignment. Everyone in Caitlin's class wrote to an unknown student somewhere in a distant place. All the other kids picked countries like France or Germany, but when Caitlin saw Zimbabwe written on the board, it sounded like the most exotic place she had ever heard of—so she chose it.
Martin was lucky to even receive a pen pal letter. There were only ten letters, and forty kids in his class. But he was the top student, so he got the first one.
That letter was the beginning of a correspondence that spanned six years and changed two lives.
In this compelling dual memoir, Caitlin and Martin recount how they became best friends—and better people—through letters. Their story will inspire readers to look beyond their own lives and wonder about the world at large and their place in it.
Juliet Young always writes letters to her mother, a world-traveling photojournalist. Even after her mother's death, she leaves letters at her grave. It's the only way Juliet can cope.
Declan Murphy isn't the sort of guy you want to cross. In the midst of his court-ordered community service at the local cemetery, he's trying to escape the demons of his past.
When Declan reads a haunting letter left beside a grave, he can't resist writing back. Soon, he's opening up to a perfect stranger, and their connection is immediate. But neither Declan nor Juliet knows that they're not actually strangers. When life at school interferes with their secret life of letters, sparks will fly as Juliet and Declan discover truths that might tear them apart.
It's the summer of 1982, and for Scott and Cath, everything is about to change.
Growing up across the street from each other, Scott and Cath have been best friends for most of their lives. Now they've graduated high school, and Cath is off to college while Scott stays at home trying to get his band off the ground. Neither of them realized that their first year after high school would be so hard.
Fortunately, Scott and Cath still have each other, and it's through their letters that they survive heartache, annoying roommates, family dramas, and the pressure of figuring out what to do with the rest of their lives. And through it all, they realize that the only person they've ever wanted to turn to is each other. But does that mean they should think about being more than friends? One thing is clear: Change is an inescapable part of growing up, and we share unbreakable bonds with the friends who help us navigate it.
Want more "3 On A YA Theme" posts? Gotcha covered.