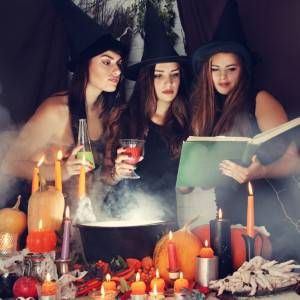 This week's "3 On A YA Theme" is sponsored by Firewalker by Josephine Angelini.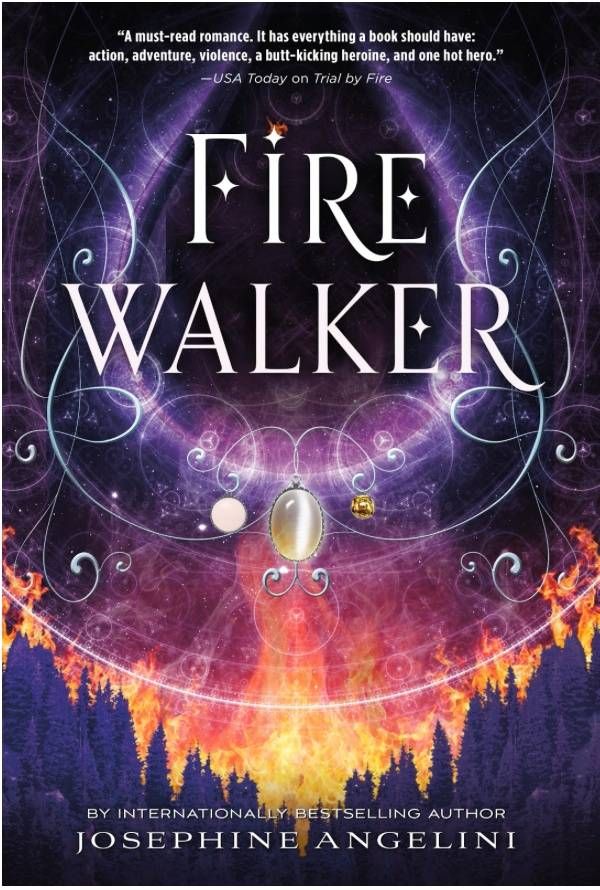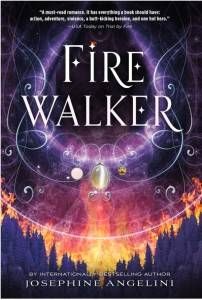 You think I'm a monster, but my choices, as ruthless as they seem, are justified.

Lily is back in her own universe, and she's ready to relax with Rowan. True, she almost died in the Pyre that fueled their escape, and must hide her magic for the safety of the world, but compared to fighting the monstrous Woven and leading armies in the alternate Salem, life is looking good. Unfortunately, Lillian, ruthless ruler of the 13 Cities, is not willing to let Lily go that easily. If she can't persuade Lily to return to her world, she'll have to find a way to make her come back.
____________________
Stories about witches and witchcraft have been having a moment in YA in recent years. There's so much lore and fascination with witches, and part of it — at least the part that really captivates me with these stories — is that it puts the power of female characters at the center of the story. Of course, it's not always positive, but one of the greatest strengths in YA is how well-rendered the characters can be, even when or if they aren't the heroes of the story.
Let's talk about witches in YA fiction. I could make this list twenty of forty books long, since it's such a big and interesting one, but I'm limiting my "3 on a YA Theme" to…well, it'll have 6 books, since 3 doesn't seem to be enough.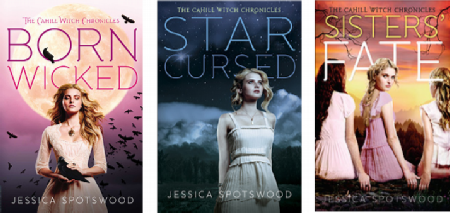 The Cahill Witch Chronicles series by Jessica Spotswood
This trilogy of books begins with Born Wicked and carries on through Star Cursed and Sisters' Fate. Here's the low-down on book one:
Everybody knows Cate Cahill and her sisters are eccentric. Too pretty, too reclusive, and far too educated for their own good. But the truth is even worse: they're witches. And if their secret is discovered by the priests of the Brotherhood, it would mean an asylum, a prison ship—or an early grave.
Before her mother died, Cate promised to protect her sisters. But with only six months left to choose between marriage and the Sisterhood, she might not be able to keep her word… especially after she finds her mother's diary, uncovering a secret that could spell her family's destruction. Desperate to find alternatives to their fate, Cate starts scouring banned books and questioning rebellious new friends, all while juggling tea parties, shocking marriage proposals, and a forbidden romance with the completely unsuitable Finn Belastra.
If what her mother wrote is true, the Cahill girls aren't safe. Not from the Brotherhood, the Sisterhood—not even from each other.
The Near Witch by Victoria Schwab
The Near Witch is only an old story told to frighten children.
If the wind calls at night, you must not listen. The wind is lonely, and always looking for company.
And there are no strangers in the town of Near.
These are the truths that Lexi has heard all her life.
But when an actual stranger-a boy who seems to fade like smoke-appears outside her home on the moor at night, she knows that at least one of these sayings is no longer true.
The next night, the children of Near start disappearing from their beds, and the mysterious boy falls under suspicion. Still, he insists on helping Lexi search for them. Something tells her she can trust him.
As the hunt for the children intensifies, so does Lexi's need to know-about the witch that just might be more than a bedtime story, about the wind that seems to speak through the walls at night, and about the history of this nameless boy.
The Blood Keeper by Tessa Gratton
For Mab Prowd, blood magic is as natural as breathing. She spends her days on a secluded Kansas farm with other blood witches, practicing spells for healing and trying to avoid boring lessons like algebra and history.
Wild and confident, Mab uses magic to understand her entire world. But when one of Mab's spells mistakenly taps into a powerful, long-dormant curse, she finds her magic spinning out of control – and crashing right into Will Sanger, a boy from town.
Will has always relied on the logical, tangible things in his life, like his dogs, his soccer team, and even his complicated family. So he tries to dismiss all he sees and feels around Mab. Still, the strangeness and beauty of her magic draw him in.
As Will and Mab grow closer, the unbound curse grows stronger. Hiding in the shadows of the forest, it seeks to manipulate Will and gain Mab's power – even if that means destroying everything they love.
Wicked Girls by Stephanie Hemphill
A fictionalized account, told in verse, of the Salem witch trials, told from the perspective of three young women living in Salem in 1692– Mercy Lewis, Margaret Walcott, and Ann Putnam, Jr.
Salt & Storm by Kendall Kulper
Avery Roe wants only to claim her birthright as the witch of Prince Island and to make the charms that have kept the island's sailors safe at sea for generations, but instead she is held prisoner by her mother in a magic-free life of proper manners and respectability.
Avery thinks escape is just a matter of time, but when she has a harrowing nightmare, she can see what it means: She will be killed. She will be murdered. And she's never been wrong before.
Desperate to change her future, Avery finds a surprising ally in Tane—a tattooed harpoon boy with magic of his own, who moves her in ways she never expected. But as time runs out to unlock her magic and save herself, Avery discovers that becoming a witch requires unimaginable sacrifice.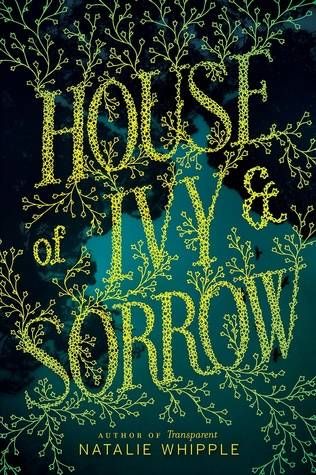 House of Ivy and Sorrow by Natalie Whipple
Josephine Hemlock has spent the last 10 years hiding from the Curse that killed her mother. But when a mysterious man arrives at her ivy-covered, magic-fortified home, it's clear her mother's killer has finally come to destroy the rest of the Hemlock bloodline. Before Jo can even think about fighting back, she must figure out who she's fighting in the first place. The more truth Jo uncovers, the deeper she falls into witchcraft darker than she ever imagined. Trapped and running out of time, she begins to wonder if the very Curse that killed her mother is the only way to save everyone she loves.

Want more "3 On A YA Theme" posts? Gotcha covered.