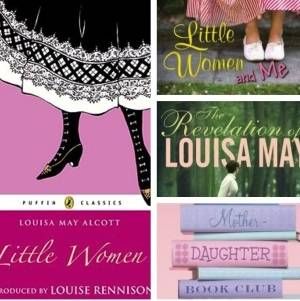 It's Thanksgiving week in the U.S., meaning that people are coming together with their families to celebrate the things they're thankful for (or, in some cases, finding ways in which they can avoid their families). This weekend also happens to be the birthday of Louisa May Alcott, author of the children's classic Little Women, among others. It seems fitting, then, to look at YA twists on Little Women this week, both in honor of her birthday, but also because it's a story about families and sisters.
While there are loads of YA spins on classics, especially of the Jane Austen persuasion, there are surprisingly few young adult books that are inspired by, an homage to, or a take on Little Women. Readers could argue that any book about sisters is in part a tribute to Alcott's story, but for this post, I wanted to pick titles that were much closer to the source material. Since I haven't read any of these titles personally, the descriptions are pulled from Goodreads, and one of the books isn't out until next spring, so you'll have to wait for it.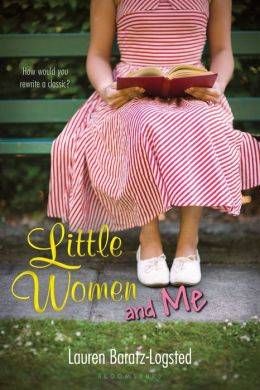 Little Women and Me by Lauren Baratz-Logsted
Emily March is sick and tired of being a middle sister. So when she gets an assignment to describe one thing she'd change about a classic novel, Little Women is an easy choice. After all, if Emily can't fix things in her own family, she might as well bring a little justice to the other March sisters. Perhaps she can–spoiler alert!–keep Beth from dying? Or maybe she can prevent the boy next door from winding up with Amy instead of Jo?
But when Emily gets mysteriously transported into the 1860s world of the March sisters, she discovers that righting fictional wrongs won't be as easy as she thought… especially when she develops a crush on the very boy she planned to save for Jo. After being immersed in a time and place so different from her own, Emily–and not the March sisters–may be the one who undergoes the most surprising change of all.
The Mother Daughter Book Club by Heather Vogel Frederick (Book #1)
The book club is about to get a make over . . .
Even if Megan would rather be at the mall, Cassidy is late for hockey practice, Emma's already read every book in existence, and Jess is missing her mother too much to care, the new book club is scheduled to meet every month.
But what begins as a mom-imposed ritual of reading Little Women soon helps four unlikely friends navigate the drama of middle school. From stolen journals, to secret crushes, to a fashion-fiasco first dance, the girls are up to their Wellie boots in drama. They can't help but wonder: What would Jo March do?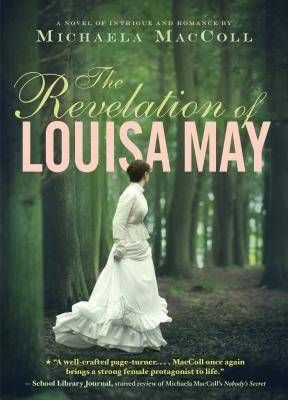 The Revelation of Louisa May by Michaela MacColl (Chronicle, March 31, 2015)
Louisa May Alcott can't believe it—her mother is leaving for the summer to earn money for the family and Louisa is to be in charge of the household. How will she find the time to write her stories, much less have any adventures of her own? But before long, Louisa finds herself juggling her temperamental father, a mysterious murder, a fugitive seeking refuge along the Underground Railroad, and blossoming love. Intertwining fact, fiction, and quotes from Little Women.
Eager for more 3 On A YA Theme Posts? Dive into these:
3 On A YA Theme: It's Basketball Season
3 On A YA Theme: Teens Who Are Writers
3 On A YA Theme: Parents Who Are Writers
3 On A YA Theme: It's Halloween
3 On A YA Theme: Girls Who Dig Horror Movies
3 On A YA Theme: Be Ready to Be Scared
3 On A YA Theme: If You Love Watching Supernatural
3 On A YA Theme: YA-Inspired Art
3 On A YA Theme: YA Films on Netflix Instant
3 On A YA Theme: More YA Films on Netflix Instant
3 On A YA Theme: Astral Projection
3 On A YA Theme: Dolls On Covers
3 On A YA Theme: Girls Who Run
3 On A YA Theme: Dystopian YA Nail Polish