This content contains affiliate links. When you buy through these links, we may earn an affiliate commission.
This week's "3 On A YA Theme" is sponsored by Aaron Starmer's Spontaneous.
Mara Carlyle's senior year is going as normally as could be expected, until—wa-bam!—fellow senior Katelyn Ogden explodes during third period pre-calc. Katelyn is the first, but she won't be the last teenager to blow up without warning or explanation. As the seniors continue to pop like balloons, smart and hilarious Mara narrates the end of their world as she knows it. But within an explosive year punctuated by romance, quarantine, lifelong friendship, and the hope of making it to graduation lies a funny, super honest, and truly moving story of being a teenager and the heartache of saying goodbye.
____________________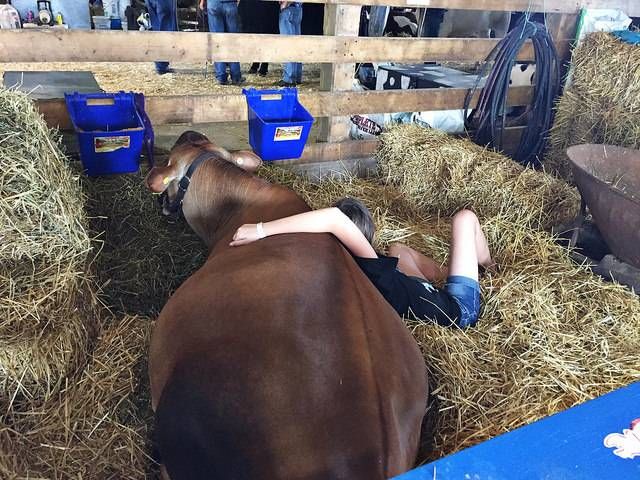 I took this photo a couple of weeks ago at a county fair and I can't stop thinking about it. I watched this teen girl taking a break from a long week of showing, of talking, and of spending time being "on" at the fair by cuddling with her cow.
We exchanged smiles before I snuck the shot and never once did she feel the need to move or shy away from her clear love of that animal.
It got me thinking, as I've gone to fair after fair both through my young life and now as an adult, there are so few YA books that feature kids who love on farms. There are even fewer YA books that take on the topic of county fairs or showing animals.
These kids — the ones who are living on farms and showing at fairs during the summer — are not isolated cases. There are many, many of these kids, stretched all across the US and in other countries. The problem is we tend not to see them in fiction and thus, we don't tend to think about them in real life, either. Where our fiction is dominated by city kids, especially New York City kids, it's easy to forget that kids living on farms tend to have entirely different, yet equally fascinating, lives.
This "3 On A YA Theme" post begins with a gentle plea for more books about kids like this. They come in all colors and from all backgrounds and religions, with all sorts of different abilities and challenges, and there is so much incredible potential for telling their stories. Thinking just about county fairs, these kids have opportunities for incredibly short-lived and fiery romances, for hardy competitions on the show floor, for solving mysteries of varying sizes, and so much more. For a week of summer, 4H kids are living and breathing at the fairgrounds and that sort of tight setting and tight timeframe is ripe for storytelling (see why summer camp stories tend to be such great exploration grounds in books!).
The Sweetheart of Prosper County by Jill S. Alexander
Almost-15-year-old Austin Gray is tired of standing at the curb and watching the parade pass her by. Literally. She decides this is the year she'll ride on the hood of a shiny pickup truck in the annual parade, waving to the crowd and finally showing the town bully that she's got what it takes to be the Sweetheart of Prosper County.
But far from simply being a beauty contest, becoming Sweetheart involves participation in the Future Farmers of America (FFA), raising an animal, and hunting or fishing. Austin will do almost anything to become Sweetheart, and has the support of her oldest friend, Maribel, her new FFA friends (including the reigning Sweetheart, and a quiet, cute cowboy), an evangelical Elvis impersonator, a mysterious Cajun outcast, and a rooster named Charles Dickens. If only her momma would stop overprotecting her, and start letting Austin live her own life. But Austin can't move on until Momma moves on, too—and lets the grief of losing Austin's daddy several years before out into the open.
A Walk in The Sun by Michelle Zink
Rose Darrow never wanted to spend her life working on her family's farm. But when her family is rocked by an unexpected tragedy she has no choice but to put her plans for the future—and dreams of escaping her small town—on hold.
Bodhi Lowell left home as a kid and hasn't looked back. Years of working farm jobs has given him the one thing he wants most: freedom to travel without answering to anyone. He's already looking past his job at Darrow Farm and plans on leaving in September—until he meets Rose.
Neither Rose nor Bodhi can deny the sparks flying between them, but with the end of summer looming, they must decide if it is better to have loved and lost than never to have loved at all.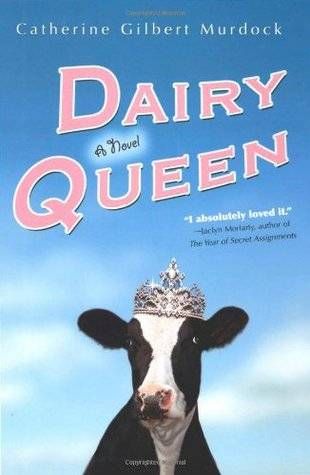 Dairy Queen by Catherine Gilbert Murdoch (series)
When you don't talk, there's a lot of stuff that ends up not getting said.
Stuff like why her best friend, Amber, isn't so friendly anymore. Or why her little brother, Curtis, never opens his mouth. Why her mom has two jobs and a big secret. Why her college-football-star brothers won't even call home. Why her dad would go ballistic if she tried out for the high school football team herself. And why Brian is so, so out of her league.
When you don't talk, there's a lot of stuff that ends up not getting said.
Welcome to the summer that fifteen-year-old D. J. Schwenk of Red Bend, Wisconsin, learns to talk, and ends up having an awful lot of stuff to say.
Want more "3 On A YA Theme" posts? Gotcha covered.