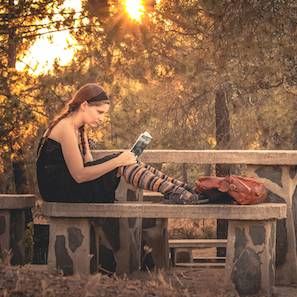 LGBTQ
3 (Ok, 7) on a YA Theme: Bisexuality in YA
This content contains affiliate links. When you buy through these links, we may earn an affiliate commission.
Representation matters — the more teenagers (and adults!) see themselves in fiction in some way, the more they're able to understand, accept, and own their own identities without feeling ashamed or scared by them. As writer Nita Tyndall notes in a post at Gay YA, "[a]s pervasive as the idea is that labels are for soup cans, not people, there's something so relieving in finding a word that wholly encompasses, or at least starts to encompass, the experiences you've been having. Finding the right label or word for your sexuality can be validating—at last, here is a word to sum up and explain what I've been feeling, a word that fits!"
Last month, I talked about YA books featuring asexual characters. In honor of June's LGBT Pride month, I thought it would be worthwhile to explore another letter: the b, for bisexuality. These YA books feature bisexual characters, either in a starring role or in a significant secondary role. Some are very forthright in using the label "bisexual" to describe their sexuality, while others clearly show or describe a character's bisexual identity without using the word itself.
Though bisexual characters don't have a huge presence in YA, it's been refreshing to see more and more appear in major story roles over the last few years. So much so, that rather than limit this "3 On A YA Theme" to just 3 titles, I'm offering up 6. They capture a variety of genres, voices, and explorations of what a bisexual identity means.
Actually, I lied.
Here are 7 books featuring bisexual characters.
Far From You by Tess Sharpe
Nine months. Two weeks. Six days.
That's how long recovering addict Sophie's been drug-free. Four months ago her best friend, Mina, died in what everyone believes was a drug deal gone wrong – a deal they think Sophie set up. Only Sophie knows the truth. She and Mina shared a secret, but there was no drug deal. Mina was deliberately murdered.
Forced into rehab for an addiction she'd already beaten, Sophie's finally out and on the trail of the killer—but can she track them down before they come for her?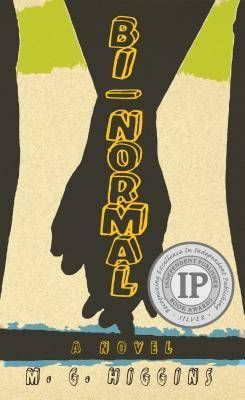 Bi-Normal by M. G. Higgins
Brett Miller is one of the kings of Elkhead High. Everyone knows the kings rule the school. Football stars. Pretty girls. The in-crowd. Brett and his buddies are the tormentors; nobody messes with them. Then Brett meets Zach …"It's a crush. I'm crushing on a friggin' guy. That's sick. And I don't know what to do about it. … I want these feelings to go away. At the same time, I don't want them to go away." And his life is turned inside out. Everything he knows about himself is wrong. And he doesn't have anywhere to turn for answers. He's heard the word "bi" before; it has nothing to do with him. But in his gut he knows. And he doesn't have a clue what to do about it.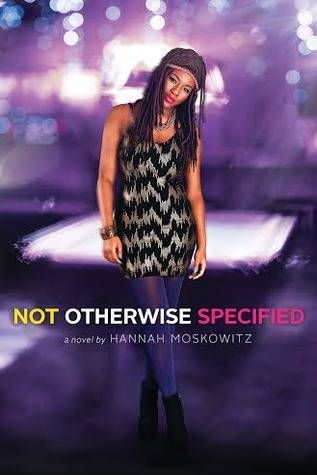 Not Otherwise Specified by Hannah Moskowitz
Etta is tired of dealing with all of the labels and categories that seem so important to everyone else in her small Nebraska hometown.
Everywhere she turns, someone feels she's too fringe for the fringe. Not gay enough for the Dykes, her ex-clique, thanks to a recent relationship with a boy; not tiny and white enough for ballet, her first passion; and not sick enough to look anorexic (partially thanks to recovery). Etta doesn't fit anywhere— until she meets Bianca, the straight, white, Christian, and seriously sick girl in Etta's therapy group. Both girls are auditioning for Brentwood, a prestigious New York theater academy that is so not Nebraska. Bianca seems like Etta's salvation, but how can Etta be saved by a girl who needs saving herself?
Adaptation by Malinda Lo
Reese can't remember anything from the time between the accident and the day she woke up almost a month later. She only knows one thing: She's different now.
Across North America, flocks of birds hurl themselves into airplanes, causing at least a dozen to crash. Thousands of people die. Fearing terrorism, the United States government grounds all flights, and millions of travelers are stranded.
Reese and her debate team partner and longtime crush David are in Arizona when it happens. Everyone knows the world will never be the same. On their drive home to San Francisco, along a stretch of empty highway at night in the middle of Nevada, a bird flies into their headlights. The car flips over. When they wake up in a military hospital, the doctor won't tell them what happened, where they are—or how they've been miraculously healed.
Things become even stranger when Reese returns home. San Francisco feels like a different place with police enforcing curfew, hazmat teams collecting dead birds, and a strange presence that seems to be following her. When Reese unexpectedly collides with the beautiful Amber Gray, her search for the truth is forced in an entirely new direction—and threatens to expose a vast global conspiracy that the government has worked for decades to keep secret.
* There is a sequel to this one called Inheritance which is a must-read when you finish Adaptation, since you'll want to know what happens to Reese.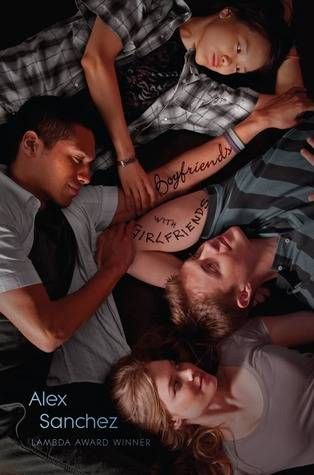 Boyfriends With Girlfriends by Alex Sanchez
Lance has always known he was gay, but he's never had a real boyfriend. Sergio is bisexual, but his only real relationship was with a girl. When the two of them meet, they have an instant connection–but will it be enough to overcome their differences?
Allie's been in a relationship with a guy for the last two years–but when she meets Kimiko, she can't get her out of her mind. Does this mean she's gay? Does it mean she's bi? Kimiko, falling hard for Allie, and finding it impossible to believe that a gorgeous girl like Allie would be into her, is willing to stick around and help Allie figure it out.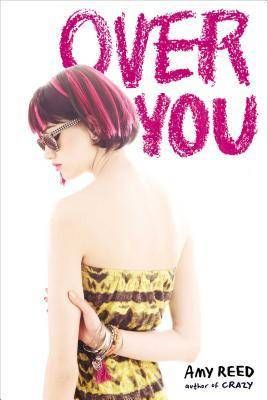 Over You by Amy Reed
Max would follow Sadie anywhere, so when Sadie decides to ditch her problems and escape to Nebraska for the summer, it's only natural for Max to go along. She is Sadie's confidante, her protector, and her best friend. This summer will be all about them. This summer will be perfect.
But that's before they meet Dylan.
Dylan is dangerous and intoxicating, and he awakens something in Max that she never knew existed. No matter how much she wants to, she can't back away.
But Sadie has her own intensity, and has never allowed Max to become close with anyone else. And Max doesn't know who she is without Sadie.
There are some problems you just can't escape.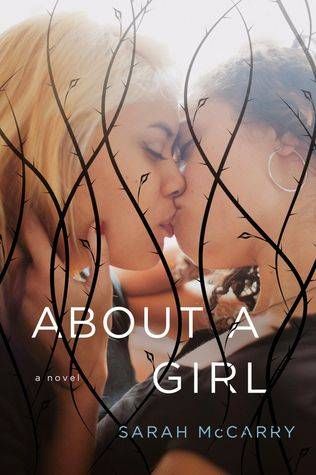 About A Girl by Sarah McCarry (July 14)
Eighteen-year-old Tally is absolutely sure of everything: her genius, the love of her adoptive family, the loyalty of her best friend, Shane, and her future career as a Nobel prize-winning astronomer. There's no room in her tidy world for heartbreak or uncertainty—or the charismatic, troubled mother who abandoned her soon after she was born. But when a sudden discovery upends her fiercely ordered world, Tally sets out on an unexpected quest to seek out the reclusive musician who may hold the key to her past—and instead finds Maddy, an enigmatic and beautiful girl who will unlock the door to her future. The deeper she falls in love with Maddy, the more Tally begins to realize that the universe is bigger—and more complicated—than she ever imagined. Can Tally face the truth about her family—and find her way home in time to save herself from its consequences?
* This is the third book in a very loose series, meaning that you can read it without having read the other two with no problem. But…you'll want to read the other two, too.
Want to dig into more YA books? Here are the past "3 On A YA Theme" posts.
____________________
Book Riot Live is coming! Join us for a two-day event full of books, authors, and an all around good time. It's the convention for book lovers that we've always wanted to attend. So we are doing it ourselves.