This content contains affiliate links. When you buy through these links, we may earn an affiliate commission.
This week's "3 On A YA Theme" is sponsored by A Tragic Kind of Wonderful by Eric Lindstrom.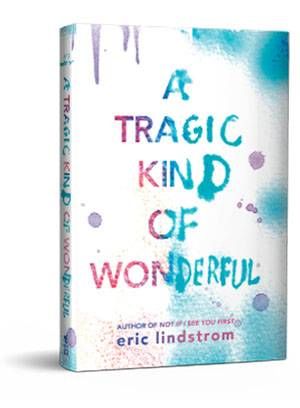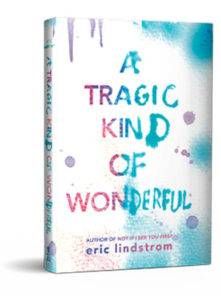 For Mel Hannigan, bipolar disorder makes life unpredictable. Her latest struggle is balancing her growing feelings in a new relationship with her instinct to conceal her diagnosis by keeping everyone at arm's length. But when a former friend confronts Mel with the truth about the way their relationship ended, deeply buried secrets threaten to upend her shaky equilibrium.

As the walls of Mel's compartmentalized world crumble, she fears that no one will accept her if they discover what she's been hiding. But would her friends really abandon her if they learned the truth? More importantly, can Mel risk everything to find out?
____________________
Mental health is a topic of deep personal interest. I've been an advocate for mental health for a long time, in part because of struggling with my own challenges and in part, because it's a topic that culturally, we don't talk openly enough about, period. By pulling back the curtains and talking frankly, we're able to better demystify the stigmas and open our hearts to the real challenges everyday people face inside their own minds.
Let's take a look at a handful of YA books that explore one of the mental illnesses that's quite misunderstood: bipolar disorder.
Bipolar disorder is a very common mental illness, with a diagnosis rate of roughly 3 million people per year in the US alone. It's characterized by periods of elation (mania) and unbelievable sadness (depression). It causes wild shifts in emotion, mood, and energy. Unlike depression alone, bipolar's markers include those really positive, happy moods that are just as difficult to manage as the low periods. These moods on either end can last for days, weeks, or even months on end.
What's interesting in the YA landscape is bipolar disorder is present and explored, though the bulk of the stories are about girls and/or women (mothers) experiencing it. There are few representations with male main characters and also few representations with characters of color. Mental health and the dearth of characters of color experiencing illness in YA is a topic that writer Patrice Caldwell has talked about and it's well worth reading and considering. Though it's not out for a few months, I have included a tremendous YA read on this list that is both inclusive and features a male character struggling with bipolar disorder.
When We Collided by Emery Lord
We are seventeen and shattered and still dancing. We have messy, throbbing hearts, and we are stronger than anyone could ever know…
Jonah never thought a girl like Vivi would come along.
Vivi didn't know Jonah would light up her world.
Neither of them expected a summer like this…a summer that would rewrite their futures.
In an unflinching story about new love, old wounds, and forces beyond our control, two teens find that when you collide with the right person at just the right time, it will change you forever.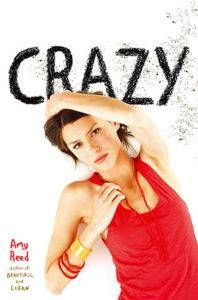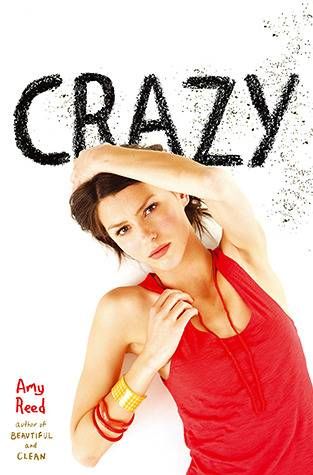 Crazy by Amy Reed
Connor knows that Izzy will never fall in love with him the way he's fallen for her. But somehow he's been let into her crazy, exhilarating world and become her closest confidante. But the closer they get, the more Connor realizes that Izzy's highs are too high and her lows are too low. And the frenetic energy that makes her shine is starting to push her into a much darker place.
As Izzy's behavior gets increasingly erratic and self-destructive, Connor gets increasingly desperate to stop her from plummeting. He knows he can't save her from her pain…but what if no one else can?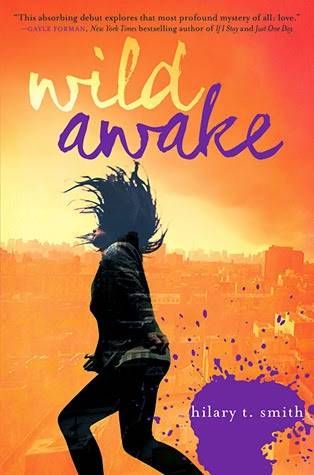 Wild Awake by Hilary T. Smith
Things you earnestly believe will happen while your parents are away:
1. You will remember to water the azaleas.
2. You will take detailed, accurate messages.
3. You will call your older brother, Denny, if even the slightest thing goes wrong.
4. You and your best friend/bandmate Lukas will win Battle of the Bands.
5. Amid the thrill of victory, Lukas will finally realize you are the girl of his dreams.
Things that actually happen:
1. A stranger calls who says he knew your sister.
2. He says he has her stuff.
3. What stuff? Her stuff.
4. You tell him your parents won't be able to—
5. Sukey died five years ago; can't he—
6. You pick up a pen.
7. You scribble down the address.
8. You get on your bike and go.
9. Things . . . get a little crazy after that.*
*also, you fall in love, but not with Lukas.
Both exhilarating and wrenching, Hilary T. Smith's debut novel captures the messy glory of being alive, as seventeen-year-old Kiri Byrd discovers love, loss, chaos, and murder woven into a summer of music, madness, piercing heartbreak, and intoxicating joy.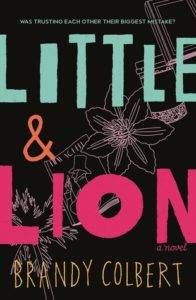 Little & Lion by Brandy Colbert (August 8, 2017)
When Suzette comes home to Los Angeles from her boarding school in New England, she isn't sure if she'll ever want to go back. L.A. is where her friends and family are (along with her crush, Emil). And her stepbrother, Lionel, who has been diagnosed with bipolar disorder, needs her emotional support.
But as she settles into her old life, Suzette finds herself falling for someone new…the same girl her brother is in love with. When Lionel's disorder spirals out of control, Suzette is forced to confront her past mistakes and find a way to help her brother before he hurts himself–or worse.

Want more "3 On A YA Theme" posts? Gotcha covered.