This content contains affiliate links. When you buy through these links, we may earn an affiliate commission.
This week's "3 on a YA Theme" is sponsored by Frankie by Shivaun Plozza from Flatiron Books.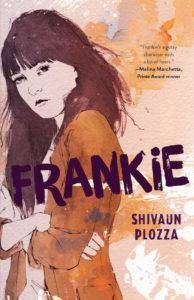 Frankie Vega is angry. Just ask the guy whose nose she broke. Or the cop investigating the burglary she witnessed, or her cheating ex-boyfriend, or her aunt who's tired of giving second chances. When a kid shows up claiming to be Frankie's half brother, it opens the door to a past she doesn't want to remember. And when that kid goes missing, the only person willing to help is a boy with stupidly blue eyes, a criminal record, and secrets of his own. Frankie's search for the truth could change her life, or cost her everything.
---
As soon as I read the description for this week's sponsor title above, I knew what this week's post should take on: angry girls.
So often, girls with anger in YA are written off as "unlikable." You see it in reviews, both from readers and from trade journals. Anger in girls is unbecoming. It's unladylike. And it makes us uncomfortable as hell.
But anger is also a real experience and it's one that we try to suppress, especially in teen girls.
Frankly? That's bullshit.
Let's celebrate the angry girls this week. I've shared some books below with girls who are fed up, frustrated, and unafraid to be that way. Anger is both a feeling they're enduring, as well as a method of coping with some of the toughest things going on in their life. For some, anger is the crux of the issue itself.
I'd love to know about more angry girls across the various YA genres, so please, do drop a favorite title or two in the comments. If you can't get enough of thinking about or reading about angry girls, I recommend checking out CJ Skuse's article about the topic at The Guardian.
The sheriff's son, Kellan Turner, is not the golden boy everyone thinks he is, and Romy Grey knows that for a fact. Because no one wants to believe a girl from the wrong side of town, the truth about him has cost her everything—friends, family, and her community. Branded a liar and bullied relentlessly by a group of kids she used to hang out with, Romy's only refuge is the diner where she works outside of town. No one knows her name or her past there; she can finally be anonymous. But when a girl with ties to both Romy and Kellan goes missing after a party, and news of him assaulting another girl in a town close by gets out, Romy must decide whether she wants to fight or carry the burden of knowing more girls could get hurt if she doesn't speak up. Nobody believed her the first time—and they certainly won't now—but the cost of her silence might be more than she can bear.
Bruised by Sarah Skilton
Imogen has always believed that her black belt in Tae Kwon Do made her stronger than everyone else—more responsible, more capable. But when she witnesses a holdup in a diner, she freezes. The gunman is shot and killed by the police. And it's all her fault.
Now she's got to rebuild her life without the talent that made her special and the beliefs that made her strong. If only she could prove herself in a fight—a real fight—she might be able to let go of the guilt and shock. She's drawn to Ricky, another witness to the holdup, both romantically and because she believes he might be able to give her the fight she's been waiting for.
But when it comes down to it, a fight won't answer Imogen's big questions: What does it really mean to be stronger than other people? Is there such a thing as a fair fight? And can someone who's beaten and bruised fall in love?
After a freezing winter, a boiling hot summer explodes with arson, a blackout, and a serial killer named Son of Sam, who is shooting young people on the streets seemingly at random.
Not only is the city a disaster, but Nora has troubles of her own: her brother, Hector, is growing more uncontrollable by the day, her mother is helpless to stop him, and her father is so busy with his new family that he only calls on holidays.
And it doesn't stop there. The super's after her mother to pay their overdue rent, and her teachers are pushing her to apply for college, but all Nora wants is to turn eighteen and be on her own. There is a cute guy who started working with her at the deli, but is dating even worth the risk when the killer especially likes picking off couples who stay out too late?
Okiku is a lonely soul. She has wandered the world for centuries, freeing the spirits of the murdered-dead. Once a victim herself, she now takes the lives of killers with the vengeance they're due. But releasing innocent ghosts from their ethereal tethers does not bring Okiku peace. Still she drifts on.
Such is her existence, until she meets Tark. Evil writhes beneath the moody teen's skin, trapped by a series of intricate tattoos. While his neighbors fear him, Okiku knows the boy is not a monster. Tark needs to be freed from the malevolence that clings to him. There's just one problem: if the demon dies, so does its host.
Heartbeat by Elizabeth Scott
Does life go on when your heart is broken?
Since her mother's sudden death, Emma has existed in a fog of grief, unable to let go, unable to move forward—because her mother is, in a way, still there. She's being kept alive on machines for the sake of the baby growing inside her.
Estranged from her stepfather and letting go of things that no longer seem important—grades, crushes, college plans—Emma has only her best friend to remind her to breathe. Until she meets a boy with a bad reputation who sparks something in her—Caleb Harrison, whose anger and loss might just match Emma's own. Feeling her own heart beat again wakes Emma from the grief that has grayed her existence. Is there hope for life after death—and maybe, for love?
Perfect Mexican daughters do not go away to college. And they do not move out of their parents' house after high school graduation. Perfect Mexican daughters never abandon their family.
But Julia is not your perfect Mexican daughter. That was Olga's role.
Then a tragic accident on the busiest street in Chicago leaves Olga dead and Julia left behind to reassemble the shattered pieces of her family. And no one seems to acknowledge that Julia is broken, too. Instead, her mother seems to channel her grief into pointing out every possible way Julia has failed.
But it's not long before Julia discovers that Olga might not have been as perfect as everyone thought. With the help of her best friend Lorena, and her first kiss, first love, first everything boyfriend Connor, Julia is determined to find out. Was Olga really what she seemed? Or was there more to her sister's story? And either way, how can Julia even attempt to live up to a seemingly impossible ideal?
When Julia finds a slur about her best friend scrawled across the back of the Kingston School for the Deaf, she covers it up with a beautiful (albeit illegal) graffiti mural.
Her supposed best friend snitches, the principal expels her, and her two mothers set Julia up with a one-way ticket to a "mainstream" school in the suburbs, where she's treated like an outcast as the only deaf student. The last thing she has left is her art, and not even Banksy himself could convince her to give that up.
Out in the 'burbs, Julia paints anywhere she can, eager to claim some turf of her own. But Julia soon learns that she might not be the only vandal in town. Someone is adding to her tags, making them better, showing off—and showing Julia up in the process. She expected her art might get painted over by cops. But she never imagined getting dragged into a full-blown graffiti war.
Want more "3 On A YA Theme" posts? Gotcha covered.