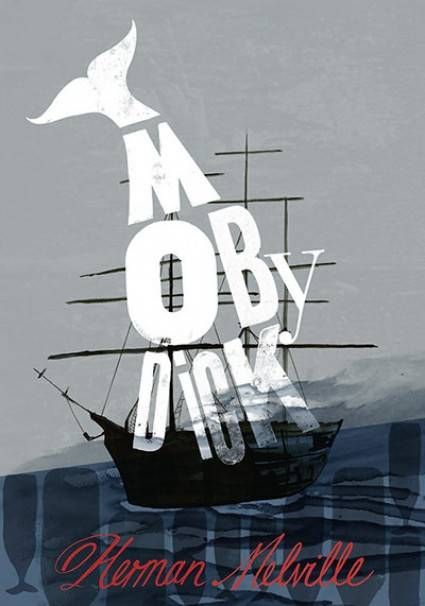 Classics
3 Reasons to Finally Read Moby-Dick
I tried to read Moby-Dick when I was a kid. I was ready to try again in high school, but not even my teacher was into it. We watched the movie – the one with Patrick Stewart – instead. I made one last effort in college, and then I swore I would never, ever read it. It was just soooo boring. I couldn't get into it, and it frustrated me that I could not see even a glimmer of what supposedly made it great.
I know that I am not alone in this. This is one of the books that I most often hear people mention as the book that they "should" read but haven't gotten around to yet. I see reading challenges spring up, with people banding together in an effort to defeat this, their "white whale." I have never been motivated enough to join them. In fact, I've gone so far as to call Moby-Dick the most overrated work of American literature to have ever been written. I did this, of course, to make myself feel better about giving up. I won't do it any more – not without having read the book in its entirety. I think I'm ready to bite the bullet, and here's why:
Moby-Dick Marathon NYC
To honor the book's anniversary, three New York bookstores have banded together to host a marathon reading of the entire book, beginning with actor Paul Dano at WORD Brooklyn at 5pm on Friday, November 16. The reading will continue throughout the weekend, with stops at Housing Works and Molasses Books. The event is far from the first of its kind, though it may be the first to have such an active online presence. The idea came from an annual marathon reading of the book that takes place in Sag Harbor (there's one in Mystic, Connecticut, too). This event is the first of its kind in New York, and it marks the first time that multiple locations have been used in this way.
That is a huge part of why I find my interest in the novel rising. I find myself wondering – how many of the participants had read the book before signing on? How well will the readings be attended? There is a lot of buzz surrounding the event, at least from my seat on the social media sidelines. I find myself thinking that if all of these people are interested in staging such an event, then maybe there's something to the book after all. I can't be there for reading, but I hope to follow along via Twitter and Instagram (please let someone in attendance be an Instagram addict!).
Moby-Dick Big Read
While I was lamenting the fact that I couldn't be in New York for the marathon reading, I happened across the website for the Moby Dick Big Read, a read-a-long, or, rather, a listen-a-long version of what they refer to as the "great unread American novel." Each day, they post a chapter of the novel as read by a well-known personality (in their own fields, anyway), free to download by any who wants to follow along. Notable readers include Tilda Swinton, Stephen Fry, and Benedict Cumberbatch. These readings are posted along with artwork that relates to that particular chapter, and I must say, it's some pretty impressive stuff. While I didn't get started when they did, I think I could handle the one chapter a day thing, especially when there are so many great voices bringing the book to life.
Moby-Dick Swag
The beginnings of my new-found interest in Moby Dick can be attributed to Out of Print Tees, mostly. They have a really awesome Moby Dick design, which appeals to me on a number of levels. It's mostly blue. It has a whale. It's minimalist in just the right way. Rockwell Kent, the artist behind the design, is pretty amazing. I've also been seeing a number of really cool book cover re-designs and prints that are inspired by the book. Artist Matt Kish even has a book out that includes the 552 pictures he created – one for every page in his Signet classic edition. Here are just a few of my favorites works inspired by Moby Dick (click the image to see more):
Have you been resisting Moby-Dick, too? Do events like these make you want to get involved? Does artwork draw you in to reading something you might not have otherwise? What's your opinion on the great white novel?