Fiction
3 Plays to Help You Read Harder
This content contains affiliate links. When you buy through these links, we may earn an affiliate commission.
One of the tasks for the 2016 Read Harder Challenge is to read the play. For a lot of people, including some of my former classmates, it will seem odd to read a play. I was taught that prose is meant to be read, poetry is meant to be recited, and plays are meant to be performed. Over time, however, I have come to realize that there's no reason why you shouldn't be able to both enjoy a good performance and appreciate reading the words on the page. That is exactly how I discovered the three plays on this list.
During trips to New York City in recent years, I was fortunate enough to see productions of each of the three following plays on Broadway. Each production boasted a very memorable cast and a truly stellar production. So good, in fact that I felt compelled to buy a copy of the script in the lobby on my way out, and they are now part of my permanent collection.
Jerusalem by Jez Butterworth
This production starred Mark Rylance, an actor who is well-known for his stage work (he has a few Tony Awards to his credit, including one for this role). He also does a lot of film work, including an Oscar-Winning turn in Bridge of Spies. He'll be starring in the film adaptation of Roald Dahl's The BFG, too. I say that because I'm about to fangirl a bit (in a way that only a true theater geek might appreciate).
I had the privilege of sitting in the front row, just below the water trough in which he does a head stand early in the play, following a night of debauchery. He has to wake up, after all. After said head stand, he finds his feet and shakes his head wildly, not unlike a dog after a bath. Sitting just below him, as I was, meant that I got a nice little shower – from an award-winning actor. So cool.
Jerusalem is quite different from what most people (most Americans anyway) would expect from British theater. It takes place in what we'd call a trailer park, and focuses on a man named Johnny Byron and the various demands being placed on his time and attention. His friends want to party, his son wants his father, and local officials want his mobile home to get moving. He's loud, obnoxious, hilarious, and, oddly enough, endearing.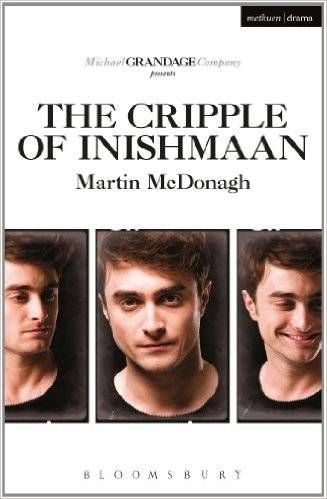 The Cripple of Inishmaan by Martin McDonagh
This production starred Daniel Radcliffe, and I have to give him serious credit for the physical work he did in this play. Maintaining the look of the deformity that marked his character as the "cripple" indicated in the title. I can't imagine that it felt good, especially not with the schedule he worked. It had to take a toll.
McDonagh plays are known for being emotionally draining on the audience. They are dark. They are emotional. The Beauty Queen of Leenane is a perfect example. Those qualities are present in The Cripple of Inishmaan, but they aren't all that is there, either. There's also humor – and it's not quite as black as the comedy in Leenane.
The story centers on Billy and his dreams of becoming more than the village cripple, an object of both scorn and pity. When he hears there is a Hollywood film crew on the neighboring island, he sees that as his ticket out, an opportunity that he holds on to with both hands.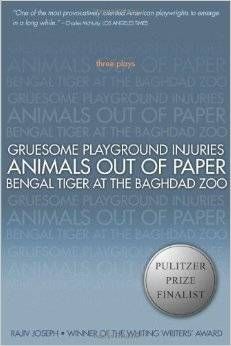 Gruesome Playground Injuries; Animals Out of Paper; Bengal Tiger at the Baghdad Zoo: Three Plays by Rajiv Joseph
Bengal Tiger at the Baghdad Zoo was a finalist for the Pulitzer Prize, and that was before Robin Williams ever graced the Broadway stage in his role as the titular Bengal tiger. This is a play that stands solidly on its own 2 feet as a written work before any cast and crew comes together and brings it to life on the stage. Dialogue is rapid-fire, and easily accessible to the reader. Even the tiger is just another guy, albeit one that wouldn't mind taking a bite out of his guards.
The story focuses on the experiences of a couple of American soldiers, their translator, members of the Hussein family, and a Bengal tiger that has spent too many years at the Baghdad Zoo. It is a meditation on guilt, specifically the guilt that comes from taking another life, no matter the circumstances. And it is well worth the read. I'm assuming the two other plays in the collection are, too. I'm hoping to catch them on stage before I read them, though.
Seen any good shows lately? I'm always looking for a new play to read.