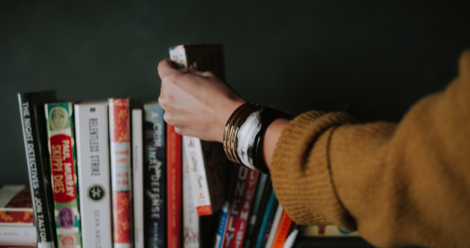 This content contains affiliate links. When you buy through these links, we may earn an affiliate commission.
Wishlist upcoming releases you're dying to read. Get exclusive podcasts and newsletters. Enter to win swag. Do it all when you join Insiders—and between April 15 and 30, you can get a free 2-week trial for Novel Monthly or Annual!

---
Every quarter, I do a round-up of the YA books hitting shelves. But that list can be huge and overwhelming. Where do you start?
To make navigating that list a little bit easier, as well as to help make more helpful entry points into YA for new readers, once a month "3 On A YA Theme" will highlight three big YA fiction titles hitting shelves. These will range from big, buzzy titles to titles which, while maybe not as big, sound like ones Riot readers would love to know about. Since I can't read everything in time to post these pieces (though I do read an unbelievable amount of reviews of them), descriptions will come from Goodreads, with additional commentary where appropriate. Each month's list will also include one YA nonfiction title, to round out your reading.
So let's dive right into what you should hurry to put your holds on—or spend your cash on—for April 2018.
I cheated and included four fiction titles and two nonfiction titles (one of which is a very short one) because April is yet another delicious month for YA. All descriptions from Goodreads.
In March 1965 President Lyndon B. Johnson sent troops into Vietnam. 57,939 American soldiers would be killed and seventeen years would pass before this controversial chapter of American history concluded with the dedication of the Vietnam Veterans Memorial in 1982.
The history of this era is complex; the cultural impact extraordinary. But it's the personal stories of eight people—six American soldiers, one American nurse, and one Vietnamese refugee—that form the heartbeat of Boots on the Ground. From dense jungles and terrifying firefights to chaotic medic rescues and evacuations, each individual's story reveals a different facet of the war and moves readers forward in time. Alternating with these chapters are profiles of key American leaders and events, reminding readers what was happening at home, including Kent State, Woodstock, and Watergate.
Ten years ago, a horrifying disease began spreading across the West Texas desert. Infected people—shakes—attacked the living and created havoc and destruction. No one has ever survived the infection. Daisy Wilcox, known as Willie, has been protecting her siblings within the relatively safe walls of Glory, Texas. When Willie's good-for-nothing father steals a fortune from one of the most dangerous shake-hunters in town, she finds herself on the hook for his debt. With two hunters, including the gruff and handsome Ben, to accompany her, she sets out across the desert in search of her father. But the desert is not kind to travelers, and not everyone will pass through alive.
Western meets horror for this riveting story about survival, family, and inner strength. Tense, short chapters propel readers from one action-packed scene to the next, while Willie's distinctive, introspective voice deepens the emotional stakes with every turn of the page.
Dread Nation by Justina Ireland (4/3)
Jane McKeene was born two days before the dead began to walk the battlefields of Gettysburg and Chancellorsville—derailing the War Between the States and changing America forever. In this new nation, safety for all depends on the work of a few, and laws like the Native and Negro Reeducation Act require certain children attend combat schools to learn to put down the dead. But there are also opportunities—and Jane is studying to become an Attendant, trained in both weaponry and etiquette to protect the well-to-do. It's a chance for a better life for Negro girls like Jane. After all, not even being the daughter of a wealthy white Southern woman could save her from society's expectations.
But that's not a life Jane wants. Almost finished with her education at Miss Preston's School of Combat in Baltimore, Jane is set on returning to her Kentucky home and doesn't pay much mind to the politics of the eastern cities, with their talk of returning America to the glory of its days before the dead rose. But when families around Baltimore County begin to go missing, Jane is caught in the middle of a conspiracy, one that finds her in a desperate fight for her life against some powerful enemies. And the restless dead, it would seem, are the least of her problems.
Originally performed at the Kennedy Center for the unveiling of the Martin Luther King Jr. Memorial, and later as a tribute to Walter Dean Myers, this stirring and inspirational poem is New York Times bestselling author and National Book Award finalist Jason Reynolds's rallying cry to the dreamers of the world.
For Every One is just that: for every one. For every one person. For every one dream. But especially for every one kid. The kids who dream of being better than they are. Kids who dream of doing more than they almost dare to dream. Kids who are like Jason Reynolds, a self-professed dreamer. Jason does not claim to know how to make dreams come true; he has, in fact, been fighting on the front line of his own battle to make his own dreams a reality. He expected to make it when he was sixteen. Then eighteen. Then twenty-five. Now, some of those expectations have been realized. But others, the most important ones, lay ahead, and a lot of them involve kids, how to inspire them. All the kids who are scared to dream, or don't know how to dream, or don't dare to dream because they've NEVER seen a dream come true. Jason wants kids to know that dreams take time. They involve countless struggles. But no matter how many times a dreamer gets beat down, the drive and the passion and the hope never fully extinguish—because just having the dream is the start you need, or you won't get anywhere anyway, and that is when you have to take a leap of faith.
Leah Burke—girl-band drummer, master of deadpan, and Simon Spier's best friend from the award-winning Simon vs. the Homo Sapiens Agenda—takes center stage in this novel of first love and senior-year angst.
When it comes to drumming, Leah Burke is usually on beat—but real life isn't always so rhythmic. An anomaly in her friend group, she's the only child of a young, single mom, and her life is decidedly less privileged. She loves to draw but is too self-conscious to show it. And even though her mom knows she's bisexual, she hasn't mustered the courage to tell her friends—not even her openly gay BFF, Simon.
So Leah really doesn't know what to do when her rock-solid friend group starts to fracture in unexpected ways. With prom and college on the horizon, tensions are running high. It's hard for Leah to strike the right note while the people she loves are fighting—especially when she realizes she might love one of them more than she ever intended.
Stay Sweet by Siobhan Vivian (4/24)
Summer in Sand Lake isn't complete without a trip to Meade Creamery—the local ice cream stand founded in 1944 by Molly Meade who started making ice cream to cheer up her lovesick girlfriends while all the boys were away at war. Since then, the stand has been owned and managed exclusively by local girls, who inevitably become the best of friends. Seventeen-year-old Amelia and her best friend Cate have worked at the stand every summer for the past three years, and Amelia is "Head Girl" at the stand this summer. When Molly passes away before Amelia even has her first day in charge, Amelia isn't sure that the stand can go on. That is, until Molly's grandnephew Grady arrives and asks Amelia to stay on to help continue the business…but Grady's got some changes in mind…
Want more "3 On A YA Theme" posts? Gotcha covered.