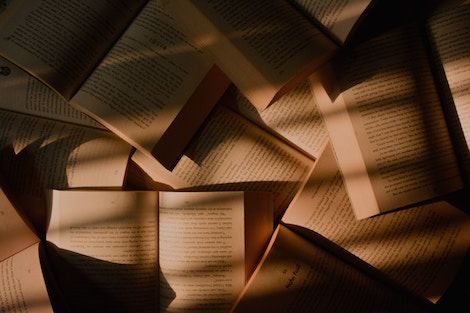 This content contains affiliate links. When you buy through these links, we may earn an affiliate commission.
"3 on a YA Theme" is sponsored by I Stop Somewhere by TE Carter.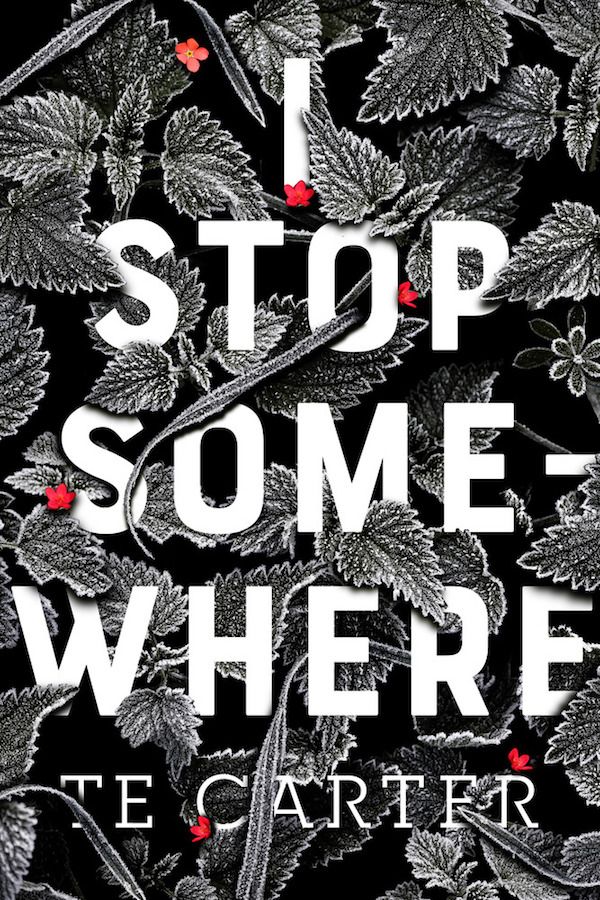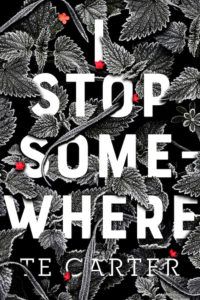 Ellie Frias disappeared long before she vanished.
Tormented throughout middle school, Ellie begins her freshman year with a new look: she doesn't need to be popular; she just needs to blend in with the wallpaper.
But when the unthinkable happens, Ellie finds herself trapped after a brutal assault. She wasn't the first victim, and now she watches it happen again and again. She tries to hold on to her happier memories in order to get past the cold days, waiting for someone to find her.
The problem is, no one searches for a girl they never noticed in the first place.
---
Last week, we looked at recent YA fantasy series to have wrapped up in the last year. This week, we're taking a dive into the YA fantasy series which will wrap up through the rest of 2018.
This isn't exhaustive, but it should offer up a great way to prioritize your fantasy series reading. If you love inhaling your reads one after another, you can plan with these release dates in mind. If you're a reader who loves a refresher before finishing a series, use these as markers for when you should do some revisiting.
Please note: the descriptions are for the first book in the series. Final books are noted alongside them, with publication dates indicated. This will ensure no accidental spoiling for those still catching up.
"Alternate Detective" series by AJ Hartley: Steeplejack, Firebrand, and Guardian (expected June 12)
Seventeen-year-old Anglet Sutonga makes a living repairing the chimneys, towers, and spires of Bar-Selehm. Dramatically different communities live and work alongside one another. The white Feldish command the nation's higher echelons of society; the native Mahweni are divided between city life and the savannah. And then there's Ang, part of the Lani community who immigrated there generations ago and now mostly lives in poverty on Bar-Selehm's edges.
When Ang is supposed to meet her new apprentice, Berrit, she finds him dead. That same night the Beacon, an invaluable historical icon, is stolen. The Beacon's theft commands the headlines, yet no one seems to care about Berrit's murder—except for Josiah Willinghouse, an enigmatic young politician. When he offers Ang a job investigating the death, she plunges headlong into new and unexpected dangers.
Meanwhile, crowds gather in protests over the city's mounting troubles. Rumors surrounding the Beacon's theft grow. More suspicious deaths occur. With no one to help Ang except Josiah's haughty younger sister, a savvy newspaper girl, and a kindhearted herder, Ang must rely on her intellect and strength to resolve the mysterious link between Berrit and the missing Beacon before the city descends into chaos.
Seventeen year-old Britta Flannery is at ease only in the woods with her dagger and bow. She spends her days tracking criminals alongside her father, the legendary bounty hunter for the King of Malam—that is, until her father is murdered. Now outcast and alone and having no rights to her father's land or inheritance, she seeks refuge where she feels most safe: the Ever Woods. When Britta is caught poaching by the royal guard, instead of facing the noose she is offered a deal: her freedom in exchange for her father's killer.
However, it's not so simple.
The alleged killer is none other than Cohen McKay, her father's former apprentice. The only friend she's ever known. The boy she once loved who broke her heart. She must go on a dangerous quest in a world of warring kingdoms, mad kings, and dark magic to find the real killer. But Britta wields more power than she knows. And soon she will learn what has always made her different will make her a daunting and dangerous force.
No one expects a princess to be brutal. And Lada Dragwlya likes it that way. Ever since she and her gentle younger brother, Radu, were wrenched from their homeland of Wallachia and abandoned by their father to be raised in the Ottoman courts, Lada has known that being ruthless is the key to survival. She and Radu are doomed to act as pawns in a vicious game, an unseen sword hovering over their every move. For the lineage that makes them special also makes them targets.
Lada despises the Ottomans and bides her time, planning her vengeance for the day when she can return to Wallachia and claim her birthright. Radu longs only for a place where he feels safe. And when they meet Mehmed, the defiant and lonely son of the sultan, Radu feels that he's made a true friend—and Lada wonders if she's finally found someone worthy of her passion.
But Mehmed is heir to the very empire that Lada has sworn to fight against—and that Radu now considers home. Together, Lada, Radu, and Mehmed form a toxic triangle that strains the bonds of love and loyalty to the breaking point.
Years ago, everything changed. Phantoms, massive beasts of nightmare, began terrorizing the world. At the same time four girls, the Effigies, appeared, each with the unique power to control a classical element. Since then, they have protected the world from the Phantoms. At the death of one Effigy, another is chosen, pulled from her normal life into the never-ending battle.
When Maia unexpectedly becomes the next Fire Effigy, she resists her new calling. A quiet girl with few friends and almost no family, she was much happier to admire the Effigies from afar. Never did she imagine having to master her ability to control fire, to protect innocent citizens from the Phantoms, or to try bringing together the other three Effigies.
But with the arrival of the mysterious Saul—a man who seems to be able to control the Phantoms using the same cosmic power previously only granted to four girls at a time—Maia and the other Effigies must learn to work together in a world where their celebrity is more important than their heroism.
But the secrets Saul has, and the power he possesses, might be more than even they can handle…
"The Frostblood Saga" by Elly Blake: Frostblood, Fireblood, Nightblood (expected June 5)
Seventeen-year-old Ruby is a Fireblood who has concealed her powers of heat and flame from the cruel Frostblood ruling class her entire life. But when her mother is killed trying to protect her, and rebel Frostbloods demand her help to overthrow their bloodthirsty king, she agrees to come out of hiding, desperate to have her revenge.
Despite her unpredictable abilities, Ruby trains with the rebels and the infuriating—yet irresistible—Arcus, who seems to think of her as nothing more than a weapon. But before they can take action, Ruby is captured and forced to compete in the king's tournaments that pit Fireblood prisoners against Frostblood champions. Now she has only one chance to destroy the maniacal ruler who has taken everything from her—and from the icy young man she has come to love.
"The Sidekick Squad" by CB Lee: Not Your Sidekick, Not Your Villain, and Not Your Backup (expected this year, though no date has been named yet)
Welcome to Andover…where superpowers are common, but internships are complicated. Just ask high school nobody Jessica Tran. Despite her heroic lineage, Jess is resigned to a life without superpowers and is merely looking to beef-up her college applications when she stumbles upon the perfect (paid!) internship—only it turns out to be for the town's most heinous supervillain. On the upside, she gets to work with her longtime secret crush, Abby, who Jess thinks may have a secret of her own. Then there's the budding attraction to her fellow intern, the mysterious "M," who never seems to be in the same place as Abby. But what starts as a fun way to spite her superhero parents takes a sudden and dangerous turn when she uncovers a plot larger than heroes and villains altogether.
When blacksmith apprentice Fletcher discovers that he has the ability to summon demons from another world, he travels to Adept Military Academy. There the gifted are trained in the art of summoning. Fletcher is put through grueling training as a battlemage to fight in the Hominum Empire's war against orcs. He must tread carefully while training alongside children of powerful nobles. The power hungry, those seeking alliances, and the fear of betrayal surround him. Fletcher finds himself caught in the middle of powerful forces, with only his demon Ignatius for help.
As the pieces on the board maneuver for supremacy, Fletcher must decide where his loyalties lie. The fate of an empire is in his hands. The Novice is the first in a trilogy about Fletcher, his demon Ignatius, and the war against the Orcs.
*Note that The Outcast is a prequel to the series, releasing after the series wrapped up last year.
England, 1882. Evelyn is bored with society and its expectations. So when her beloved sister, Rose, mysteriously vanishes, she ignores her parents and travels to London to find her, accompanied by the dashing Mr. Kent. But they're not the only ones looking for Rose. The reclusive, young gentleman Sebastian Braddock is also searching for her, claiming that both sisters have special healing powers. Evelyn is convinced that Sebastian must be mad, until she discovers that his strange tales of extraordinary people are true—and that her sister is in graver danger than she feared.
Want more "3 On A YA Theme" posts? Gotcha covered.