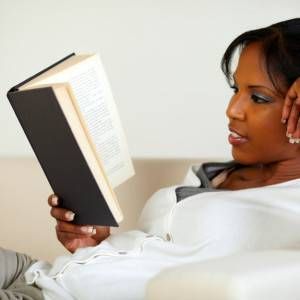 This content contains affiliate links. When you buy through these links, we may earn an affiliate commission.
This week's installment is sponsored by Book Riot's own YA Quarterly box! Subscribe now to receive a (you guessed it) quarterly shipment of books and bookish goods for YA fans of all ages. The next box ships January 18th.
We've talked a lot recently about taking the plunge into reading books written by women for a year or even longer. I made the decision to read primarily women last month, and so far, it's been a really worthwhile project. I'm going to keep it up as long as possible, since it's already allowing me to dig into some of the books I've let gather dust on my shelves.
If you've been curious about a challenge to read only women, Manda over on Tumblr has launched #ReadWomen. This month-long challenge is open to anyone who wants to participate and use the hashtag via Tumblr. If you can't commit to a long period of time of reading books by women only, perhaps a one-month challenge is a perfect opportunity to try it out. The goal of #ReadWomen is to enjoy and amplify female voices.
This is the third of four (part 1 here, part 2 here) installments to round out this year's "3 On A YA Theme" columns dedicated to 3 YA titles written by women from 2015 that you should know about. I'm sticking to titles I haven't talked about this year (as best as possible!), as well as ones that have flown below the radar, across a wide swath of genres. Let's not just read women; let's read women whose work deserves even more attention.
The Devil You Know by Trish Doller
Eighteen-year-old Arcadia wants adventure. Living in a tiny Florida town with her dad and four-year-old brother, Cadie spends most of her time working, going to school, and taking care of her family. So when she meets two handsome cousins at a campfire party, she finally has a chance for fun. They invite her and friend to join them on a road trip, and it's just the risk she's been craving-the opportunity to escape. But what starts out as a fun, sexy journey quickly becomes dangerous when she discovers that one of them is not at all who he claims to be. One of them has deadly intentions.
A road trip fling turns terrifying in this contemporary story that will keep readers on the edge of their seats.
Zeroboxer by Fonda Lee
A rising star in the weightless combat sport of zeroboxing, Carr "the Raptor" Luka dreams of winning the championship title. Recognizing his talent, the Zero Gravity Fighting Association assigns Risha, an ambitious and beautiful Martian colonist, to be his brandhelm––a personal marketing strategist. It isn't long before she's made Carr into a popular celebrity and stolen his heart along the way.
As his fame grows, Carr becomes an inspirational hero on Earth, a once-great planet that's fallen into the shadow of its more prosperous colonies. But when Carr discovers a far-reaching criminal scheme, he becomes the keeper of a devastating secret. Not only will his choices place everything he cares about in jeopardy, but they may also spill the violence from the sports arena into the solar system.
Court of Fives by Kate Elliott
On the Fives court, everyone is equal.
And everyone is dangerous.
Jessamy's life is a balance between acting like an upper-class Patron and dreaming of the freedom of the Commoners. But away from her family, she can be whomever she wants when she sneaks out to train for the Fives, an intricate, multilevel athletic competition that offers a chance for glory to the kingdom's best competitors.
Then Jes meets Kalliarkos, and an improbable friendship between the two Fives competitors—one of mixed race and the other a Patron boy—causes heads to turn. When Kal's powerful, scheming uncle tears Jes's family apart, she'll have to test her new friend's loyalty and risk the vengeance of a royal clan to save her mother and sisters from certain death.
Want more "3 On A YA Theme" posts? Gotcha covered.