Fiction
3 More Fiction Podcasts to Satisfy Your Love of Stories
Last year, I recommended some fiction podcasts that could help satisfy the need us readers can have to be engrossed in stories at all times, even while we're busy with life and unable to sit down and curl up with our beloved books for hours on end. Since then, I've explored even more of the world of audio drama (and besides, new fiction podcasts are coming out all the time), and here are three more favorites that definitely tickle my story-loving fancy.
ars PARADOXICA

Created by Mischa Stanton and Daniel Manning, ars PARADOXICA is a beautifully-produced audio drama about time travel, science, corruption, wartime, and, most importantly, people. The story begins with physicist Sally Grissom finding herself stuck in the year 1943 after an accident during a time travel experiment she had been conducting in her own time (the ambiguous future). Her extremely advanced scientific knowledge gets her tangled up with a secret US government agency, the Office of Developed Anomalous Resources (or ODAR). Quickly, though, the podcast becomes about much more than Sally and her time machine. As the effects of Sally's sudden appearance and the sudden knowledge of the existence of time travel spread and touch more and more lives, the podcast, too, expands to follow the many characters and stories affected by that initial event. Each character is complex with unique motivations and beliefs, making for a deeply complicated — and deeply human — story. Even if you're not totally into science fiction, ars PARADOXICA is a gorgeous depiction of people simply trying to understand the world and survive in it, and can appeal to anyone who has ever felt different and perplexed by life (AKA all of us). The show is currently on hiatus after recently wrapping up on Season 2, so there's plenty of time to get caught up!
Hello from the Magic Tavern
is a complex and delightful podcast that is part fantasy, part improv comedy, and part interview-style show. The story is this: Arnie Niekamp, an improv comedian from Chicago, was transported through a dimensional portal behind a Burger King from our world into the magical land of Foon. While trapped in this strange land, he hosts this podcast from the The Vermillion Minotaur, a tavern in the town of Hogsface, in order to learn more about Foon and try to spread the word about the existence of other dimensions. Arnie's cohosts are a wizard named Usidore the Blue and a shapeshifter named Chunt, and the three interview various residents of Foon each episode. If you are a fan of great world-building paired with smart, laugh-out-loud comedy, this is definitely the podcast for you. As a bonus, the intro and outro of each episode (which the gang is unaware of) is done by a mysterious man in yet another possible dimension with its own set of unanswered questions. Arnie's been stuck in Foon for just over two years now (so there's a great backlog to keep you entertained and occupied for hours), and new episodes are released each Monday.
RABBITS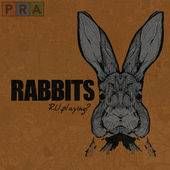 From the creators of The Black Tapes (which was introduced on the site by fellow Rioter Rachel Weber) and TANIS, comes this new docu-drama series following Carly Parker as she embarks on a search for her friend Yumiko, who disappeared mysteriously while playing a game called Rabbits. As Carly dives deeper and deeper into her investigation of the game, she realizes Rabbits is much more than meets the eye and could hold dark truths about the universe we live in. RABBITS is a phenomenal listen for those of you who love well-crafted mysteries and thrillers (as are the other podcasts from the Public Radio Alliance and Pacific Northwest Stories, just saying). The podcast is still quite new, so there are just a handful of episodes to catch up on, with new ones dropping every other Tuesday.
As always, there is a whole wide world of fiction podcasts out there in the podcasting world, and the above are just a small sampling of that. Check out the hashtag #AudioDramaSunday on Twitter for even more recommendations and conversations, especially from awesome independent creators. Happy listening!