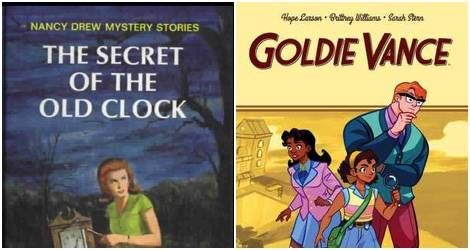 This content contains affiliate links. When you buy through these links, we may earn an affiliate commission.
Like finding your next perfect book, finding that first perfect comic series to start following can be a daunting task. Sometimes, you simply don't know what you're in the mood for next, or you might be totally new to comics and in need of a good starting point. Of course, you can always ask any comics-reading friends for recommendations, or try checking in with a bookseller at your local comic shop.
But if you're a mystery book lover hoping to make the leap into comics with a bit of background, here are three quick recommendations for series to try out, based on your preferred sleuth.
If you like Nancy Drew, try Goldie Vance.
Nancy Drew series by Carolyn Keene
Goldie Vance, Vol. 1: Hope Larson (writer), Brittney Williams (artist), Sarah Stern (colorist), Jim Campbell (letterer)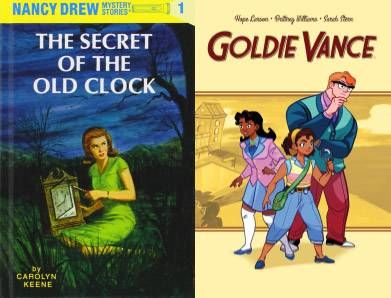 Goldie Vance is a teenage girl whose father manages the Crossed Palms Resort in St. Pascal, Florida. Goldie (mostly) works as a valet at the hotel and, more often, finds herself embroiled in a mystery, "volunteering" her services to help out the hotel's detective, Walt Tooey.
Fans of Nancy Drew, that convertible-driving teen sleuth of yesteryear, will find a lot of familiar territory to fall in love with in Goldie Vance. Both are set in supposedly simpler times that serve as backdrops to the crime-fighting each girl does. And the bright, gorgeous color palette used in Goldie's art exactly fits the "innocent" settings of both series, as well as contrasting brilliantly with the darker crimes to be solved. The girls also share living situations that are far from traditional–Nancy's mother died when she was a child, leaving her just a father and a devoted housekeeper, while Goldie's parents have split up–and successful fathers (one a hotel manager, the other a lawyer) whose default emotions seem to be mild exasperation tinged with pride.
But what really makes Goldie Vance special is the twist it puts on Nancy's stories. Goldie Vance has all the squeaky clean mystery solving that you may have loved about the Nancy Drew books (and that you'll absolutely want to share with readers of all ages), but with the added bonus of a touch more sass and a more modern dedication to diversity. The cast is made up of people of all shapes, sizes, ethnicities, and sexual orientations, and none of those things ever places another character above another.
If you like Cormoran Strike, try Jessica Jones.
Cormoran Strike series by "Robert Galbraith" (I see you, J. K.)
Alias: Jessica Jones, Vol. 1: Brian Michael Bendis (writer), Michael Gadyos (artist) [with "Sidekick" art with Bill Sienkiewicz], Matt Hollingsworth (colorist), Richard Starkings and Wes Abbott & Oscar Gongora (letterers)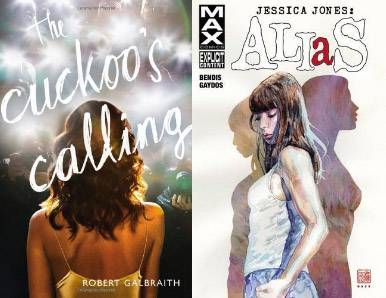 Alias is a fantastic noir spin on the typical superhero story. Jessica began her career as a costumed hero, a member of the Avengers who rubbed elbows with the likes of Ms. (now Captain) Marvel. But following a truly horrendous, months-long encounter with a villain known as the Purple Man, Jessica hung up the bright spandex in favor of a life as a private investigator, using her super-strength only to help gather evidence to help her clients.
Similarly, Cormoran Strike is now a private detective working in London, but his backstory is similarly heroic to Jessica's. After being wounded in Afghanistan, Strike left his career with the Special Investigation Branch of the British Army and put his experience to work in the private sector.
Both Strike and Jones deal poorly with their histories (chiefly with drinking, fleeting relationships, and few friends), but there's a glimmer of hope to be found in each character's refusal to give up their past occupations entirely. They've both been scarred, yet they continue to help–even if neither will admit that they're still heroes.
This pairing might be a little obvious. But personally, I think Strike and Jones would be each other's best drinking buddies–and their names together just summon up a fantastic new series I'd like to read. (Has anyone asked J. K. Rowling if she'd be interested in writing for comics?)
If you like Thursday Next, try Kate Kristopher.
Thursday Next series by Jasper Fforde
Shutter, Vol. 1: Joe Keatinge (writer); Leila del Duca (artist); Owen Gieni (colorist); Ed Brisson (letterer)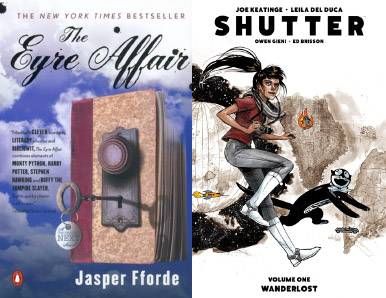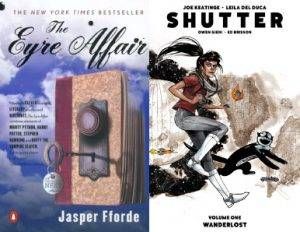 Kate, the protagonist of Shutter, grew up globetrotting with her explorer father. Now a grown woman, Kate lives in an alternate timeline New York City, where things like mobster lions sporting pinstripe suits and truly spectacular Irish accents flying around in a classic car are 100% normal. It's a world expanded beyond our wildest imaginations, drawing inspiration from a variety of genres and stories.
On the morning of her twenty-seventh birthday, Kate finds herself first chased by ethereal warriors at her father's grave, kidnapped by a robot and his rat henchmen, and shot by a bomb-gun (which looks exactly like it sounds) fired by a hired assassin who also so happens to be an anthropomorphic lizard.
Thursday Next can relate. As part of SpecOps in an alt-1980s Great Britain, Thursday spends her days at SO-27 (LiteraTecs) dealing with all manner of book crime, while her brothers-in-arms in other sections deal with everything from werewolves and vampires to disturbances in the space-time continuum. Things only get stranger when Thursday discovers she has the ability to read herself into books, appearing in the middle of the action on the page and becoming involved with Jurisfiction, the inter-book policing force keeping order behind the scenes of our favorite reads.
What I think resonates most with me as a fan of the Thursday Next series is the blend of magic, literary lovenotes, and sheer absurdity. Shutter hits all these points, too, with the added bonus of gorgeous art to supplement an off-the-rails adventure quest. Fans of Jasper Fforde's brand of zaniness (and wit) will find themselves right at home in the Shutter world.