3 Audiobooks About the American Experience
This content contains affiliate links. When you buy through these links, we may earn an affiliate commission.
If one of your readerly resolutions this year is to listen to more audiobooks, we're here to help. Periodically, we'll be around with a list of three great listens centered on a central theme. This time around, the theme is the American experience, as told through the eyes of immigrants. Each book tells the story of people hoping to grab their piece of the American dream, to find safety and security and a brighter future. What they find is that there is no direct path to take. There are always obstacles to get around, some more perilous than others. Take a listen:
Written and narrated by Ananda Giridharads
The True American tells the story of Raisuddin Bhuiyan, a Bangladesh Air Force officer who dreams of immigrating to America and working in technology. But days after 9/11, an avowed "American terrorist" named Mark Stroman, seeking revenge, walks into the Dallas minimart where Bhuiyan has found temporary work and shoots him, maiming and nearly killing him. Two other victims at other gas stations, aren't so lucky- they die at once. The True American traces the making of these two men, Stroman and Bhuiyan, and of their fateful encounter.
Written by Akhil Sharma, Narrated by Vikas Adam
In his highly anticipated second novel, Family Life, Sharma delivers a story of astonishing intensity and emotional precision. We meet the Mishra family in Delhi in 1978, where eight-year-old Ajay and his older brother Birju play cricket in the streets, waiting for the day when their plane tickets will arrive and they and their mother can fly across the world and join their father in America. America to the Mishras is, indeed, everything they could have imagined and more: When automatic glass doors open before them, they feel that surely they must have been mistaken for somebody important. Pressing an elevator button and the elevator closing its doors and rising, they have a feeling of power at the fact that the elevator is obeying them. Life is extraordinary until tragedy strikes, leaving one brother severely brain-damaged and the other lost and virtually orphaned in a strange land. Ajay, the family's younger son, prays to a God he envisions as Superman, longing to find his place amid the ruins of his family's new life.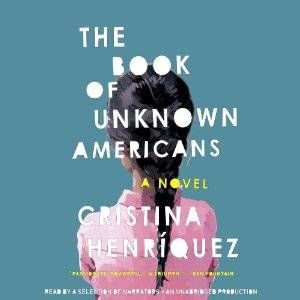 The Book of Unknown Americans
Written by Cristina Henriquez, Narrated by Various
A boy and a girl fall in love. Two families' hopes collide with destiny. An extraordinary novel that offers a resonant new definition of what it means to be American. Arturo and Alma Rivera have lived their whole lives in Mexico. One day, their beautiful fifteen-year-old daughter, Maribel, sustains a terrible injury, one that casts doubt on whether she'll ever be the same. And so, leaving all they have behind, the Riveras come to America with a single dream: that in this country of great opportunity and resources, Maribel can get better.
____________________
Want more bookish goodness, news, posts about special book deals, and the occasional puppy reading pic? Follow us on Facebook: