Fiction
27 Fictional Characters With Food Issues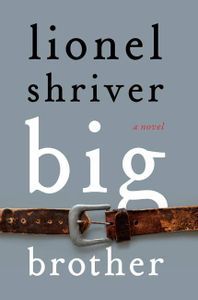 Food is such a fundamental part of our lives that it only makes sense that we sometimes struggle with it, and that those struggles appear in fictional characters too. Last week, in a giveaway sponsored by Lionel Shriver's Big Brother, we asked you to tell us your favorite characters from fiction that issues with food. Here are a few of the names that made the list:
First, the Top 4:
Bridget Jones from Bridget Jones' Diary by Helen Fielding
Dolores Price from She's Come Undone by Wally Lamb
Ignatius J. Reilly from A Confederacy of Dunces by John Kennedy Toole
and, of course, Winnie the Pooh because he really needs to kick the honey habit.
Characters with their food issues explained:
Title character from John Gardner's Grendel is one of my all-time favorite characters. Period. "I eat and laugh and eat until I can barely walk, my chest-hair matted with dribbled blood, and then the roosters on the hill crow, and the dawn comes over the roofs of the houses, and all at once I am filled with gloom again."
Anthony… just read Love Anthony by Lisa Genova… his issues are due to autism and to eat only familiar food in groups of 3 x
Marian McAlpin in Margaret Atwood's The Edible Woman – a different take on food issues then the typical anorexia/bulimia/aphrodisiac
Frances the Badger, in Russell Hoban's Bread and Jam for Frances.Even when her baby sister is willing to "practice with a string bean," Frances sticks to the safety of bread and jam. By the end of this charming children's book Frances has learned the delights of different foods – a great favorite with my two children.
Esther Greenwood in The Bell Jar (remember the scene where she buries her hotdog in the sand? Perfection.)
Though it may be a somewhat obvious choice, I really like Edie from Jami Attenberg's The Middlesteins. I particularly love that Attenberg's drew Edie as a real and multidimensional character – not just the fat lady.
Tita in Like Water for Chocolate by Laura Esquivel. Unable to be with her love, all her emotions pour into the food she prepares. Those who eat her food feel those emotions with sometimes hilarious, sometimes disasterous results.
Meg Cabot's Heather Wells Mystery Series. Heather Wells "used to be a teen pop sensation…until her label dropped her for gaining a few extra pounds."
Winston Smith struggled with food and apparently had to save slices of bread till morning, as breakfast. (1984 by George Orwell)
Jughead from the Archie comics! He's a glutton!
Cookie Monster. Compulsive eater, addicted to sweets, likely diabetic.
Hannibal Lecter and his cannibalism (that counts as a food issue, right?)
Smithy Ide from Memory of Running. A sad, overweight, alcoholic, goes on a bicycling odyssey.
And a few more worth mentioning…
Arthur Opp from Heft by Liz Moore
Victor Mancini from Choke by Chuck Palahniuk
Tarquin Winot of A Debt to Pleasure, a charming sociopath with taste!
First person protagonist in Hunger by Knut Hamsun
Jonathan Safran Foer (as a fictionalized version of himself, the author) in Extremely Loud & Incredibly Close
Mirabelle Dartigen in Five Quarters of the Orange by Joanne Harris
Tony Chu from Chew
Samwell Tarly from Game of Thrones
Misha Vainberg from Absurdistan byGary Shteyngart's
the girl from The Particular Sadness of Lemon Cake
_______________________
Sign up for our newsletter to have the best of Book Riot delivered straight to your inbox every two weeks. No spam. We promise.
To keep up with Book Riot on a daily basis, follow us on Twitter, like us on Facebook, and subscribe to the Book Riot podcast in iTunes or via RSS. So much bookish goodness–all day, every