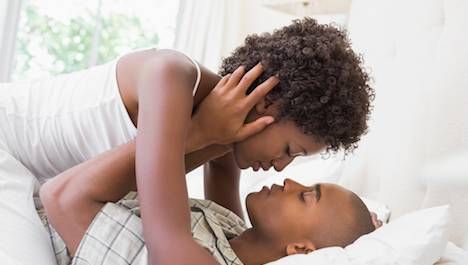 Newsletter 1
22 Black Romance Novelists Who Are Not Beverly Jenkins
This content contains affiliate links. When you buy through these links, we may earn an affiliate commission.
We at Book Riot LOVE us some Beverly Jenkins. We can basically all agree, as readers, that she is one of the greatest historical romance authors—and all-out storytellers—of our time, black, white or otherwise. She may have been churning them out like butter for over two decades, but every new book brings new (and sometimes familiar, desired-for) characters with new ideas and new voices. Whether she's writing about young post-Civil War landowners or 21st century independently wealthy women who buy towns, she does it with the finesse and skill of the mightiest craftswoman.
But there are other black romance novelists on the planet. And they deserve some love, too. They write historical fiction, contemporary, suspense, paranormal, and sci-fi romance. They write about cowboys, gangsters, billionaires and preachers. They write about black love and interracial, multicultural love. They write cis-het romances and things that aren't. They write inspirational, clean romance and sizzling sexytimes. They write long novels and short novellas.
What I'm saying is: just as black people around the world span the gamut of experience and desires, romance by black authors is written in all the same categories you will find romance by non-black authors.
Here is a cross section, in no particular order. (PS: this list is nowhere near exhaustive.)
Alyssa Cole (Historical/Contemporary/Sci-Fi)
Radio Silence – The first in a post-apocalyptic series.
Be Not Afraid – a Revolutionary War novella.
Let it Shine – a Civil Rights Era interracial novella.
Farrah Rochon (mostly Contemporary)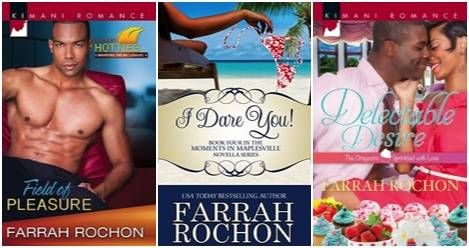 Field of Pleasure – The first in a series about a group of friends…who are NFL stars.
I Dare You – A young widow takes a dare from a friend and ends up with the one man who is off limits.
Delectable Desire – A baker and an heiress have to deal with love and trust in Chicago.
Rebel Miller (Futuristic Sci-Fi)
Awakening In a futuristic dystopia, a young woman must find her way in life and in love.
Zane (Contemporary/Erotica)
Afterburn – Getting together is the easy part for this DC couple.
The Other Side of the Pillow – Failed love has left both our hero and heroine bitter, so they go for keeping it casual. Obviously, that doesn't work.
E. Lynn Harris (Contemporary LGBTQ)
Not A Day Goes By – A former football player and a Broadway star are on their way to settling down, but some things get in the way.
Just As I Am – While the second in a series, this one brings the romantic life of a bisexual man in the 90s to the forefront.
Piper Huguley (mostly Historical Inspirational)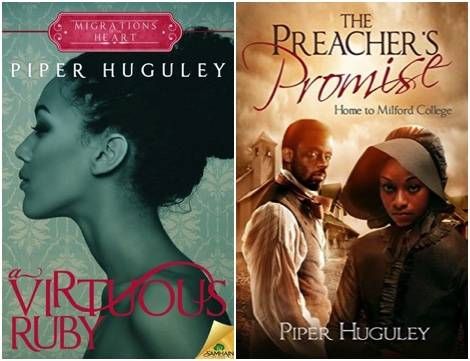 A Virtuous Ruby – The first in an inspirational series set in the early 20th century.
The Preacher's Promise – A young woman starts a school in the days after the Civil War.
Pepper Pace (Contemporary/Paranormal)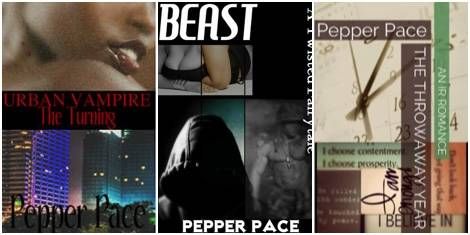 The Turning – There are vampires and a love square. That's all you need to know.
Beast – Gotta love stories based on the Beauty and the Beast trope.
The Throwaway Year – She "throws away" a year of her life by committing to moving forward without hesitation. It produces some pretty awesome results.
Kiru Taye (Contemporary/Historical/Paranormal)
Keeping Secrets – Amnesiac falls in love with the woman he married…in name only.
His Treasure – A historical that takes place in West Africa.
Black Soul – "He will damn his soul to set hers free." That's really all we need to know.
Cheris Hodges (mostly Contemporary)
Rumor Has It – A politician won't play dirty when someone comes to him with a secret about his opponent, but he might be willing to play with her…
Recipe for Desire – A celebrity chef and a spoiled rich girl volunteer together; him, because he wants to. Her? Not so much.
No Other Lover Will Do – Hot tub + player + workaholic = oh dear.
Christiana Harrell (Contemporary LGBTQ)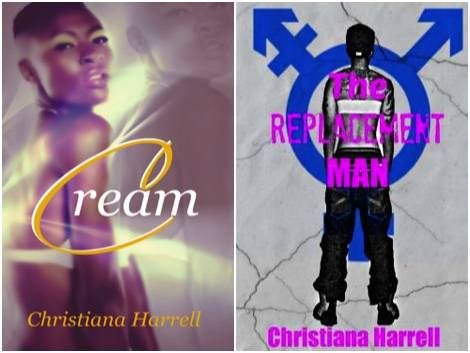 Cream – Lammy nominated story of an androgynous young woman in search of her true self.
The Replacement Man – Jasmine meets "a different kind of man" and the two must rely on each other to face the world.
Kianna Alexander (Historical/Contemporary)
This Tender Melody – He's taken her spot at the helm of her family's software company, and she's not happy about it. Also, he's a musician.
Roses of Ridgeway – A collection of three historic novellas.
Freedom's Embrace – A runaway slave becomes a doctor's nurse, much to the displeasure of his friends and neighbors.
Beast/Garvin Flisch (Contemporary LGBTQ/Erotica)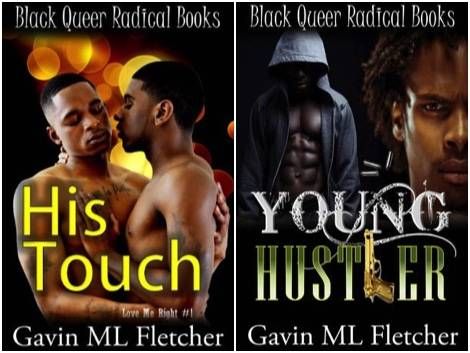 His Touch – One is done with men, the other has no plans to start. You know where this is going.
Young Hustler – He makes a really bad decision that leaves him in a bad spot.
Lena Hart (Contemporary)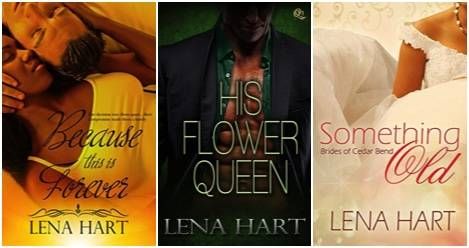 Because this is Forever – The idea of children forces them apart; years later it's their child that brings them back together.
His Flower Queen – Mistrust, manipulation, and marriage get in the way of their HEA, but they're determined to reach it.
Something Old – She jilted him and now she's back. Can they overcome it?
Kayla Perrin (Contemporary)
One Night in Paris – An older woman accepts a younger man's proposal to travel with him to France. The first in a series of jet setting love adventures.
Burning Desire – He's a firefighter who saves her life. Get it? Burning?
Say You Need Me – A librarian has a man arrested before she discovers the man who stole from her is actually his twin. Whoops.
Latrivia S. Nelson (Contemporary)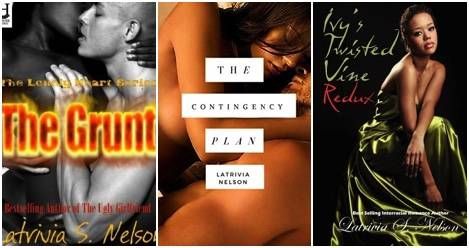 The Grunt – A bookish student becomes a Marine's live-in nanny after his wife leaves him and their son.
The Contingency Plan – A relationship two decades in the making involves campaigns and in-vitro.
Ivy's Twisted Vine – 616 pages of all kinds of twists and turns.
Nana Malone (Contemporary)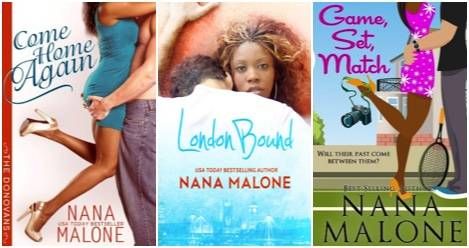 Come Home Again – A celebrity fixer and a CEO with a past…have a past. Can they get over it?
London Bound – They both run away to London for different reasons, but they find each other. Funny how that works.
Game, Set, Match – Tennis star + photographer + decades-old heartbreak = ?
James Earl Hardy (Contemporary LGBTQ)
B-Boy Blues – The first in a series about a young couple.
Brenda Jackson (Contemporary)
Delaney's Desert Sheikh – The first of the fifty-million book Westmoreland series. Category Sheikh Romance at its finest.
A Brother's Honor – Three brothers, a family business, and a mystery that might not have actually been solved.
Bane – He's a Navy SEAL with a ranch and a cowboy hat to go with it. She's a chemist who needs his protection.
Rochelle Alers (Contemporary)
Long Time Coming – An ADA and a wedding planner get stuck together in a blackout.
No Compromise – The director of a program for battered women finds herself in danger. Her new Army boyfriend is out to fix it.
Just Before Dawn – This time it's "accidents" that threaten her life, after she has just finished prosecuting a big case.
Adrianne Byrd (Contemporary)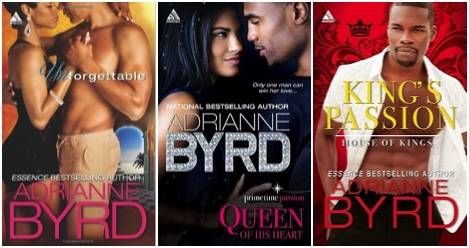 Unforgettable – They call him Casanova Jones, and he's out for blood at a masquerade party. Too bad she knows his game.
Queen of His Heart – She finds herself the star of a reality dating show. But what if the contestants aren't who she has her eye on?
King's Passion – She sues the Kings' company when her fiancé marries one of the strippers from one of their wild bachelor parties.
Keisha Ervin (Contemporary/Urban)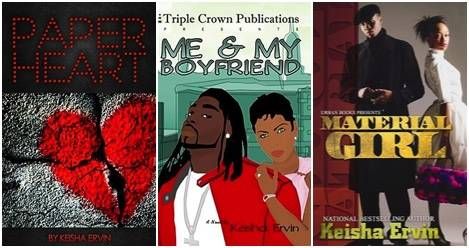 Paper Heart – "As soon as they met she knew they were meant to be." Except he has a fiancee. Bummer.
Me & My Boyfriend – An urban fairy tale.
Material Girl – The first in a series about a girl who loves her shopping.
Of Fear and Faith – Magic, witches, and preternatural serial killers. What more could you want in a PNR?
---
Looking for even more? Check out this goodreads list, or this one, or Harlequin's Kimani Press. Or just start swimming in Amazon; the writer group Interracial Love is putting out a lot of stuff that I hope to read someday (and once you start clicking links there, you'll fall into all kinds of rabbit holes).
It's out there, in every category of romance that exists.
You just have to be willing to go look for it.