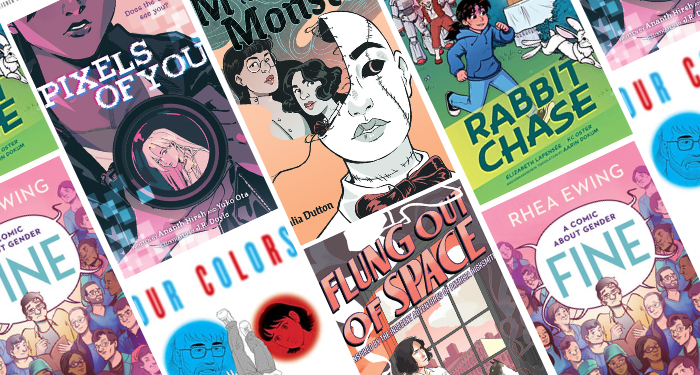 This content contains affiliate links. When you buy through these links, we may earn an affiliate commission.
If there's something better than a day spent marathoning a stack of queer graphic novels and memoirs…well, maybe it's preordering a bunch of queer graphic novels and memoirs! There are so many queer comics already out in the world, and my TBR is already overflowing with them. But does that stop me from getting excited about all the upcoming ones? Of course not! There's no such thing as too many queer comics.
2021 was a brilliant year for queer comics and graphic novels, with so many amazing titles — Stone Fruit by Lee Lai, Red Rock Baby Candy by Shira Spector, The Secret to Superhuman Strength by Alison Bechdel, and Shadow Life by Hiromi Goto and Ann Xu (to name a few). If this list is any indication, 2022 is going to be just as good. It's definitely time to get your preorder on.
For this list, I've stuck to single-volume graphic novels and graphic memoirs, rather than traditional comics. We've got sci-fi romance, several works of nonfiction that explore gender, a middle grade fantasy, and several titles from Surely Books, the new LGBTQIA+ comics imprint led by Mariko Tamaki. I'm particularly excited about Surely — the few books I was able to find information on look amazing, and they have a few more coming later this fall that I cannot wait to read. There are so many amazing queer comics artists out there, and it's exciting to see their work being celebrated and uplifted.
---
Looking for more? Rachel made a great list of 2022 comics and graphic novels to add to your TBR. You might also want to check out this list of queer comics from 2019, this list of feel-good queer comics and graphic novels, and this selection of queer comics to read based on your favorite queer book.