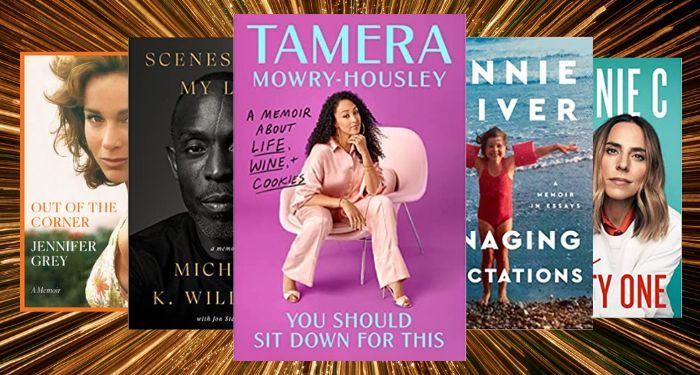 Lists
Tell Me More: Ten 2022 Celebrity Memoirs You Might Have Missed
This content contains affiliate links. When you buy through these links, we may earn an affiliate commission.
Did you read a celebrity memoir last year? Despite flagging sales of tell-all — or even tell-some — books by celebrities, there were still so many released last year that the chances are pretty good that you read one of them. Last year's big celebrity releases included I'm Glad My Mom Died by Jeanette McCurdy, Friends, Lovers, and the Big Terrible Thing: A Memoir by Matthew Perry, The Light We Carry: Overcoming in Uncertain Times by Michelle Obama, Surrender: 40 Songs, One Story by Bono, and posthumous memoirs from Paul Newman and Alan Rickman. With such huge releases, some of the quieter memoirs released by celebrities last year were overshadowed. That's why we're letting you know about ten 2022 celebrity memoirs you might have missed!
It would be interesting to know what estimated percentage of celebrities have written (or had ghostwritten) a memoir. People love reading about their favorite celebrities, trying to learn as much as they can about them. Although the use of social media has given us a glimpse into their lives that we never used to have, it's still fun to hear them talk about their lives, their hopes and dreams, and the events, good and bad, that have made them famous. In this list, you'll find stories from people who were part of some of the biggest television shows, movies, and bands in the world, former child stars, Oscar winners, Emmy winners, and an actor gone too soon. So sit back and get ready to dish.
---
And for more excellent memoirs to read, check out The 20 Most Influential Memoirs of All Time, The Best Memoirs You've Never Heard of; and 8 Surprising New Memoirs to Add To Your TBR ASAP.