20 Calvin and Hobbes Art Pieces for Your Home, Office, or Nursery
Display your love for Bill Watterson's iconic comic strip with these Calvin and Hobbes art pieces.
Though the comic ran from 1985–1995 (the year after I was born), I grew up reading (and rereading) Watterson's many published treasuries: Attack of the Deranged Mutant Killer Monster Snow Goons, Scientific Progress Goes "Boink," Something Under the Bed Is Drooling, etc. And while I've outgrown a lot of things from my childhood, these comics are not one of them. If anything, me and my friends agree that Bill Watterson's comic only gets better with age. So go ahead, buy some of this Calvin and Hobbes art for your college dorm, your living room, your office, or heck, your kid's nursery—you gotta start them young!
Click on the image or the links below to purchase.
Calvin and Hobbes Art Prints
These pieces feature Bill Watterson's stunning illustrations on canvases, prints, and posters.

Calvin and Hobbes Sleeping in a Tree Canvas: This panoramic print of the iconic duo dozing off makes a great statement piece for an office or bedroom. From $37.49.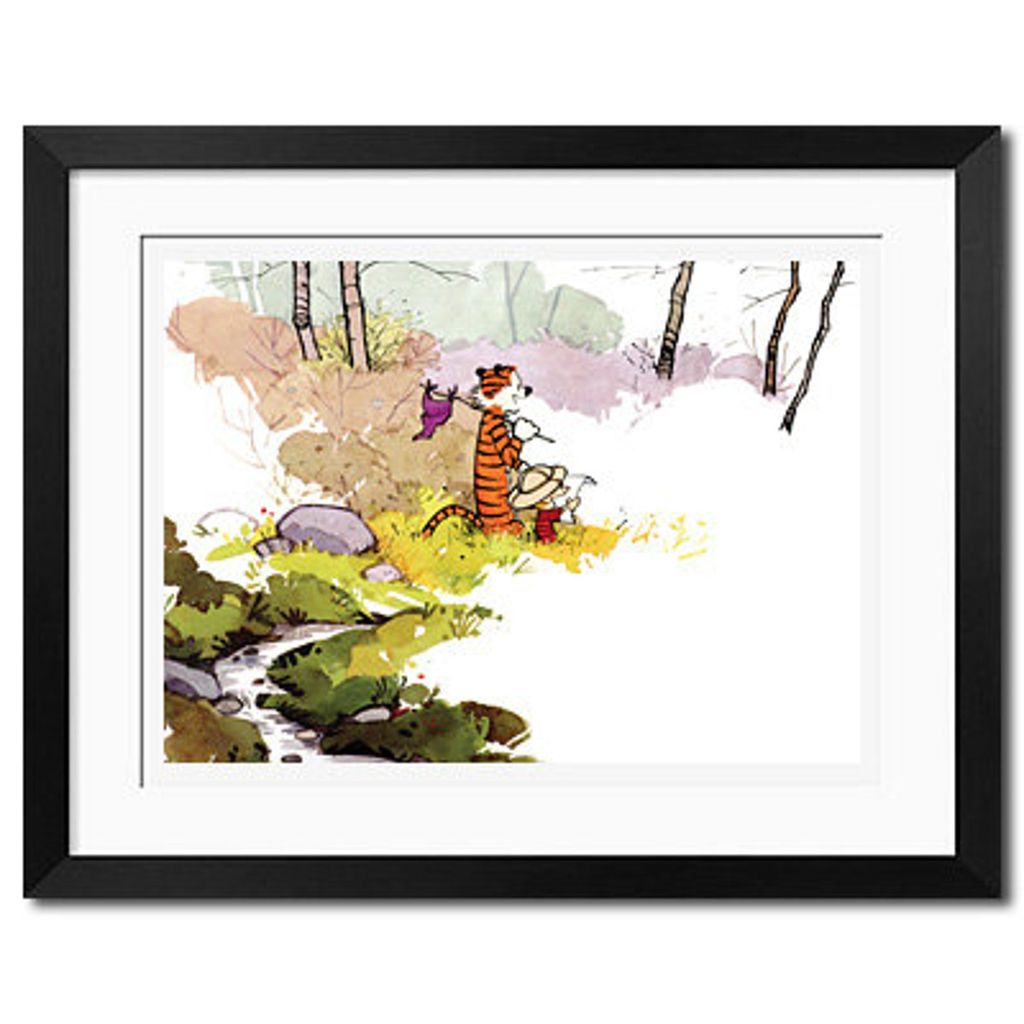 Calvin and Hobbes Explorer Poster Print: Get ready to head out on an adventure with this beautiful watercolor piece. From $49.99.
Calvin and Hobbes Laughing Print: Belly laugh along with these two when you display this Calvin and Hobbes art print. From $29.99.
Funny Faces Poster: These expressions are perfect for the school yearbook, right?! From $5.48.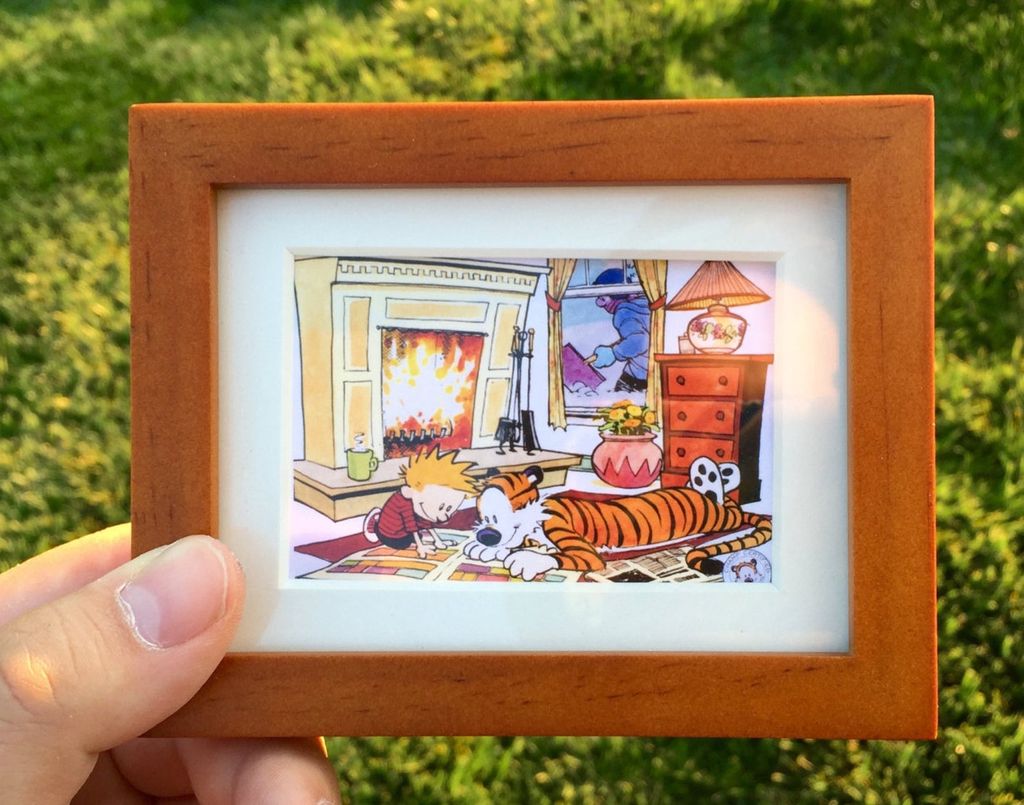 Mini Framed Watercolors: These mini framed pieces are perfect for your desk! Check out the seller's full collection of Calvin and Hobbes art prints for more options. $15.99.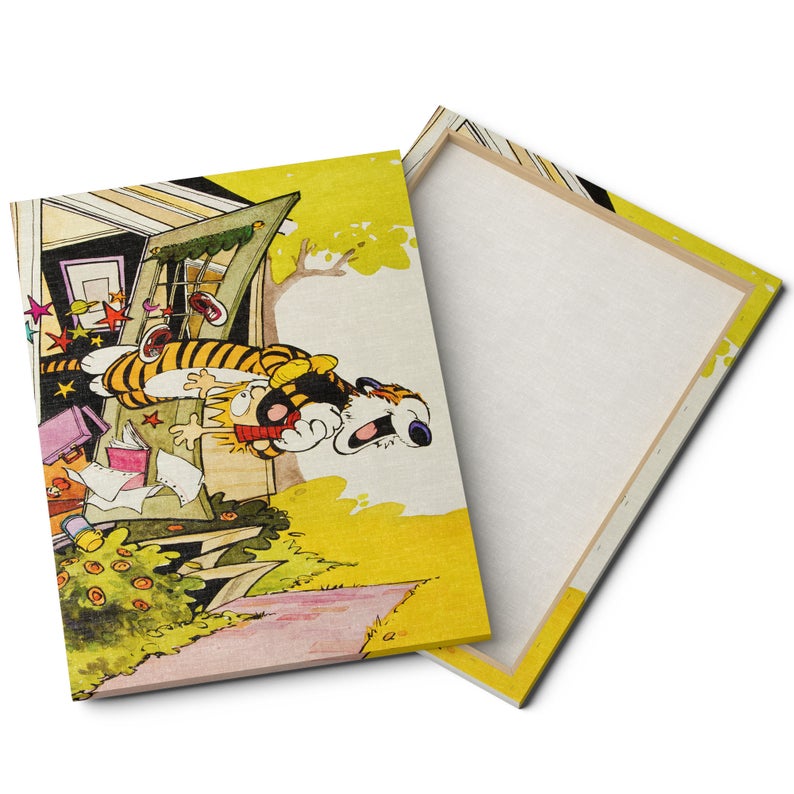 Hobbes Tackling Calvin Canvas Print: Hobbes tackling Calvin when he returns from school is one of the most iconic images from Watterson's comic strip. You may find it so memorable because it's also the cover of The Essential Calvin and Hobbes treasury. From $29.99. 
Calvin and Hobbes Fan Art
These fan-made art pieces get creative with the characters and illustrations you know and love.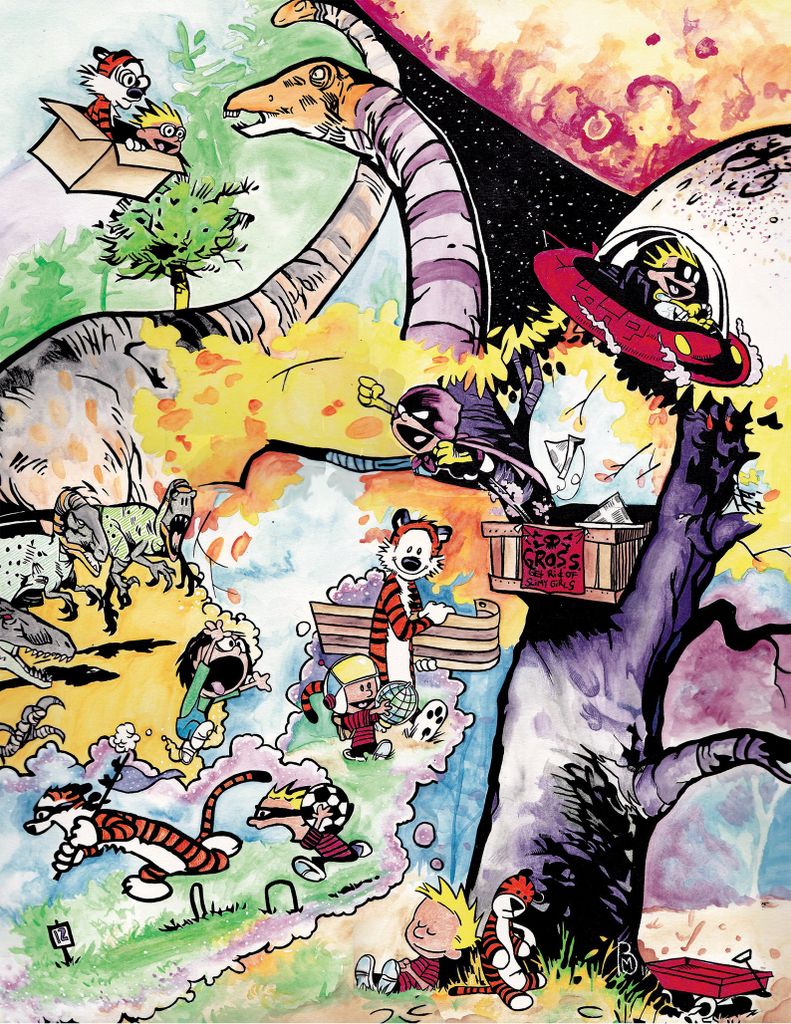 Imagination Print: This hand-colored Calvin and Hobbes print is a celebration of all the places our protagonist's imagination takes him—and us! $12.00.
Calvin and Hobbes Pencil Drawing:A realistic representation of Calvin and his tiger friend hanging out on a lazy Sunday, drawn by an Oregon-based artist. From $5.00.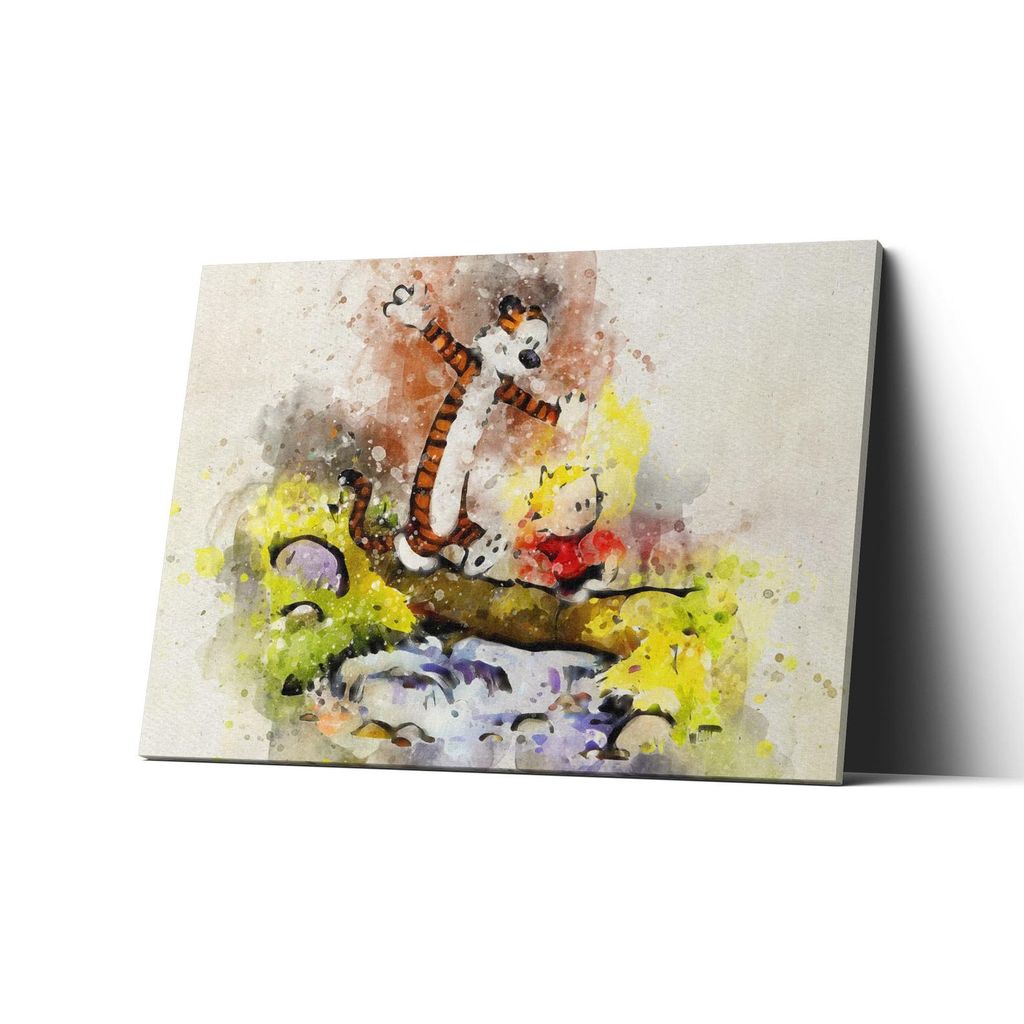 Calvin and Hobbes Artwork Canvas Print:This gorgeous piece of fan art takes a familiar scene and renders it a bit more abstract. From $29.99.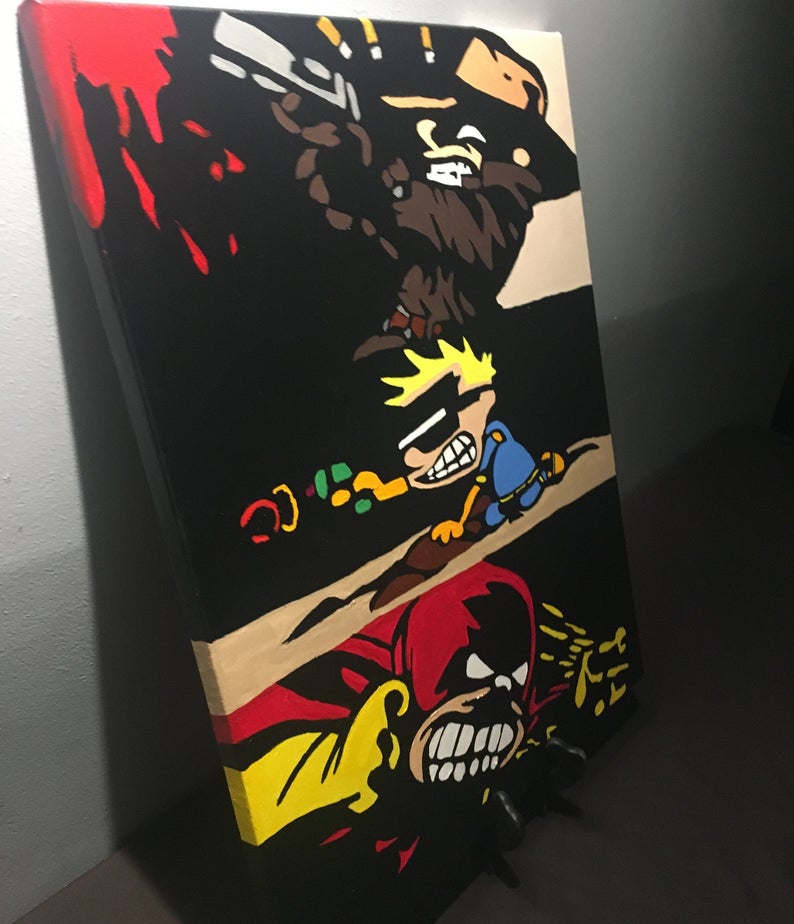 Calvin's Alter Egos Painting: This painting features three of Calvin's recurring alter egos: Tracer Bullet the private eye, Spaceman Spiff, and Stupendous Man. $55.00 canvas print, $100.00 painting.
Calvin and Hobbes Quotes
The art of Calvin and Hobbes by itself is stunning, but these prints also feature some of the comic's most memorable quotes.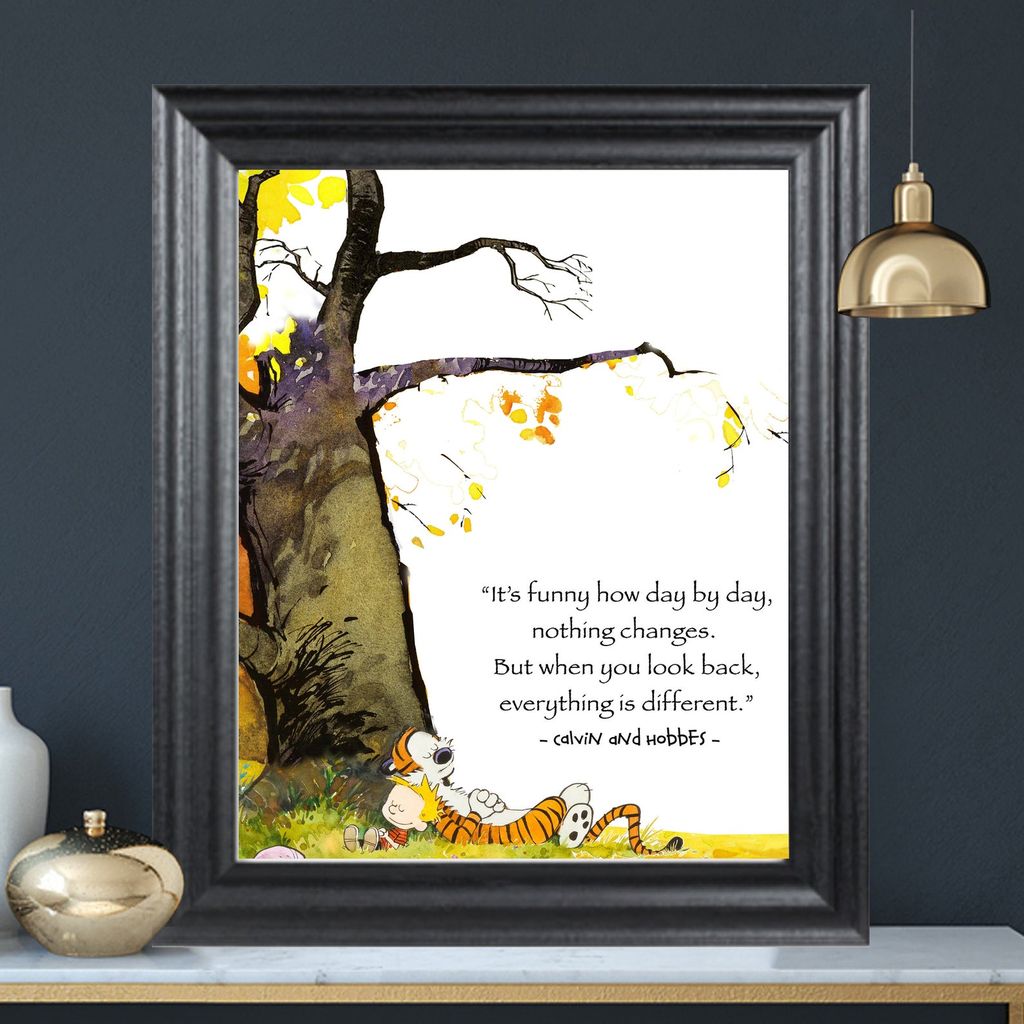 "Nothing Changes" Quote Print:This Calvin and Hobbes art print features the iconic quote: "It's funny how day by day, nothing changes. But when you look back, everything is different." Which is, consequently, how I feel about my journey from childhood to adulthood. Imagine bringing this print with you through life—from your college dorm to your child's nursery! From $41.01.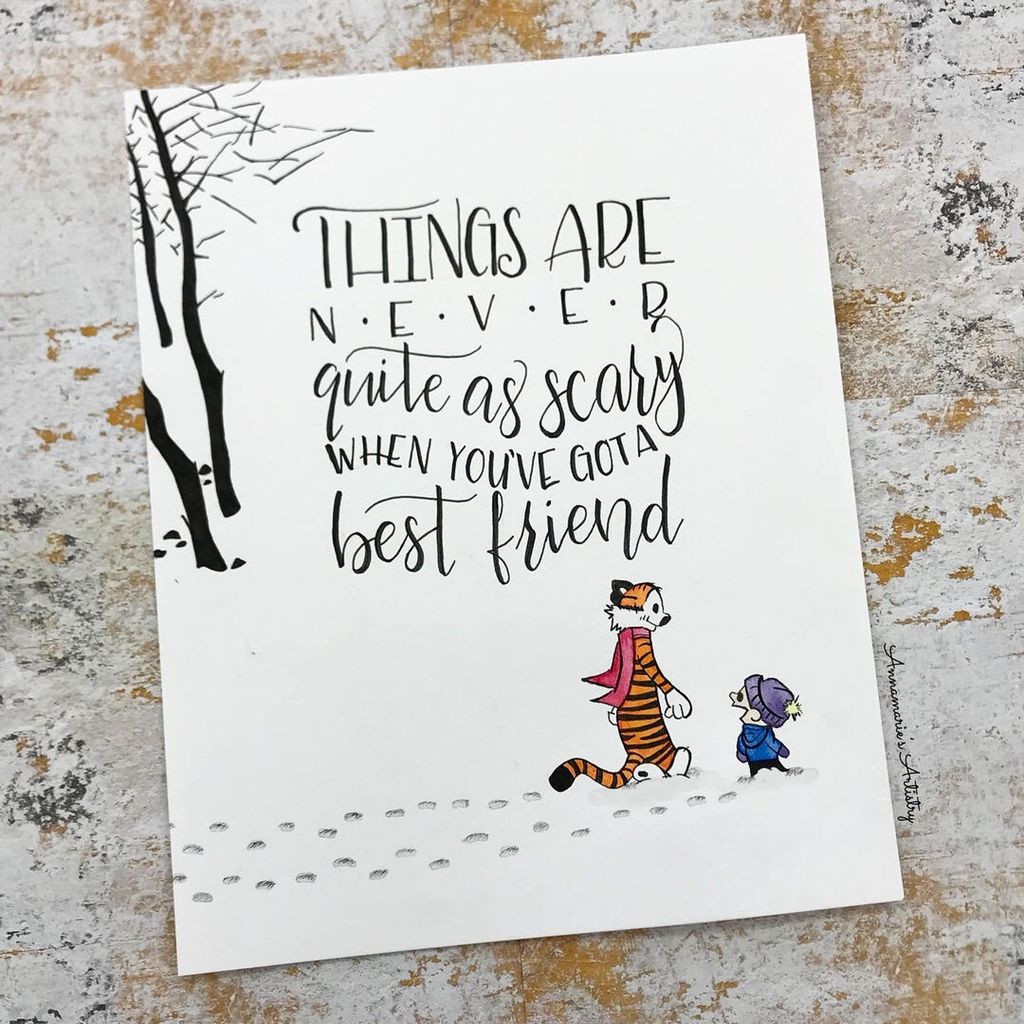 "Best Friend" Quote Art: Each of these hand-drawn, made-to-order calligraphy watercolors features the Calvin and Hobbes quote: "Things are never quite as scary when you've got a best friend." This piece makes a great gift for the Hobbes to your Calvin, but you'll probably want one for yourself, too! From $25.00.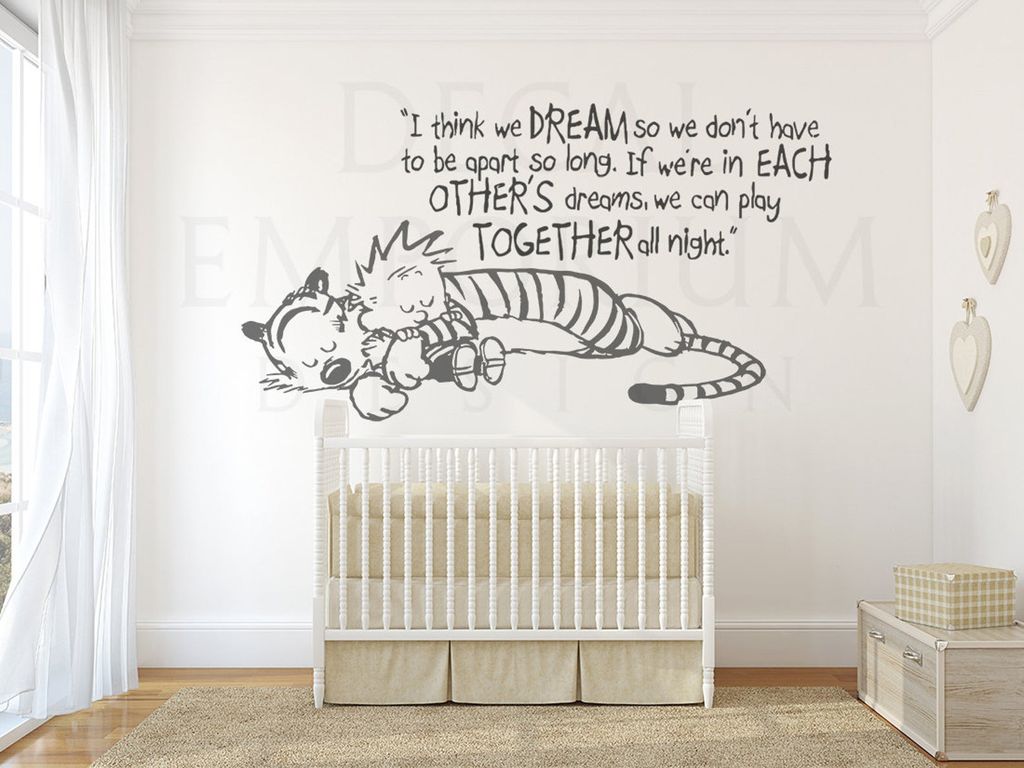 Calvin and Hobbes Quote Wall Decal: What better way to jump start a baby's love of  Calvin and Hobbes than with this adorable wall decal? They'll doze off below the snuggling duo and the quote, "I think we dream so we don't have to be apart so long. If we're in each other's dreams, we can play together all night." This seller also offers other C&H wall decals, so explore their complete collection for more options! From $49.99.
Calvin and Hobbes Comic Art Prints
Want a framed, high-quality print of your favorite Sunday comic spread? Look no further!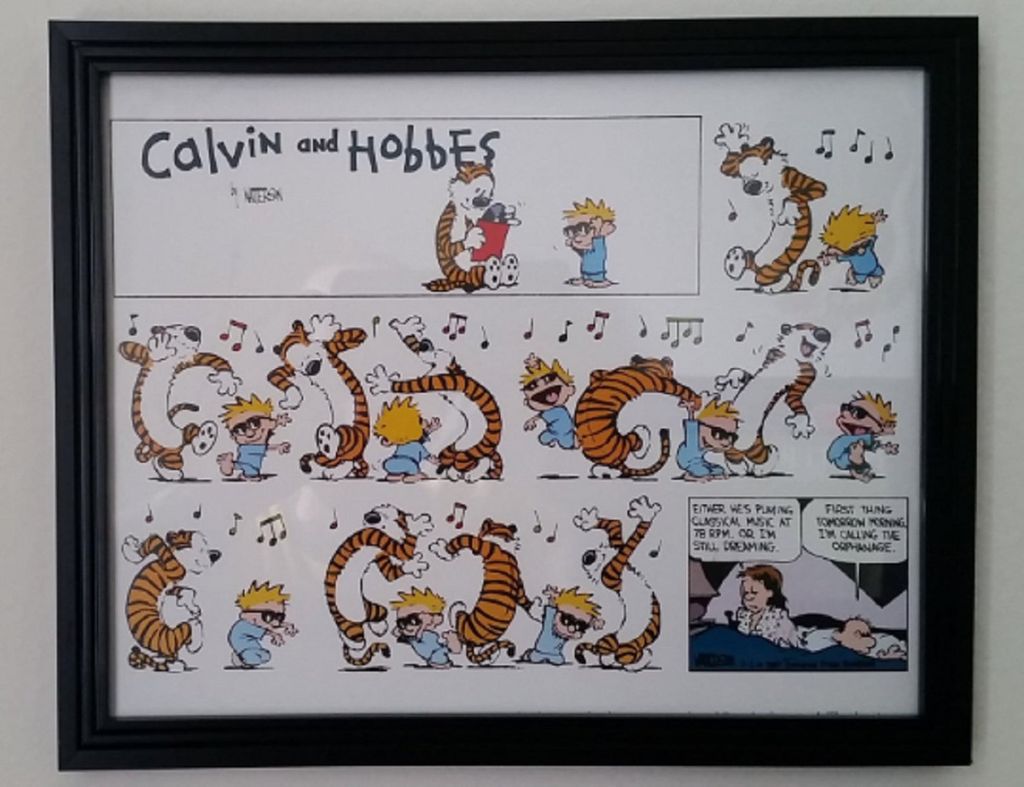 Dance Morning Comic: Pulled straight from the Sunday paper, this framed Calvin and Hobbes comic art print features everyone's favorite pajama party dance spread. $25.00.
Greatest Dad Comic Print: Looking for a creative father's day present? This wordless Calvin and Hobbes comic art print captures one of the sweetest father-son moment's in the strip's history. From $59.99.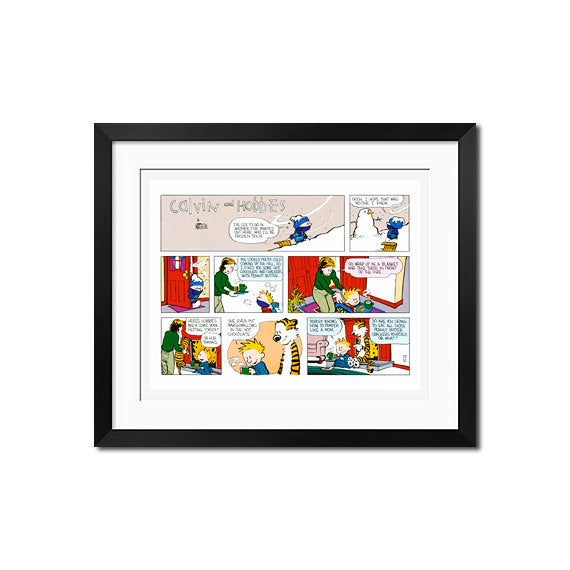 Best Mom Comic Print: Calvin's mom puts up with a lot, and this Sunday comic features one of those special moments when he actually notices. "Nobody knows how to pamper like a mom," Calvin says. This Calvin and Hobbes comic art print is a perfect mother's day gift for the overworked and likely underappreciated mom in your life (even if that mom is you!). From $59.99.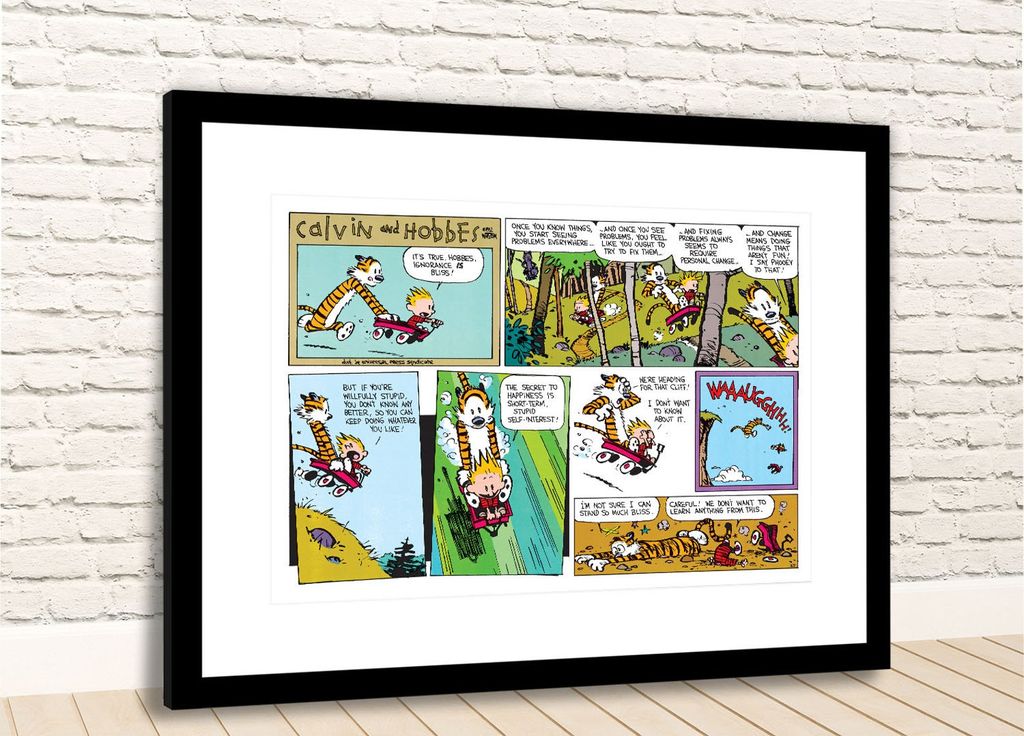 Calvin and Hobbes Ignorance Is Bliss Framed Photo Print: "It's true, Hobbes, ignorance is bliss," Calvin tells his best friend as they hurtle through the woods on his red wagon. "I'm not so sure I can stand so much bliss," Hobbes tells him when they crash. From $109.35. 
Calvin and Hobbes Printables
Don't have time to wait for shipping or want to get creative with your art? These affordable Calvin and Hobbes printables are available as an instant download.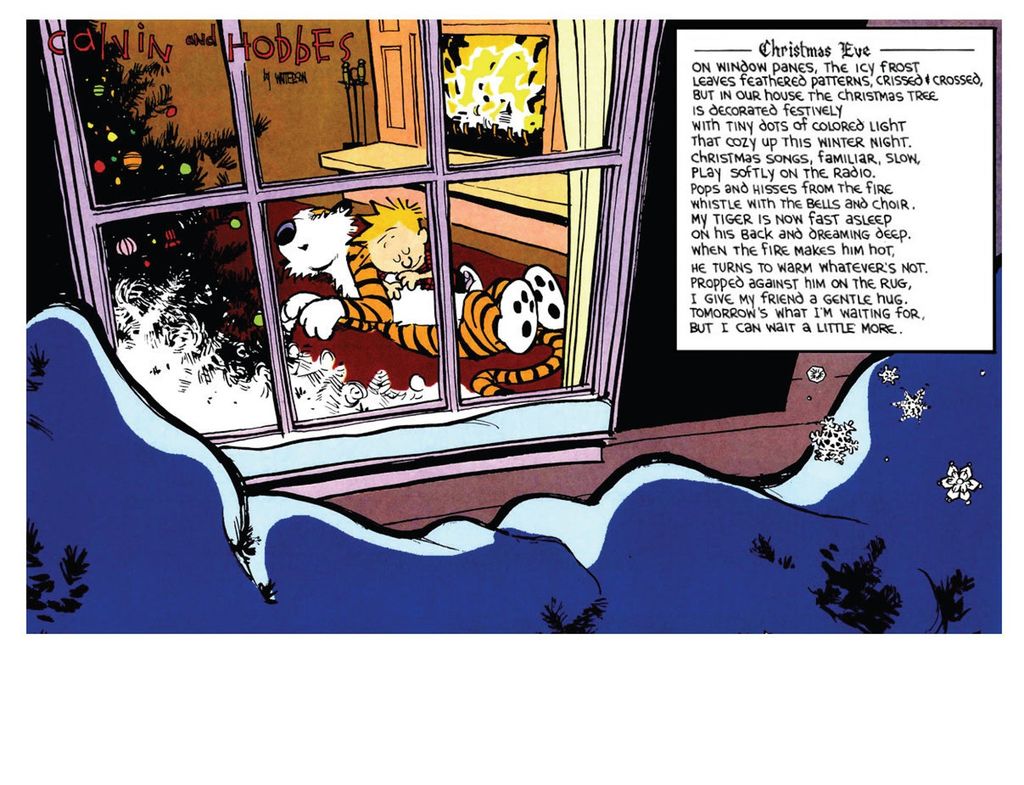 Calvin and Hobbes Printable Christmas Eve Cartoon Poem Poster: Need some last minute festive decor? Buy this download and print your own poster. This image features this dynamic duo dozing off on Christmas Eve alongside the text of Calvin's "Christmas Eve" poem: "My tiger is now fast asleep / on his back and dreaming deep, / … / tomorrow's what I'm waiting for, / but I can wait a little more." $5.00.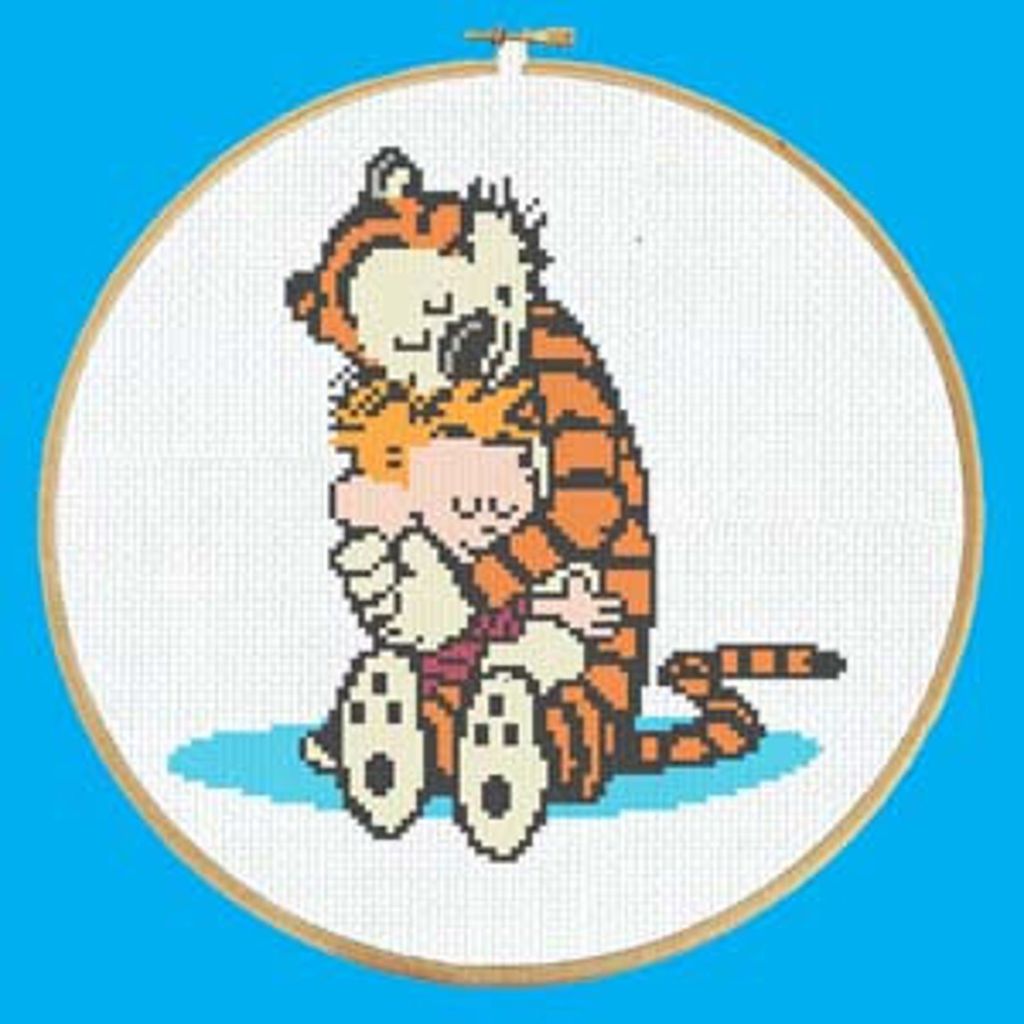 Printable Cross Stitch Pattern: Make your own Calvin and Hobbes art with this downloadable cross stitch pattern. Includes multiple images of the detailed, easy-to-follow pattern, with charts including the DMC floss numbers so you know which colors to use. $5.50.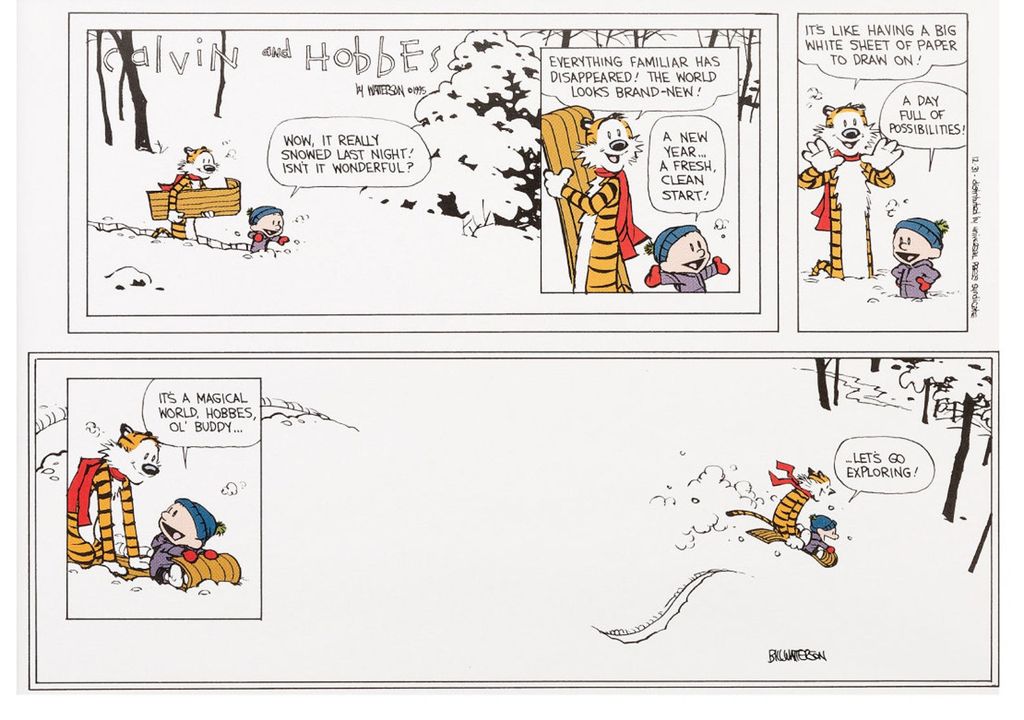 Last Cartoon Printable Poster: This high-quality Calvin and Hobbes printable features Watterson's final comic strip from December 31, 1995. "It's a magical world, Hobbes, ol' buddy," Calvin tells his best friend. "Let's go exploring!" $5.00.
---
Looking for inspiration on some permanent Calvin and Hobbes art pieces? Check out these snazzy Calvin and Hobbes tattoos!
You may also like:
By signing up you agree to our Terms of Service
Have a listen to our new literary fiction podcast,
Novel Gazing!