Deck the Halls with Harry Potter Christmas Decorations! 25+ To DIY or Buy
I've found the perfect Harry Potter Christmas decorations for you, whether you like DIY projects or you prefer to buy.
There's something about the colder months that makes me want to reread Harry Potter all over again. Maybe it's the image of a snowy Hogsmeade during the children's weekend field trips. Or maybe it's imagining the cozy feel of a signature Weasley Christmas sweater. Whatever your own personal reasons are for wanting a Harry Potter–themed Christmas this year, I support you 100% and I'm here to direct you towards some of the best Harry Potter Christmas decorations available.
DIY Harry Potter Christmas Decorations: Ornaments
Let's start with the basics. You can't have a Harry Potter–themed Christmas without Harry Potter Christmas ornaments, and here are some of the most fun DIY Harry Potter Christmas ornament projects available.
If you're looking for a simple DIY Harry Potter Christmas Decoration project to get started, try making these Golden Snitch Christmas Ornaments. All you need is white feathers, gold ornament balls, scissors, and a hot glue gun.
More feathers! Make a cute little Christmas ornament version of Harry's owl Hedwig using white feathers, glass ball ornaments, paint pens, and a glue gun. This little owl will be a super cute addition to your Harry Potter–themed Christmas tree.
Check out these magically beautiful balls of potions. Which one is your favorite? Polyjuice? Felix Felicis? Veritaserum? Amortentia? Make all of them and more! This how-to guide includes printable labels, including a couple of blank ones so that you can create your own potions. Wouldn't Professor Snape be proud?
These incredibly cute little book covers are incredibly easy to make with the help of some decorative string and Crayola Model Magic. And what Harry Potter Christmas tree would be complete without ornaments of the actual books adorning it?
Has someone on your Christmas list been naughty? Let them know by adding this DIY Howler ornament to the Christmas tree. This video will guide you through the project. Included in the description is the message Ron Weasley got in his howler.
For tons more Harry Potter Christmas ornament ideas, check out Karen Kavett's channel on YouTube. She has tons of great DIY videos, but if you're looking specifically for beautiful DIY Harry Potter ornaments, watch this video and/or this one. Happy ornamenting!
DIY Harry Potter Christmas Decorations: Christmas Trees
Rather than going ornament by ornament, perhaps you're more interested in getting ideas for a full-on Harry Potter Christmas tree. Here are some cool ones to inspire you.
This Harry Potter Christmas tree featured on the blog Holly's Home is full of references from the series. Of course, you have the Hedwig Christmas tree topper, but Holly also includes little Butterbeers and cauldrons, the famous Ford Anglia, brooms, "Have You Seen This Wizard?" posters, and much more. Tutorials are available on the blog, and many of the materials were purchased at the Dollar Store.
Expecto Craftronum presents "A Merry Potter Christmas Tree"! Watch the video to get inspired, then head over to their blog to get tutorials for many of the items you see on the Christmas tree above.
Have a bunch of licensed Harry Potter memorabilia, but not sure how to best showcase it during the Holiday season? Watch the video above to get ideas, and be sure to listen with the sound on so you can get in the full Harry Potter spirit with "Hedwig's Theme."
As if Karen Kavett didn't give us enough inspiration with her DIY Harry Potter Christmas ornaments, here's a whole tree that she put together. Go to her blog to check out detailed images of the tree. She even provides a PDF that you can download so you can recreate this tree at home.
DIY Harry Potter Christmas Decorations: Miscellaneous
For all of your Harry Potter Christmas decorations beyond the Christmas tree, take a look at the following brilliant DIY ideas.
Perhaps you're looking for a Harry Potter Christmas Decoration DIY project that's a little more involved? Check out these instructions for making an amazingly nerdy Harry Potter gingerbread replica of the Weasley's home. This project is sure to be something that will wow your guests when they come over for the holidays. Plus, it'll be fun.
For another more simple Harry Potter Christmas decoration DIY project, try these easy instructions to create your very own Harry Potter–themed Happy Christmas Banner.
As a Ravenclaw, I am obligated to include this wreath honoring our Ravenclaw queen, Luna Lovegood! This holiday wreath is so adorable, and so easy to make. Plus, the link above includes written instructions as well as a video tutorial. Let's go, Ravenclaws!
Forget Christmas garlands. The best decorations to hang around the house this Christmas are these DIY floating candles and flying keys. And the best part? They look so magical, but are so simple to put together.
Watch this video for a quick, simple guide to how to make your own Christmas stockings to match your Hogwarts house. The pattern for the stockings is included in the description below. You can make these with or without sewing. Easy peasy.
Harry Potter Christmas Decorations to Buy
Prefer to get your Harry Potter Christmas decorations ready-made? Here are some of the best Harry Potter Christmas decorations that you can buy right now.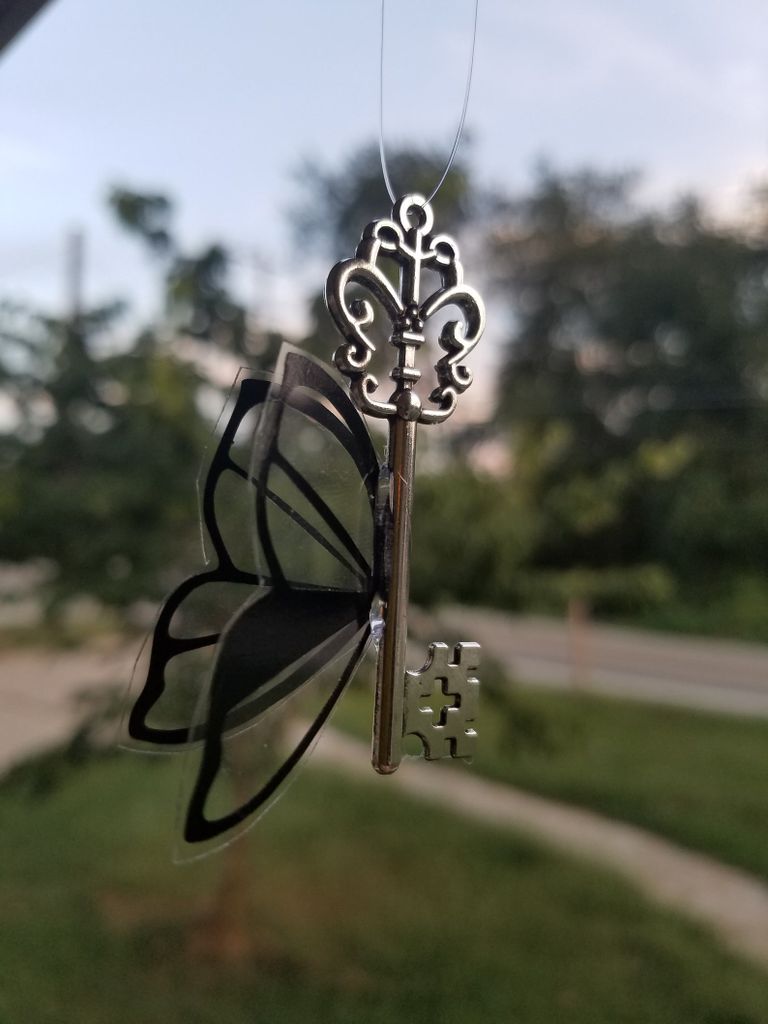 Pick up a few of these affordable and classy-looking flying key ornaments inspired by Harry Potter. There are three different styles, and they're only $5.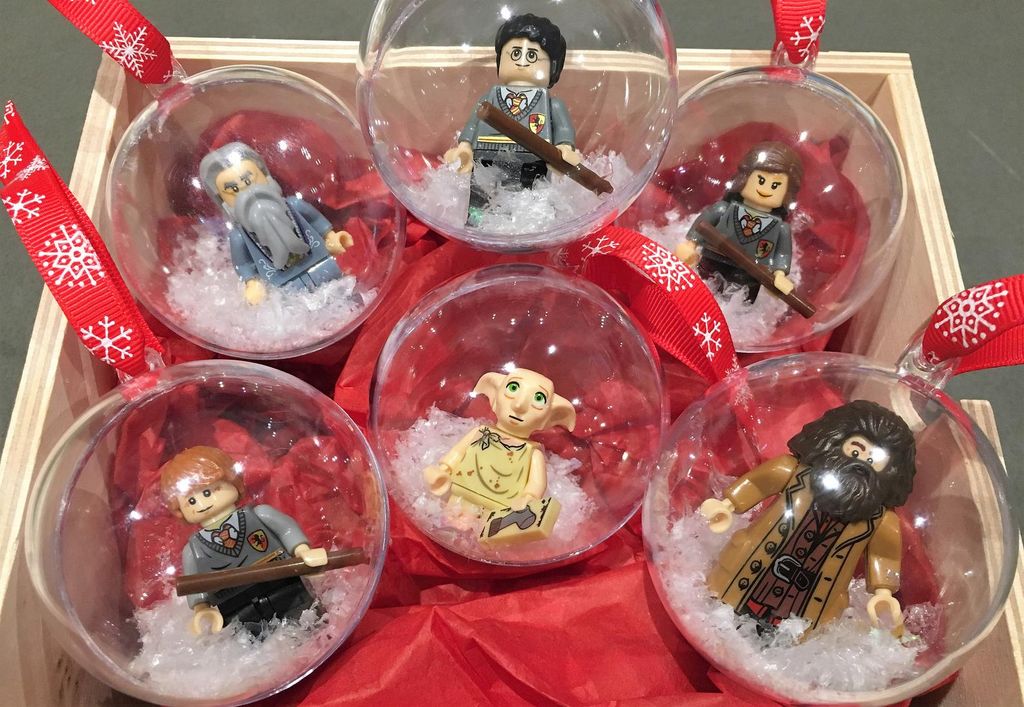 These cute little Christmas ornaments feature Lego versions of Harry Potter characters. Get one or get a set of six. Prices start at $8.98.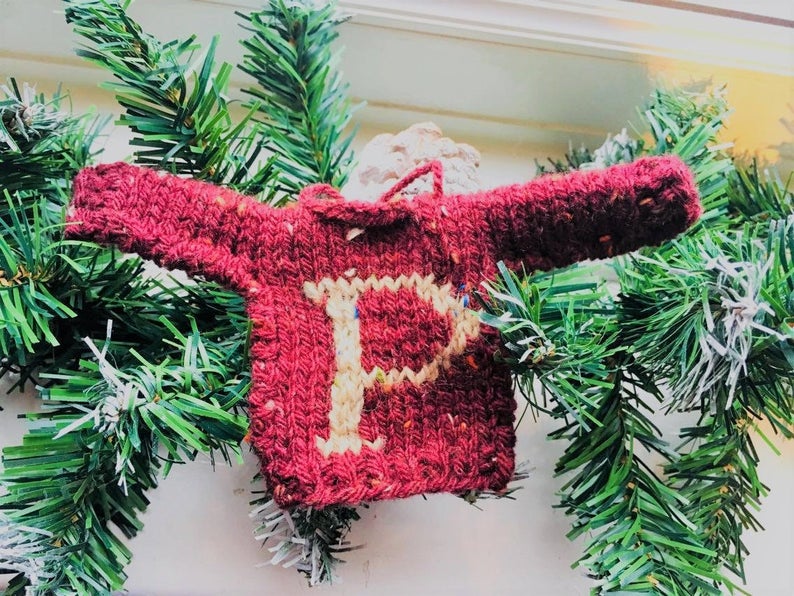 Get your very own Weasley-style Christmas sweater, ornament-sized. It's the perfect homey addition for your Harry Potter Christmas tree. Best of all? They're completely customizable and only $16.04.
Starting at $21.50, you can get your Deathly Hallows ornament customized in the finish of your choice with whatever words you'd like written on the inside. My suggestion: "I love Book Riot." Just saying.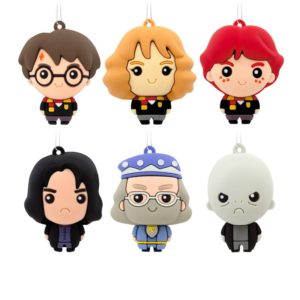 I know I say this all the time, but it's because it's true. I love mystery boxes. Somehow a surprise is always more appealing than just picking which figurine I want. This Christmas, get these fun mystery boxes and have a surprise Harry Potter Christmas ornament on your tree. Look at how cute the Voldemort one is! These are $3.99 each.
When decorating your home for Christmas, don't forget your kitchen! There are Harry Potter Christmas decoration for every room in your house. Pick up a pair of these Harry Potter Christmas dish towels. Then when you wash the dishes after your big Christmas feast, you'll be doing it festively.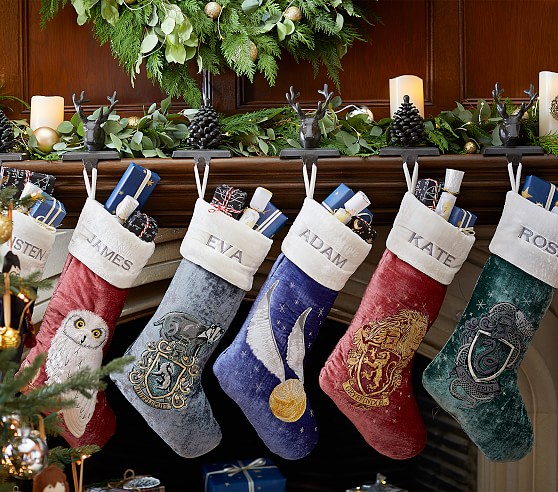 Hang these Harry Potter stockings over your chimney for the perfect finishing touch to your Harry Potter Christmas decorations. They come in six different styles: Ravenclaw, Hufflepuff, Gryffindor, Slytherin, Hedwig, and the Golden Snitch. For a limited time at Pottery Barn, these stockings are on sale for $29. Add personalization for an extra $10.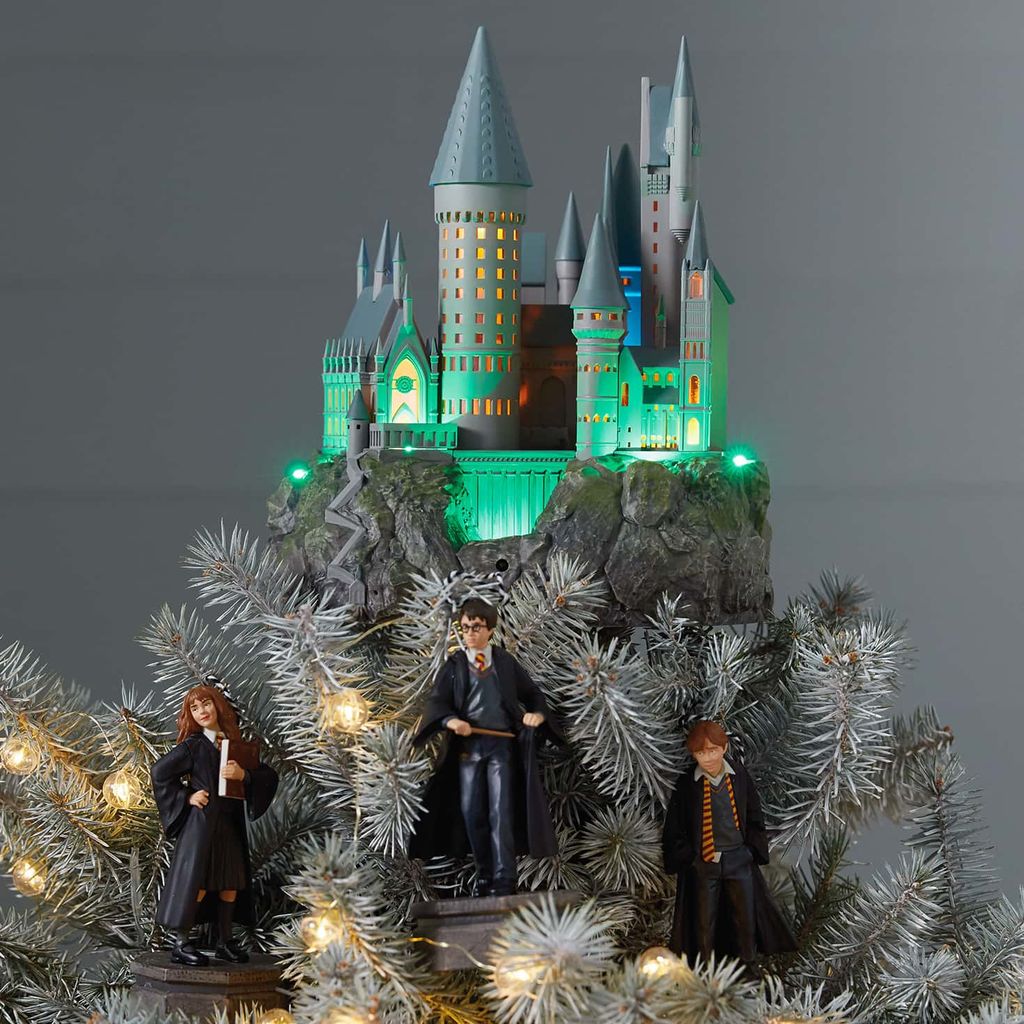 From the Hallmark Harry Potter Christmas Decorations Collection, this Hogwarts Castle tree topper plays "Hedwig's Theme" and is the perfect way to top off any Christmas tree. If you want to complete the look, get the Ron, Hermione, and Harry Christmas ornaments, also from Hallmark. The tree topper is priced at $119.99. The ornaments are $29.99 each and also feature light and sound.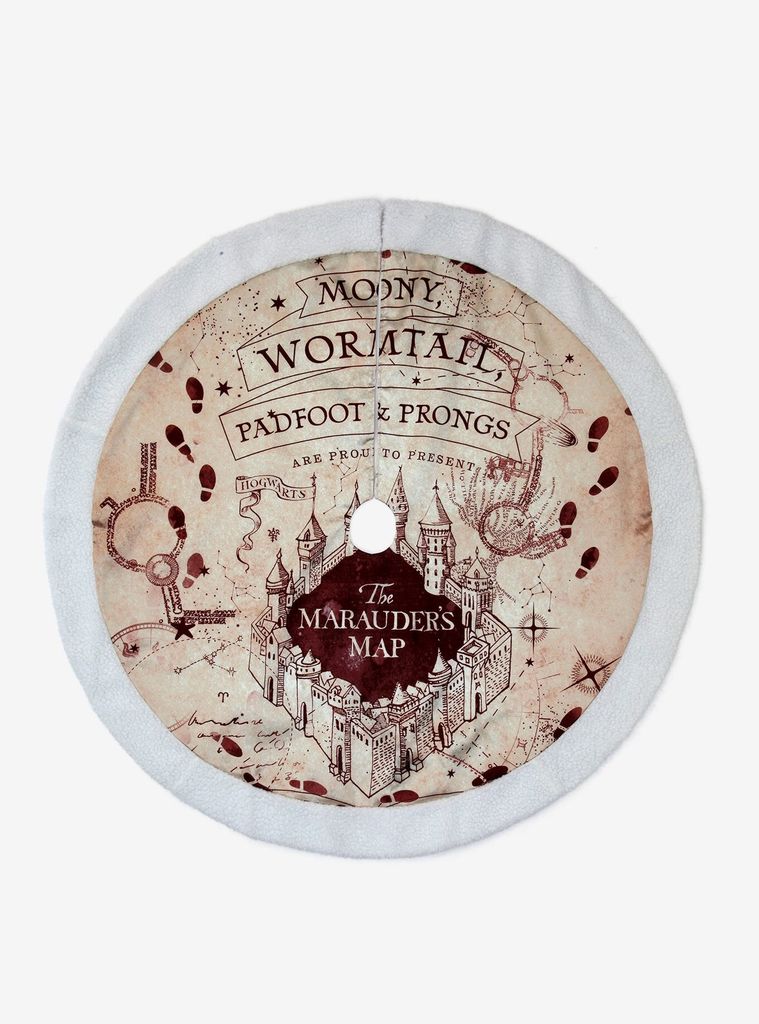 If you're topping off your tree with a nice Harry Potter tree topper, then don't forget to decorate the bottom of your tree with a Harry Potter Christmas tree skirt. This fleece-lined tree skirt with a Marauder's Map print will do the job nicely. Plus, it's on sale for $31.92.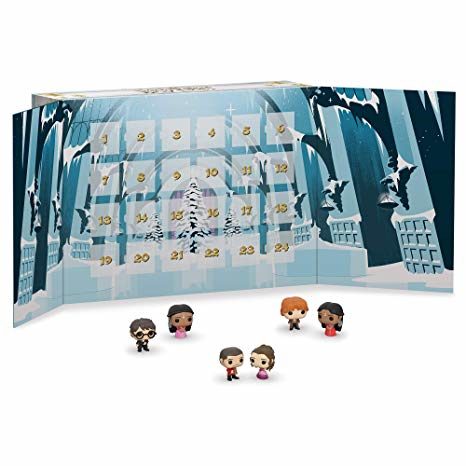 Countdown to Christmas, Harry Potter style, with this advent calendar featuring miniature Harry Potter Yule Ball-themed Funko Pops. They're super duper cute, and the Harry Potter advent calendar from last year sold out fast, so if you're looking to get one for this year, do it sooner rather than later! This is currently $38.23 on Amazon.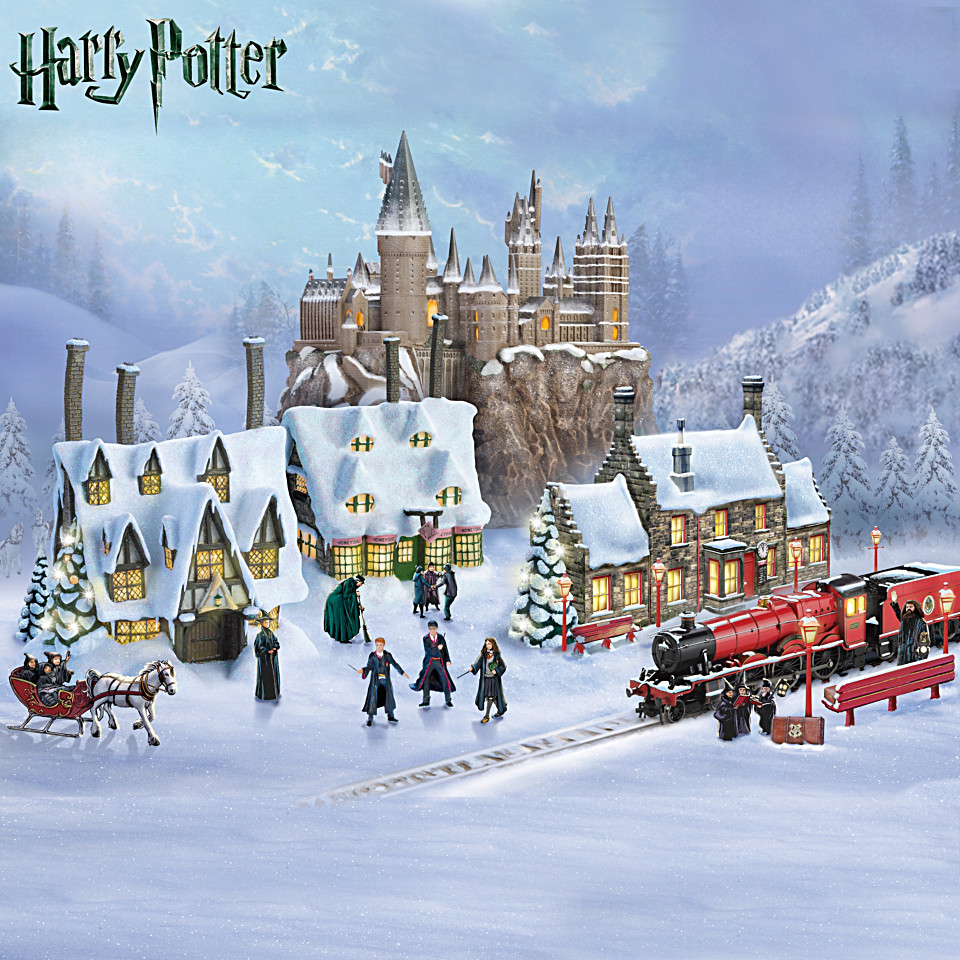 This hand-crafted Harry Potter Christmas village and Hogwarts Express lights up. Also, it comes with detailed, hand-painted figurines of several Harry Potter characters. Complete your Harry Potter Christmas decorations by putting this village on display in your home. It's only $59.99.
---
Looking for even more Harry Potter Christmas decorations? Read about making a Very Harry Potter Christmas Tree. For more fun Harry Potter goodies, check out these Luxury Harry Potter Gifts for Adults. Merry Harry Potter Christmas!