11 Fall Cookbooks for Every Type of Foodie: The List List #371
The List List, a weekly roundup of the best bookish lists, is sponsored by Roar, the YA imprint of Lion Forge.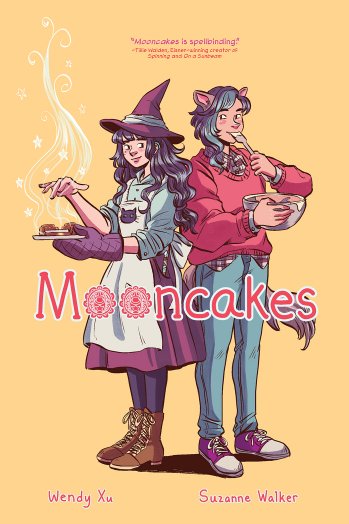 Teen witch Nova Huang spends her days working in her grandmothers' spell book shop and her nights hunting down the supernatural. Genderqueer werewolf Tam Lang was Nova's childhood crush. One fateful night they wander back into their old hometown and wind up battling a giant horse demon in the woods. When Tam turns to Nova for help, their latent feelings are rekindled against the backdrop of witchcraft, untested magic, occult rituals, and family ties in an enchanting tale of self-discovery. Mooncakes by Wendy Xu and Suzanne Walker is in stores this October from Lion Forge!
---
at BuzzFeed: 16 Books By Latina Authors That I'm Definitely Adding To My Reading List
at Brightly: 9 Great Non-Fiction Books for Tweens
at Bustle: These 11 Creepy Retellings Of Classic Tales Are Perfect For Spooky Season
at Comics Beat: 42 horror comics & graphic novels coming for your blood this Halloween
at Electric Lit: 8 Explosive Books About Whistleblowers
at Epic Reads: 20 Queer Fantasy Books That Should Be On Your Radar
at Get Literary: Feel the Fear with These 6 Female-Led Spooky Reads
at LitHub: Five Great American Social Crime Novels
at Paste: The 40 Best Novels of the 2010s
at Popsugar: 38 Paranormal Romance Books That Are Spookily Sexy
at Thrillist: The 21 Best Science Fiction and Fantasy Book Series Ever
at Vogue: 11 Fall Cookbooks for Every Type of Foodie
Have a listen to our new literary fiction podcast,
Novel Gazing!