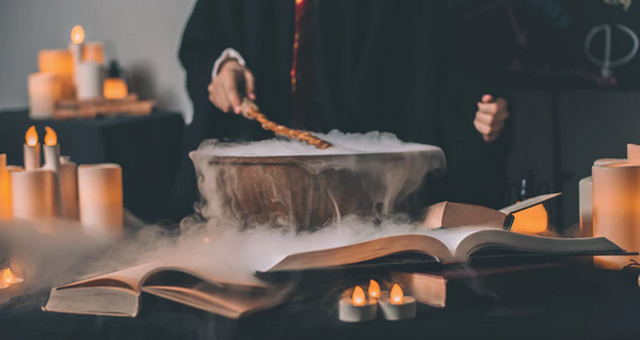 Mischief Managed: 12 YA Books for Fans of The Marauders From Harry Potter
Recently it was announced that we're getting a Harry Potter prequel series. Many have wondered what it could be about; we all have our ideas, but the one thing we keep seeing is that people want a Marauders story! James, Sirius, Remus, and Peter are well loved in this universe, and we got little to nothing of their childhood and teenage years in the original series. Their story definitely has us all intrigued, especially when we know they created the Marauders Map. So for the fans who love these boys, here are 12 YA books for Marauders fans.
Books Inspired by James Potter
James Potter was very clever but mischievous when the time was right. Rebellious, arrogant, those were adjectives shared alongside his name. And even though I don't approve of this, he was also known to be a bully to some students. We know he grew up and got better with age, enough to become Head Boy and a member of the Order of the Phoenix.
Wealthy hotelier Séverin Montagnet-Alarie is the leader of the pack. He comes from a wealthy family just like James Potter, though he found his family (yay for found family!) in a group of misfits.
Glamorous Paris and its secret corners are awaiting you in this one-of-a-kind adventure, where Séverin is coerced into helping his enemy in exchange for what he wants the most: his true inheritance.
Noam wakes up alone in a hospital bed. He is the sole survivor of a viral magic that went wrong, killing everyone, even his family. This magic made him a technopath, an ability that will bring bad people to him, but it's the way he uses them to make a greater good.
In The Fever King, Noam Álvaro, the protagonist, has a hard time knowing who to trust. And as we know, James Potter trusted the wrong man and that led to his death. But Noam's story is barely starting, and this decision could do some good or could do some very bad things to the world.
The Wicker King starts out dark and only gets darker from there. There is a fantasy world layered over their world that will captivate you just as the Wizarding World from Harry Potter did.
The two best friends (they're in love!), August and Jack, would do anything for each other. The relationship might be similar to James and Sirius, where Jack comes from a well-off family so August is always there to pick up after him.
Both of them will have to go on this quest to fulfill a dark prophecy as well. Whereas James Potter was running from a prophecy involving his family and his son.
Pacific Rim meets Korean action dramas, Rebel Seoul takes you right there where the action is happening. Big robots, secret missions, even romance, this book will bring you everything to your yard.
Ex–gang member Lee Jaewon is a talented pilot who is doing very good at his academy. Then Jaewon is recruited to take part on a dangerous project. When he meets Tera, a test subject in the government's supersoldier program, his view of what's right and wrong changes.
Books Inspired By Sirius Black
Sirius was so very loyal to James Potter. Shunned by his family, he found his own in James and the rest of the Marauders. We all know he was sent to Azkaban for a crime he didn't commit and spent years there, trying to evade the Dementors.
Our protagonist Ia Cōcha is a criminal who everyone in the universe fears. They don't know her face, but they know what she has done. But her actions have deeper meanings; meanings that the Olympus Commonwealth, the imperialist nation, might be hiding from them.
Ia is later caught and thrown into the Commonwealth's military academy. Though she doesn't trust anyone in there, slowly, people will break down her walls.
Sirius had a very unhappy childhood. His family was awful and he didn't belong there. I think Violet Saunders is a good match for him, because Violet comes from one of the town's founders and everyone treats her with respect and sometimes fear.
She then meets her crew: children from the town's other founders. When weird things start to happen, she begins to wonder if everyone was right to be afraid.
Elisabeth grew up in one of Austermeer's Great Libraries and she wants nothing more than to become a warden, someone who protects the kingdom from the power of the magical grimoires.
After a catastrophic event, she is sent to the capital to face justice for a crime she didn't commit.
Books Inspired by Remus Lupin
Remus was the more mature one of the four. He suffered rejection throughout his life, mainly for being a werewolf. But that never stopped him and he was always respectful to everyone even if they were rude to him. He had a desire to belong to a group.
Gu Miyoung is a gumiho—a nine-tailed fox who has to devour the energy of men in order to survive. As we know, Remus was bitten and turned into a werewolf. He has been hiding for a while, just like Miyoung has to hide in big cities like Seoul.
Then Miyoung saves a human boy and that makes her lose her fox bead—her gumiho soul.
I'm obsessed with The Young Elites so you can always see it in my recommendation lists. But this one really fits the theme!
Adelina is a survivor just like Remus. She wants to belong to a group, to a family, after her own rejected her. I wasn't sure if I should include her here or below Peter Pettigrew's name, because I think she's very loyal to her companions unless…you cross her.
This is a Beauty and the Beast retelling, so you kinda get why I'm matching it with Remus Lupin.
Cursed by an enchantress to repeat his eighteenth year, Prince Rhen has to only wait for a girl to fall for him. But then he met the beast inside him and knew this was harder than he first thought.
Books Inspired by Peter Pettigrew
Peter looked up to stronger personalities. He was a true fan of people who could get the job done. He was loyal until his life was on the line. Beware…he could betray you too.
It was very hard to choose books for Peter because he did awful things, and because of him everything became so much worse. But these books only share one or two traits that Peter had.
Like Nocturna! This book stars Finn Voy, a faceshifter who hasn't seen her own face for many years. I thought of Wormtail in the sense that he hid himself for so long as Ron's rat.
Zera is a Heartless. This means that she's the soldier of a witch who has her heart in a jar. She longs for freedom, but serves her witch unquestioningly. Until the witch asks for a Prince's heart. In return she will give Zera her own.
---
Do you know of more books that fit the Marauders?