15 Plot Twists Readers Found So Shocking, They Had To Put The Book Down: The List List #362
The List List, a weekly roundup of the best bookish lists, is sponsored by The Right Swipe by Alisha Rai, published by Avon Books.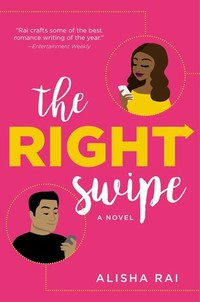 Alisha Rai, one of contemporary romance's brightest stars, returns with The Right Swipe, a sizzling new rom-com about two rival dating app creators that find themselves at odds in the boardroom but in sync in the bedroom…
Rhiannon Hunter may have revolutionized romance in the digital world, but in real life she only swipes right on her career—and the occasional hookup. But when an old match surfaces asking for a second chance, Rhi's wary. A temporary physical partnership is one thing, but a merger of hearts? Surely that's too high a risk…
---
at Bustle: 17 Romantic Poems To Incorporate Into Your Wedding Vows
at BuzzFeed: 15 Plot Twists Readers Found So Shocking, They Had To Stop And Put Their Book Down For A Bit
at Brightly: 15 Fantastic Middle Grade Books Hitting Shelves in Fall 2019
at CBR: 10 Marvel Comic Characters With Disgusting Powers
at Crime Reads: 6 New True Crime Books to Read This August
at Electric Lit: 8 Grown-Up Novels with Animal Narrators
at Epic Reads: 28 YA Sequels You Need to Get Your Hands on This Fall
at Get Literary: 4 Books You'll Definitely Find at Dear White People's Winchester University
at LitHub: 10 Debut Novels Nobody Reads Anymore—But Should
at Paste: The Best Audiobooks of August 2019
at Riveted Lit: 8 Feminist Fantasies You'll Fall in Love With
at Tor: 10 Stories that Feature Dragons Societies
Get the tasks for 2020's
Read Harder Challenge!