7 Literary Sidekicks You'll Wish You Could Be Friends With: The List List #360
The List List, a weekly roundup of the best bookish lists, is sponsored by The Hound of Justice by Claire O'Dell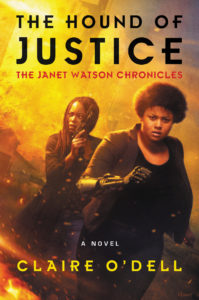 After the Brotherhood of Redemption extremists launched a failed assassination attempt on the president that caused mass destruction, covert agent Sara Holmes takes on the task of investigating the Brotherhood – then abruptly disappears. W
hen Dr. Janet Watson receives a mysterious message that Holmes' disappearance might be connected to the Brotherhood and to Adler Industries, Watson goes on a high-stakes mission to reunite with Holmes once more. It is a thrilling, action-packed journey through the deep South to clear Holmes's name, thwart the Brotherhood's next move, and bring their nemesis to justice for the atrocities she's committed in the New Civil War.
---
at Audible: Eight Cozy Mystery Series Perfect for Audiobook Fans
at Bustle: 15 Books About Asylum & Immigration That Every Person In The United States Needs To Read
at Crime Reads: 12 New Books You Should Read This August
At Electric Lit: 7 Books about the Power Dynamics of Sex
at Epic Reads: 17 Fantasy Novels Inspired by Cultures from Around the World
at Get Literary: 5 Historical Romances to Read Before Watching the Bridgerton TV Series
at LitHub: 8 Paranormal Books You Need to Read
at PopSugar: These 10 Thriller Books Are About to Become Star-Studded Films
at Riveted Lit: 7 Literary Sidekicks You'll Wish You Could Be Friends With
at Shondaland: 11 Essential Graphic Nonfiction Books of 2019 
at The Strategist: The 15 Best Board Books for Babies, According to Booksellers
at Tor: 5 Books About Humans Making a Mess of Things
Enter to win
$250 to spend at Barnes and Noble!