5 Books to Read While Staring Death in the Face: The List List #351
The List List, a weekly roundup of the best bookish lists, is sponsored by The Plus One from HarperCollins 360.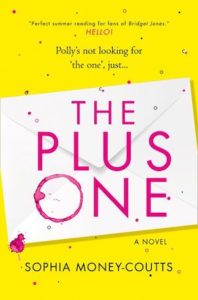 Polly Spencer is single and turning thirty, but seriously, she's fine. Even if she's still stuck at Posh! magazine writing about royal babies and the chances of finding a plus one to her best friend's summer wedding are looking worryingly slim. But it's a new year, and Polly's determined that over the next 365 days she'll remember to shave her legs, drink less wine, and get her s**t together. Her latest piece is on the infamous Jasper, Marquess of Milton, undoubtedly neither a plus one nor 'the one.' She's heard the stories—there's no way she'll succumb to his charms…
---
at Brightly, 15 Great Read-Aloud Books for Older Kids
at Bustle, 20 New Books to Read This Summer, According to Authors
at Electric Literature, 10 Charming Jerks in Fiction
at Epic Reads, 13 Young Adult Anthologies and Short Story Collections Your Shelves Will Thank You For
at the Guardian, 10 Teenage Friendships in Fiction–From Dicken to Ferrante
at LitHub, 5 Books of Narrative History
at Paste Magazine, 10 Must-Listen Audiobooks for Wedding Season
at Read It Forward, Our Favorite Memoirs from the Last 10 Years
at Riveted Lit, 11 Inspiring Books for New Graduates
at TIME, The 10 Best Nonfiction Books of 2019 So Far
at Tor, 5 Books to Read While Staring Death in the Face
at the Washington Post, 20 Books to Read This Summer
By signing up you agree to our Terms of Service
We have 5 copies of
The Library Book by Susan Orlean
to give away!
Go here to enter for a chance to win
, or just click the image below. Good luck!